Donald Trump's campaign manager was accused of roughing up a Breitbart reporter following the billionaire's Florida press conference Tuesday night.
An unidentified witness told Politico that reporter Michelle Fields attempted to ask Trump a question at the event when campaign manger Corey Lewandowski forcibly grabbed her by the arm and yanked her back. The move almost brought Fields to the ground, Politico reported.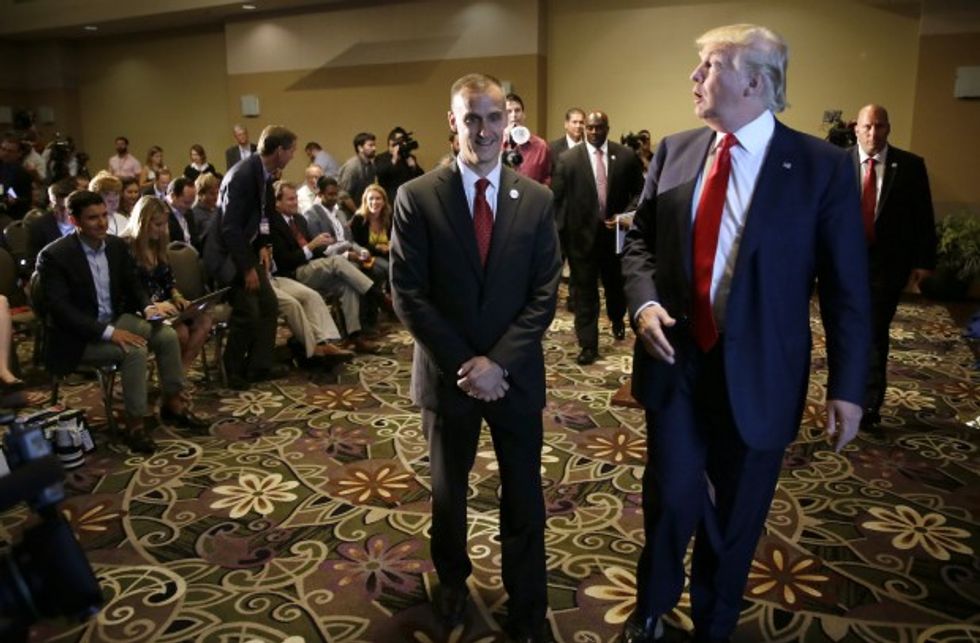 Republican presidential candidate Donald Trump walks with his campaign manager Corey Lewandowski, left, after speaking at a news conference, Tuesday, Aug. 25, 2015, in Dubuque, Iowa. (AP Photo/Charlie Neibergall)
Fields' boyfriend Jamie Weinstein, a senior editor at The Daily Caller, characterized Lewandowski as a "thug" in a tweet following the incident.
Breitbart CEO Larry Solov said in a statement that Lewandowski's behavior was repugnant and called on him to immediately apologize to Fields.
"It's obviously unacceptable that someone crossed a line and made physical contact with our reporter," Solov said. "What Michelle has told us directly is that someone 'grabbed her arm' and while she did not see who it was, Ben Terris of the Washington Post told her that it was Corey Lewandowski. If that's the case, Corey owes Michelle an immediate apology."
Neither Lewandowski nor the Trump campaign immediately responded to a request for comment from TheBlaze. Fields was also unavailable for comment.
—
Follow the author of this story on Twitter and Facebook: