With just four months left until Ken Ham's new "Ark Encounter" theme park officially opens, the creationist faith leader is sharing details about the first phase of the project, which centers around a life-sized replica of Noah's ark.
In fact, the massive, wooden vessel — which is based on the dimensions presented in the Bible — is so large that it will be a theme park and museum of sorts, housing 132 Bible-themed exhibits that Ham described as "state-of-the-art."
The ark, itself, is set against three eight-story buildings and is 510 feet long, 85 feet wide and 51 feet tall; it sits on an 800-acre property between Cincinnati, Ohio, and Lexington, Kentucky.
For those who want a bit more context, the replica is the length of one and a half football fields, with Ham — founder of the Creation Museum and Answers in Genesis — explaining his motivation for opening the theme park.
"As Christians, we believe that we have an obligation to what God's word tells us to do, and that is to do business until he comes, to go out and preach the gospel and to stand up on the truth of God's word," Ham told TheBlaze. "We also see, in this culture, an increasing anti-Christian element ... we see the loss of Christian freedom in some areas and the restriction of the free exercise of religion."
Listen to Ham discuss the ark project below:
All that in mind, he said that his goal is to impact as many lives as possible through the "Ark Encounter," which is scheduled for a July 7 open; internal estimates have Ham's team saying that up to 2 million people per year could flock to the area to see the massive ark replica.
Paraphrasing how many people have responded after personally viewing the structure, Ham said, "Wow, we never knew Noah's ark was so big.'" Responding to that reaction, he agreed, saying, "Just standing outside and looking at the ark is an exhibit itself."
As for what visitors will find inside, Ham said that there will be exhibits about Noah and his family, as well as information helping people understand why, in Ham's view, they should trust the authority of the Christian Bible.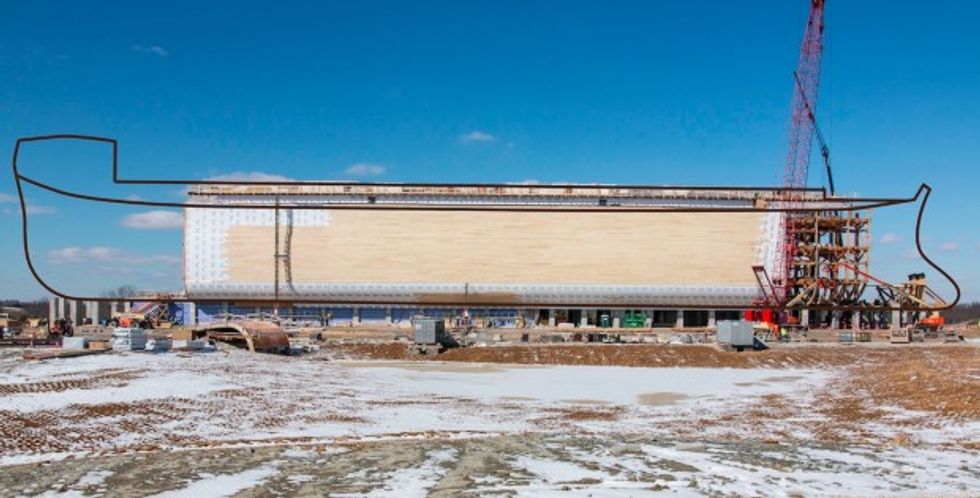 Construction of the massive replica of Noah's ark (Ark Encounter)
"We want to challenge people that Noah wasn't some primitive brute. He was very intelligent," Ham said. "One of the big questions is how could he fit all the animals on board?"
The "Ark Encounter" plans to try and answer this question by showing sculptures, working cages and potential scenarios through which Noah and his family were able to feed and nourish the animals on board the massive vessel.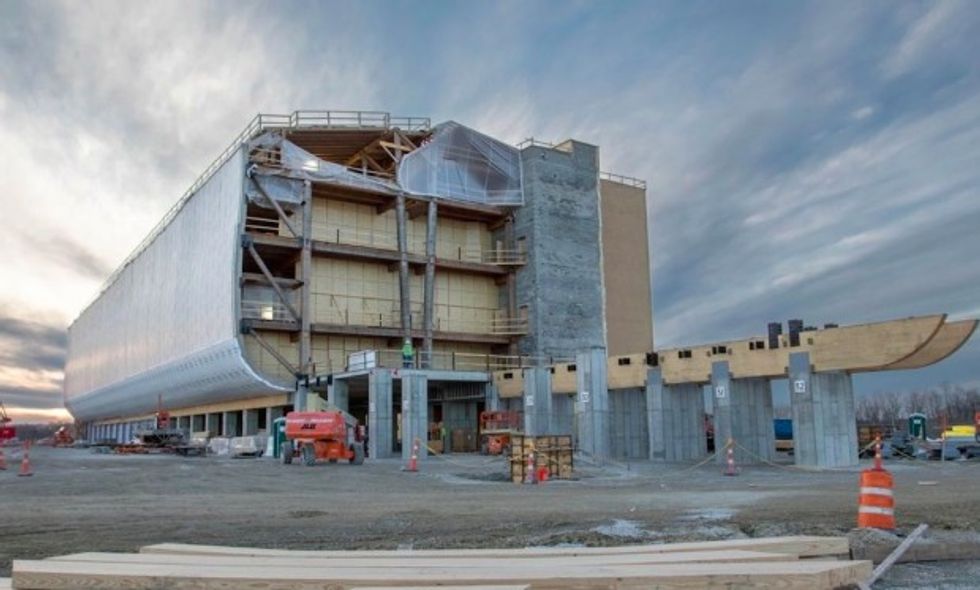 Construction of the massive replica of Noah's ark (Ark Encounter)
The ark is only the first phase of the project, as Ham and his team plan to massively expand the amusement park in future phases, with a petting zoo, theater, a Tower of Babel replica and plenty of other Bible-themed elements.
"There's nothing else like it anywhere in the world," he said of the ark.
--
Follow the author of this story on Twitter and Facebook: