Republican front-runner Donald Trump on Thursday night flatly denied allegations that his campaign manager manhandled a Breitbart journalist at an event earlier this week, despite an eye-witness account from a Washington Post reporter, published audio of the incident and a photo posted online showing the journalist's bruised arm.
Asked by multiple reporters about the allegations after the CNN GOP debate, Trump stood by campaign manager Corey Lewandowski and said he believed reporter Michelle Fields made the entire thing up.
"The Secret Service was surrounding everybody," Trump told CNN, describing the Tuesday news conference Fields was at. "They said nothing happened. Everybody said nothing happened. Perhaps she made the story up. I think that's what happened."
VIDEO: Trump to @DylanByers on @MichelleFields incident. "I think she made it up." pic.twitter.com/VUB5LnbrTM

— Ryan Nobles (@ryanobles) March 11, 2016
Lewandowski also responded to the allegations, accusing Fields of being "delusional" in a tweet. He insisted he "never even met" her.
@MichelleFields you are totally delusional. I never touched you. As a matter of fact, I have never even met you.

— Corey R. Lewandowski (@Corey R. Lewandowski) 1457674110.0
Those bold claims stood in firm contradiction to reports that poured in throughout the day.
Washington Post reporter Ben Terris witnessed the incident and reported that Lewandowski "grabbed her arm and yanked her out of the way" in a fashion that caused Fields to stumble and nearly fall to the ground.
Audio of the incident and its aftermath was later published by Politico, corroborating Terris' account.
Fields additionally wrote in an online post, "Someone had grabbed me tightly by the arm and yanked me down. I almost fell to the ground, but was able to maintain my balance. Nonetheless, I was shaken."
She later tweeted an image of her bruised arm — something Fox News contributor Katie Pavlich asked Trump about.
"Did you see the bruises on her arm?" Pavlich asked.
"Oh, I don't know, how did they get there," Trump quipped back, before advising Pavlich to "check [Fields] out, just check her out."
Earlier in the day, Breitbart CEO Larry Solov said in a statement that the website was "disappointed in the campaign's response, in particular their effort to demean Michelle's previous reporting."
"Michelle Fields is an intrepid reporter who has covered tough and dangerous stories," Solov said. "We stand behind her reporting, her techniques, and call again on Corey Lewandowski to apologize."
I guess these just magically appeared on me @CLewandowski_ @realDonaldTrump. So weird. https://t.co/oD8c4D7tw3

— Michelle Fields (@Michelle Fields) 1457636528.0
The public dispute between Breitbart and Trump marks a rift in an otherwise positive relationship.
The conservative website has covered the billionaire in an extremely positive light throughout the 2016 cycle — something that led staffers at Breitbart last August to tell BuzzFeed that they believed Trump had given money in exchange for favorable coverage.
Speaking to Fox News host Megyn Kelly, Breitbart Editor-At-Large Ben Shapiro referenced such positive coverage to dismiss the idea the outlet was "out to get Trump."
"Have you ever seen Breitbart News?" he rhetorically asked. "Have you ever visited the front page?"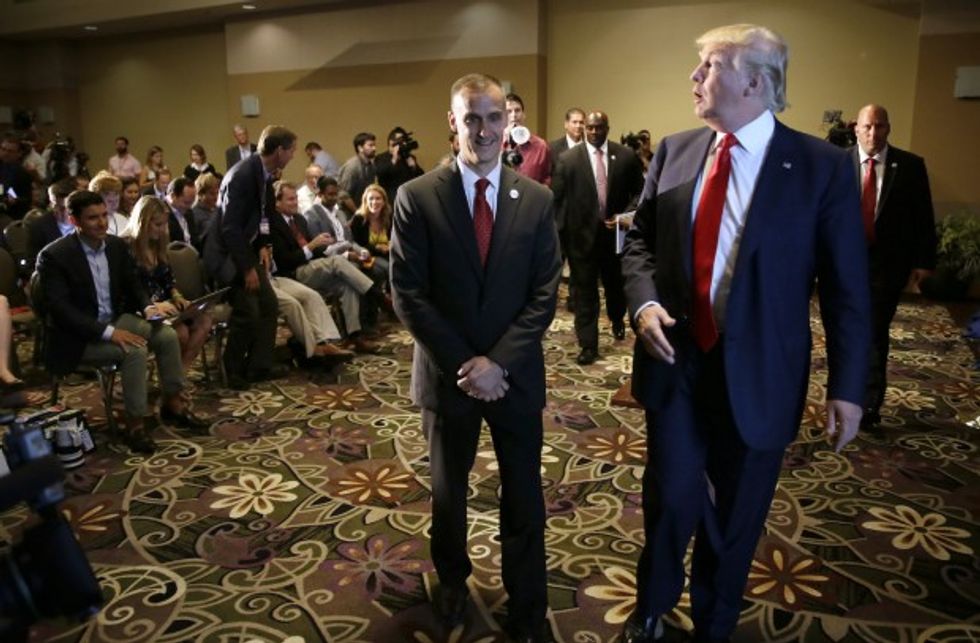 Republican presidential candidate Donald Trump walks with his campaign manager Corey Lewandowski, left, after speaking at a news conference, Tuesday, Aug. 25, 2015, in Dubuque, Iowa. (AP Photo/Charlie Neibergall)
Nevertheless, there was still some evidence that the website was struggling internally with how to deal with the situation.
The Daily Beast reported on Wednesday that a Breitbart public relations official scolded Fields for the way she handled the incident, upset that she relayed what happened to her boyfriend who publicly tweeted about Lewandowski's "thuggish" actions.
Moreover, The Daily Beast reported that Lewandowski acknowledged the incident to Breitbart reporter Matthew Boyle in a private phone call after the incident.
Boyle, however, has remained silent on the issue — even after Trump and Lewandowski bluntly denied the allegations Thursday night. He did not respond to a request for comment from TheBlaze early Friday morning.
Shapiro more aggressively stood by Fields, going as far as to say Breitbart management's call for the campaign manager to simply apologize was "wildly insufficient."
"They should call for Lewandowski to be fired," he added.
A Breitbart spokesperson did not immediately respond to a request for comment about Trump's denial that the incident took place.
The website, however, seemed to warn the billionaire not to pick a fight with it. The lead story on the page early Friday morning was a writeup about journalist John Heilemann contending a "fight with Breitbart is no good for Donald Trump."
Fields was scheduled to appear on ABC's "Good Morning America" Friday morning.
—
Follow the author of this story on Twitter and Facebook: