Breitbart reporter Michelle Fields criticized some of her colleagues in a Fox News interview Friday after they chose to openly cast doubt on her allegation that Donald Trump campaign manager Corey Lewandowski assaulted her during a Tuesday news conference.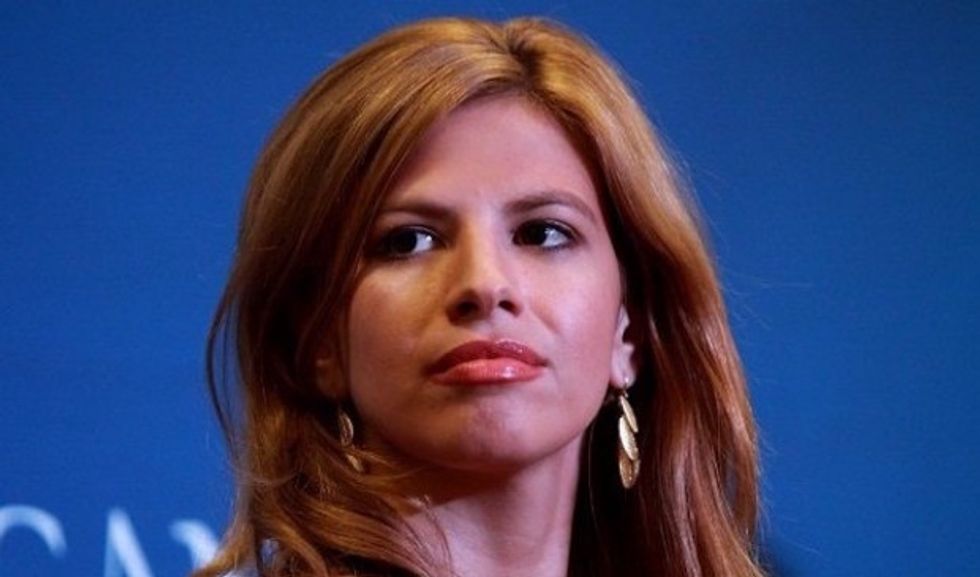 Michelle Fields (Image source: Breitbart)
"I think the facts show that this happened and it's a shame that my bosses have decided to come out against the facts," Fields told host Megyn Kelly, according to a transcript Fox News provided TheBlaze.
[sharequote align="center"]"[I]t's a shame that my bosses have decided to come out against the facts."[/sharequote]
Earlier in the day, Breitbart's lead story called into question whether Lewandowski forcibly yanked Fields by the arm. That story contradicted an eye-witness account by a Washington Post journalist and a video that later emerged. Fields had also filed a police report alleging "simple battery" was committed by Lewandowski.
Breitbart spokesman Kurt Bardella was so appalled by Breitbart's actions, he chose to resign and later appeared on CNN to accuse the conservative website of lying about what happened.
"[Bardella] is the person that I was in contact with the most during this entire incident and released the statement and what not so I'm not surprised that he resigned," Fields told Kelly.
Fields, who described the ordeal as "the worst experience" she's endured after the death of her father, said on the night of the incident she called her editor Matthew Boyle and relayed to him what happened.
CNN host @donlemon: "Are you saying they are lying?" Ex-Breitbart spox @kurtbardella: "Yes, I am." https://t.co/zS97oAkKUU

— Oliver Darcy (@Oliver Darcy)1457756883.0
"I didn't want to file a police report," she told Kelly. "I didn't want to make a big deal out of it because you know I didn't want to be all over the press and I certainly was worried about my job."
"I told my editor and he called Corey and he spoke to him and Corey said that he did it," she continued. "He did not deny it. He said that he didn't realize that I was a Breitbart reporter. Hope Hicks, who is Donald Trump's spokeswoman, asked for my cell phone number and I was told that I was going to get an apology."
Fields said she waited to receive an apology from Lewandowski because she "didn't want to make it a big deal."
"I never got that apology," she said. "Instead, yesterday, they released a statement calling me a liar. They have basically done a character assassination on me."
Fields' claim that her editor, Boyle, spoke with Lewandowski over the phone and that the incident was confirmed was contradicted by a story posted to Breitbart Friday evening. In it, Boyle wrote, "I never had a phone call about this."
Boyle instead said he only texted Lewandowski on the night of the incident and that the campaign manager didn't confirm anything. A transcript and screen grabs of the conversation were posted online:
BEGIN TRANSCRIPT:

10:50 p.m. ME: "Hey dude what happened with Michelle Fields tonight? Is everything OK?"

10:51 p.m. COREY: "Who?"

10:52 p.m. ME: "Check out @Jamie_Weinstein's Tweet: [LINK TO TWEET]"

10:52 p.m. ME: "Michelle is our reporter we sent to Jupiter. It sounds to me like it was a misunderstanding nothing bad."

10:53 p.m. ME: "Michelle didn't know Jamie tweeted that BTW"

10:53 p.m. ME: "I just talked to her about it"

10:56 p.m. COREY: "Don't know her"

11:00 p.m. ME: "K I wanna make sure that this doesn't turn into a big story. It sounds to me like it was a misunderstanding"

END TRANSCRIPT
Breitbart Editor-In-Chief Alex Marlow did not respond Friday night to requests for comment about the contradicting reports coming from the website's journalists.
Fields was also unavailable for comment, but she thanked Bardella on Twitter after he accused Breitbart of lying. As of early Saturday morning, her feed was a mix of retweets strongly critical of Breitbart.
Editor's Note: This story was based off of an interview originally scheduled to air on Fox News Friday night. It did not air at its scheduled time due to breaking news out of Chicago.
—
Follow the author of this story on Twitter and Facebook: