Texas Sen. Ted Cruz likened fellow Republican presidential candidate Donald Trump to President Barack Obama, calling both men "demagogues" during a Sunday interview on NBC's "Meet the Press" with host Chuck Todd.
Calling Obama a "world class demagogue," Cruz responded to an audio clip of the president at a recent fundraiser where he told attendees that today's political hysteria "is not an accident" and was cultivated for years as American citizens were "told we should be angry about America and that the economy's a disaster — and that we're weak," according to NBC.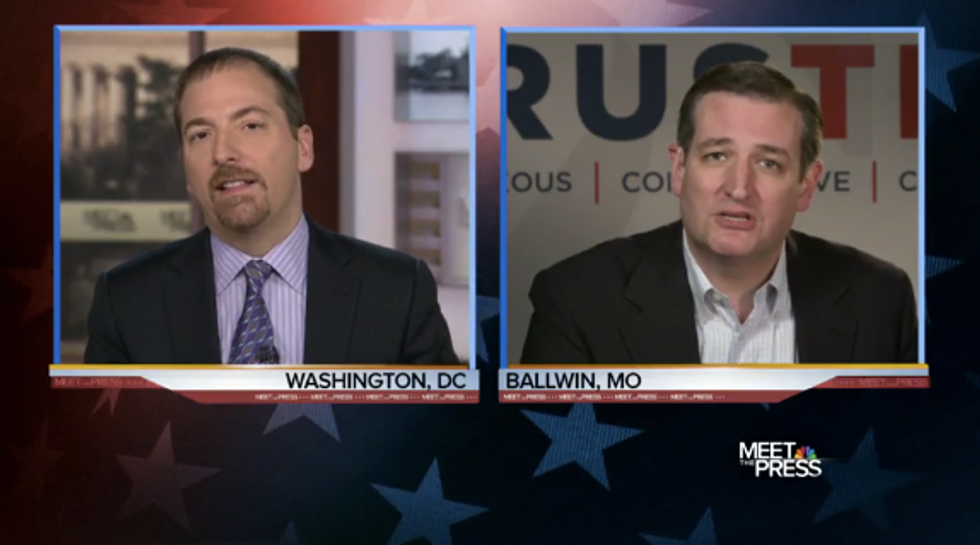 Chuck Todd and Ted Cruz (Image source: NBC News)
Calling the president a demagogue, Crux told Todd that Obama's rhetoric is "designed to divide us," adding that "That language is the kind of self-righteous moralizing from the president that makes people angry."
But when Todd asked Cruz if Obama's rhetoric was worse than Trump's similar-sounding rhetoric, Cruz responded, "To be honest, I think it's very much the same. They're both engaging in demagoguery," NBC reported. "We need instead a president who wakes up every day working for the hard-working taxpayers."
Although Cruz reaffirmed his support for whomever ultimately becomes the GOP presidential nominee, he maintained that Trump, his rallies and the effect he has upon supporters troubled him.
"When you have a campaign that disrespects the voters, when you have a campaign that affirmatively encourages violence, you create an environment that only encourages this sort of nastiness," Cruz told Todd.
(H/T: Mediaite)
—
Follow Kathryn Blackhurst (@kablackhurst) on Twitter