Islamic State fighters have forced the women and girls they have kidnapped as sex slaves to take contraceptives in order to ensure they are fit for continued sexual abuse, the New York Times reported Saturday. The claim was based on interviews with more than three dozen former Yazidi captives.
In one case, an Islamic State jihadist tried to force the already pregnant woman he had bought to undergo an abortion.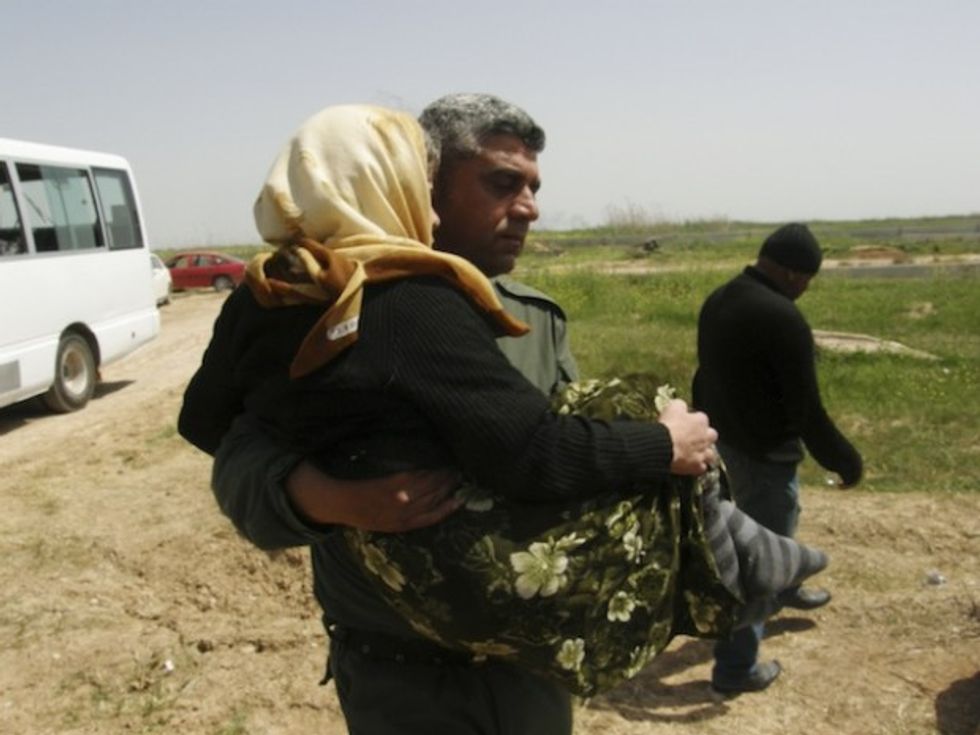 A man carries a Yazidi released by Islamic State group militants as she arrives in Kirkuk, 180 miles north of Baghdad, Iraq, Wednesday, April 8, 2015. (AP Photo)
The Times wrote that the militants' enforced use of birth control appeared to be part of an effort to uphold an Islamic mandate: "According to an obscure ruling in Islamic law cited by the Islamic State, a man must ensure that the woman he enslaves is free of child before having intercourse with her."
A 16-year-old Yazidi girl who spent a year locked in a room as a sex slave told the New York Times, "Every day, I had to swallow one [birth control pill] in front of him. He gave me one box per month. When I ran out, he replaced it. When I was sold from one man to another, the box of pills came with me."
The recently escaped female captives described being given a variety of contraceptives including oral and injectable.
The Times learned of two cases in which women who had been captured while pregnant were pressured to have an abortion to make them fit for being raped.
A man named Abdal Ali told the Times that his 20-year-old sister was in her second trimester when she was taken captive two years ago.
Her Islamic State captor gave her pills, which were said to cause her to miscarry, but she hid the pills under her tongue and later spit them out.
"They wanted to get rid of the child so that they could use the woman," Ali said.
A 20-year-old identified as "H." was also pregnant when she was captured. She was driven to the hospital by the fighter that had bought her to try to force her to undergo an abortion. When she refused, her captor punched her repeatedly in the stomach, she told the Times.
She was smuggled out of Islamic State territory soon after and two months later gave birth to a health baby boy.
See the full report from the New York Times here.
—
Front page photo courtesy of Shuttershock.