To former Maryland Gov. Martin O'Malley, they are "New Americans."
And for Kenia Calderon, the first DREAMer who made a 2016 presidential endorsement, O'Malley was the one candidate who could really make a difference for Hispanics, undocumented immigrants, immigration activists and "New Americans."
It has been more than a month since O'Malley officially suspended his Democratic presidential campaign following a poor performance in Iowa, but many immigration activists who flocked to the underdog's campaign in hopes of the possibility of comprehensive immigration reform are left wondering: to which candidate should they turn now?
According to Calderon both of the Democratic candidates left in the race — former Secretary of State Hillary Clinton and Vermont Sen. Bernie Sanders — have "evolved" when it comes to the issue of immigration reform. Yet while both candidates had a rocky start on the issue, only one candidate seems to genuinely care about immigration reform, Calderon told TheBlaze.
For Calderon, Clinton is the more "genuine" of the two candidates, indicative of the fact that she was the first person to hire a DREAMer.
Former Secretary of State and Democratic candidate for president Hillary Clinton spoke at the 8th Annual National Immigration Integration Conference at the Marriott At The Brooklyn Bridge. (Andy Katz/Pacific Press/LightRocket via Getty Images)

"I think we're not a priority [to Sanders]. I think he has this three points that he mentions over and over again, and we're not it," Calderon said. "If he's elected as president, I have a strong feeling that nothing is going to happen as far as immigration reform."
"He might continue [Deferred Action for Childhood Arrivals] hopefully, but that's it," she continued. "He's not talking about that. He keeps talking about immigration and immigration reform. If he really knew our issues, he would be going more in depth."
Sincerity aside, Gabriela Domenzain, a former senior adviser for the O'Malley campaign, lauded Sanders' immigration reform plan for mirroring the former Maryland governor's more closely than Clinton's plan does. But Domenzain also took issue with Sanders' plan, namely the time it took for the campaign to put it together, and contended that, as a Vermont lawmaker, immigration "isn't an issue he's had to deal with."
Like Domenzain, Calderon expressed feelings of consternation with Sanders' voting record on immigration issues as well as comments he's made in the past.
"I'm trying to be very critical of both, and no one is holding Bernie Sanders accountable for his actions in the past. The thing is we have to evolve. I'm just scared that it will be empty promises," Calderon said. "He has said that we basically take Americans' jobs, and he has supported the Minutemen before, and again, no one's talking about that, so that scares me. The Latinos are giving him their support just because now he's good on immigration. He wasn't four months ago."
Housing and Urban Development Secretary Julian Castro reiterated Calderon's critique of Sanders' support of Minutemen in a statement last week.
"Time and again, the senator from Vermont has showed us firsthand that he doesn't understand our immigration system or what is at stake for Latino and immigrant families," Castro, a Clinton supporter widely speculated to be a likely vice presidential pick for her, said. "Bernie Sanders voted with Republicans to protect the Minutemen, a hate group that used military tactics against our community. Thousands of families have been torn apart due to destructive behavior by Republicans, and we cannot have a president who stands by their side."
Erika Andiola, a DREAMer and advocate for immigrant families who helped draft Sanders' immigration plan, told TheBlaze that the senator's plan is different from Clinton's in that "he will not wait for Congress to be able to make those policy changes happen."
"It would be the opposite strategy that the Obama administration had," Andiola said, adding that he would take executive action if need be.
Andiola said that, as president, Sanders would end police collaboration with U.S. Immigration and Customs Enforcement by ending the Priority Enforcement Program. That program, established in 2014, allows for an individual's fingerprints, taken upon an arrest, to be sent to ICE to determine if that person is a priority for removal from the country.
According to ICE's website, officers "will seek the transfer of a removable individual when that individual has been convicted of an offense listed under DHS civil immigration enforcement priorities, has intentionally participated in an organized criminal gang to further the illegal activity of the gang, or poses a danger to national security" under PEP.
Andiola stressed that Sanders would use "humanitarian parole to return those deported," extend applications for Temporary Protected Status to Central Americans and expand the Affordable Care Act to DACA recipients.
Sanders' campaign also credited his support among Latino voters for his victory in Colorado on Super Tuesday.
"You can only win the state of Colorado by more than 18 points if you get the support of the state's Latino community in a big way," Arturo Carmona, Sanders' deputy political director, said last week. "[Tuesday's victory in Colorado] is the result of organizers working on the ground to engage the community and deliver Sen. Sanders' message of fixing a rigged economy."
While Caldron, an Iowa native, doesn't believe that she'll make another endorsement this election cycle, Daniel Garza, executive director of the right-leaning LIBRE Initiative, said Hispanics and immigration activists have a huge decision to make and laid out what his organization would like to see from a candidate.
"There are two sets of folks in the Latino community right now," Garza said in an interview with TheBlaze. "There are those who are here without authorization and those who were either born here or naturalized. And of course the angst is different. Of course, if you're in the undocumented community, there's this sense of urgency; there's this sense of uncertainty because you can be deported and torn away from your family at any given moment. So you live under a pile of fear almost, in the shadows, I guess you could say."
"Of course, the other side is sympathetic to that because they're either family members, they're colleagues at work, they're friends or they're neighbors or they're folks that attend church with them," Garza continued. "Because we are related directly to that undocumented community, I think the question that we need to ask ourselves — especially that first group who live in fear — is 'what am I willing to accept as immigration reform?'"
"Democrats do not get to decide what immigration reform is, and neither do Republicans," he said. "They both have to come together. If they reconcile their differences, what are we willing to accept as a community — both the undocumented community and those who are sympathetic to the undocumented community."
For Garza and the LIBRE Initiative, the terms of what would make up comprehensive immigration reform are straightforward: If a path to citizenship for otherwise law-abiding workers is off the table, at the very least the group would like to see a work visa bill for those people that would include job mobility.
"In other words, that a person would still have a certain autonomy, that they're not tied to a job or employer, that they have the ability to get a raise or promoted or change jobs and change employers if it's in their benefit," Garza said. "If they're fired, that they have time to look for another job. Job mobility is critical as part of the work visa bill."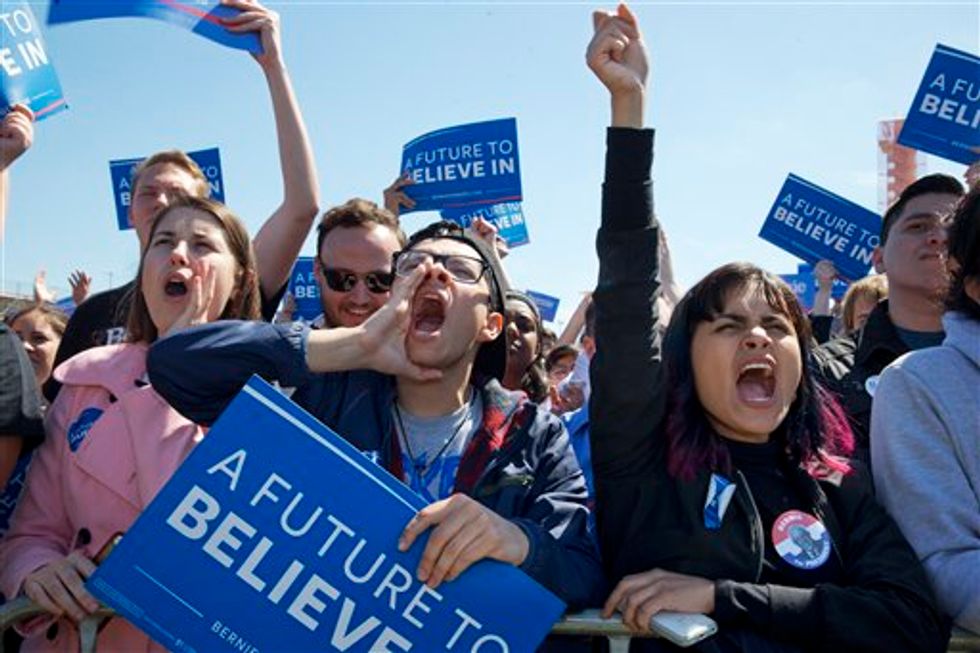 Jose Uriel Perez, 21, left, of El Paso, Texas, and Victoria Chapa, 21, of Dallas, cheer in support of comprehensive immigration reform as Democratic presidential candidate Sen. Bernie Sanders (Vt.) speaks about the topic during a campaign rally at the Circuit of the Americas in Austin, Texas, Feb. 27. (AP Photo/Jacquelyn Martin)
The LIBRE Initiative also advocates for circularity, the ability of a person to travel to and from their country of origin, and family unification in order to promote healthy families.
"If the candidate that you're looking at doesn't fit the bill of that framework that I'm talking about, then the next question is, 'am I willing to forsake the 90 to 95 percent of issues that I align on for that one issue and then support a candidate that I disagree with them on 95 percent of the issues but I agree with them on this one issue,'" Garza said. "That is a valid question that every Latino has to ask themselves — every Latino voter. So for someone that is very harsh on immigration, for individuals who have expressed themselves as much, am I willing to then forsake spending, social issues, national security, all of these other issues because of that one issue, and that's a very legitimate question."
Garza continued, "As far as I'm concerned, I was born in America, I want America protected, I want fiscal responsibility, I want responsible spending, I'm very pro-life, there's a bunch of issues that I care about, and so I have to weigh those issues. And so I'm not going to forsake 95 percent of issue alignment on one issue."
The family unification issue is one that Clinton's campaign can get behind.
"Hillary is fighting for an America where every family feels like they belong here. Instead of breaking up hard-working, law-abiding immigrant families who have enriched America for years, she will work to keep families together and ensure a more humane immigration enforcement system," Xochitl Hinojosa, a spokesperson for Clinton's campaign, said in a statement to the TheBlaze.
Hinojosa declined to discuss Clinton's immigration reform plan further, other than to point to her point-by-point plan on the campaign website, which stands in contrast to comments she made as a New York senator.
"I am, you know, adamantly against illegal immigrants," she unequivocally said in 2003.
According to information compiled by the social media monitoring site Brandwatch, the topic of immigration has been mentioned more than 30,000 times in conversations linking to Sanders' from March 1 to March 14 — and 51.1 percent of those mentions are positive. During that same time period, the topic of immigration was mentioned more than 17,000 times linking to Clinton, but those comments were 53.6 percent negative.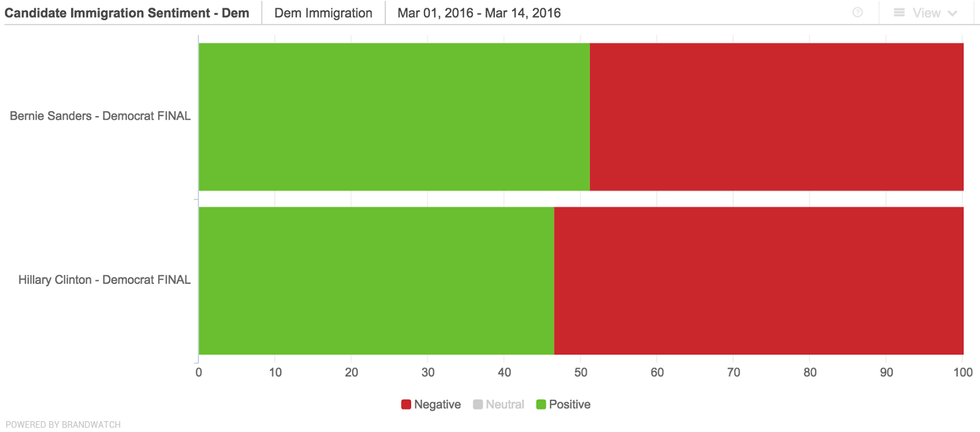 Image source: Brandwatch
In comparison, the Republican presidential candidates are split in half when it comes to who has more positive mentions regarding immigration and who has more negative. Texas Sen. Ted Cruz's positive mentions sit at 55.2 percent, and Ohio Gov. John Kasich's positives are at 52.4. Their ratings are a marked contrast to the negative ratings businessman Donald Trump and Florida Sen. Marco Rubio garnered — 50.4 percent and 69.8 percent, respectively.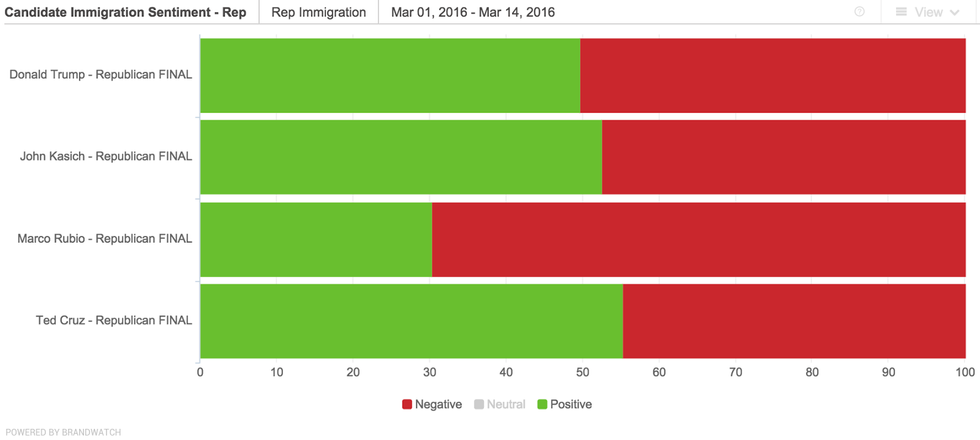 Image source: Brandwatch
When it comes to issue-related mentions, immigration makes up 19 percent of Clinton's mentions, making it the third-most discussed topic for her behind foreign affairs and health care.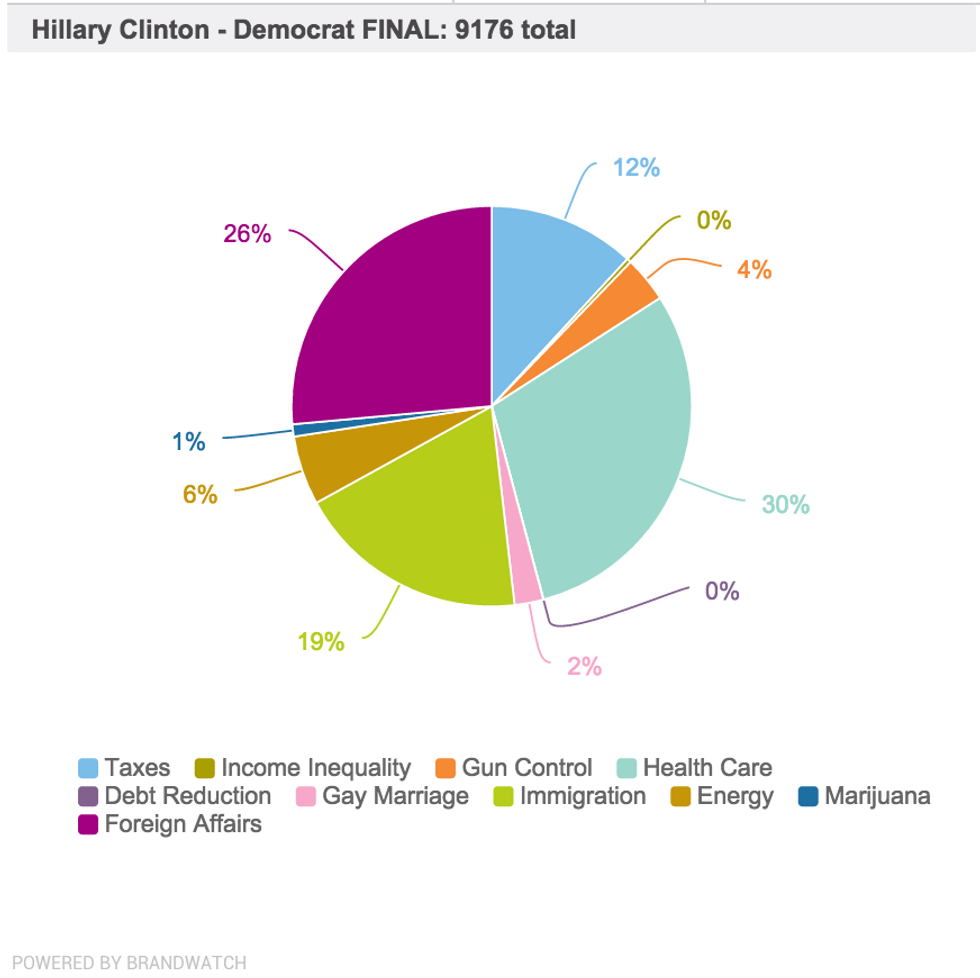 Image source: Brandwatch
For Sanders, immigration is the fourth-most discussed topic and accounts for 14 percent of his issue-related mentions, behind foreign affairs, health care and taxes.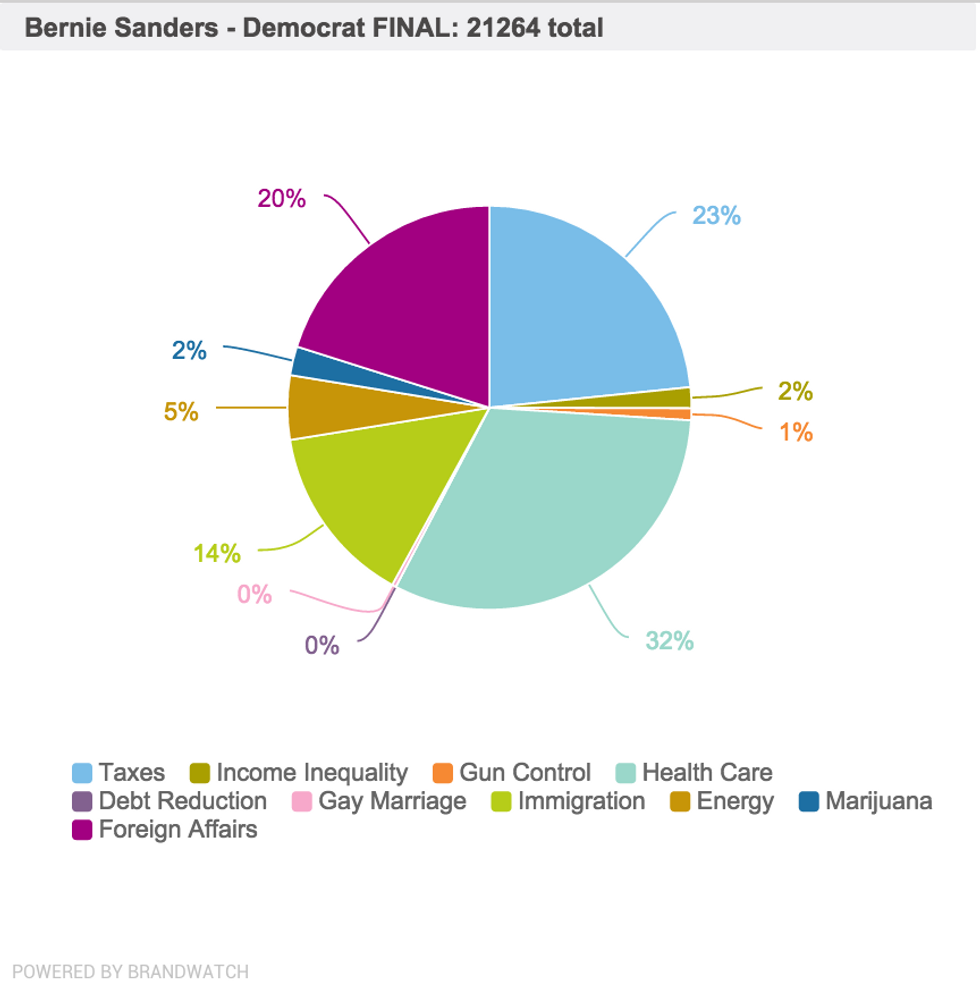 Image source: Brandwatch
For both Trump and Kasich, immigration is the most discussed topic on social media, although immigration ties with health care for Kasich. As for Rubio, immigration is his second-most discussed issue.
According to Kellan Terry at Brandwatch, it's "fitting" that immigration would be a topic that ranks so highly with Rubio and Trump as "they both had the most negative conversations on immigration as well and have received scrutiny from the media and fellow candidates on their immigration stances and comments."
Besides hoping for presidential candidates to lay forth a plan with more immediate solutions for DREAMers and a pathway to comprehensive immigration reform, Calderon said she hoped to see more DREAMers like herself become active in the presidential election.
"We don't have to be endorsing any candidate to make a difference. We just need to make sure we stay true to our community and accept each other's' different opinions," she said. "I think that's what has been the most disappointing thing of this political season, how DREAMers have turned against each other."
Her stance: "We're doing this for our community."
—
Follow Kaitlyn Schallhorn (@K_Schallhorn) on Twitter