During a contentious segment on Fox News' "The O'Reilly Factor" Wednesday night, show host Bill O'Reilly and Univision anchor Jorge Ramos clashed over whether or not their networks have covered GOP front-runner Donald Trump fairly.
O'Reilly contended that Ramos was editorializing and ejecting his opinion into his reporting, while Ramos alleged that O'Reilly — and fellow Fox host Sean Hannity — let Trump run roughshod over them during their interviews with the billionaire businessman.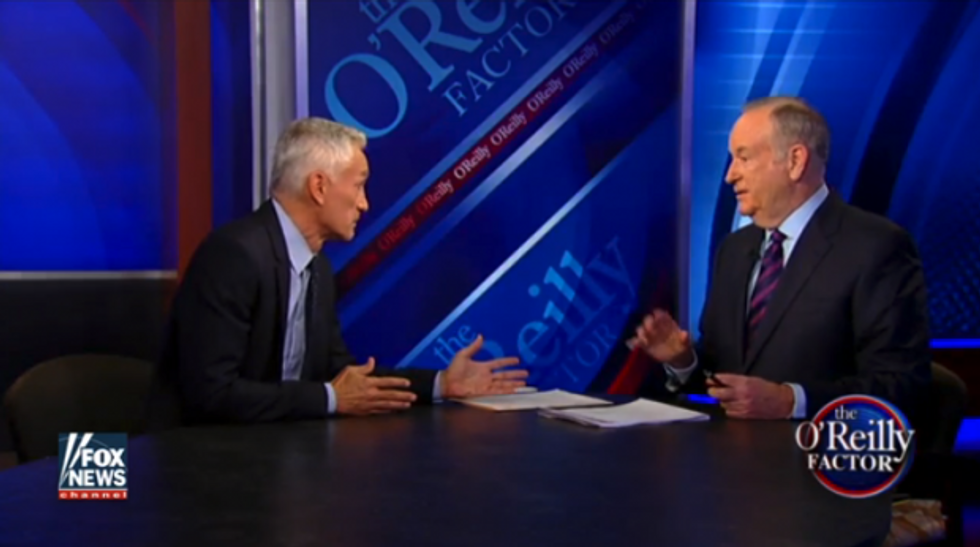 Image source: Fox News
"Well, I think we are covering fairly Republicans and Democrats. I think we show...we show that we can be tough on Democrats, with my questions to Hillary Clinton and Bernie Sanders," Ramos said to O'Reilly, referring to the last Democratic debate, which was in-part hosted by Univision. "I think we're really tough on Donald Trump because [of] what he is saying, we cannot allow racism and discrimination to become normal."
However, O'Reilly alleged that Ramos' coverage of Trump and his declaration that the real estate mogul is a "racist" is "subjective."
"No, it isn't," Ramos replied, adding that "for many people," Trump's declaration that Mexican immigrants are criminals and rapists is a "racist remark."
After sparing back and forth over Ramos' last point and reading Trump's actual quote, Ramos ripped into O'Reilly for his coverage of Trump.
[sharequote align="center"]"I think you have to be tougher on Donald Trump. You haven't been tough on him."[/sharequote]
"I think you have to be tougher on Donald Trump," Ramos contended. "You haven't been tough on him."
"Listen, I have confronted Donald Trump in ways that he has told me that I'm unfair, OK?" O'Reilly shot back.
"You've talked to him so many times, and you and Sean Hannity, you let him get away with anything," Ramos countered. "With almost everything."
After the two went on to spar again — this time over Trump's proposal to build a wall, which O'Reilly declared he was in favor of — O'Reilly asked Ramos, "Am I a racist?"
"No, no, no. It's not favoring a wall," Ramos replied, "but you let him get away with everything."
O'Reilly finally declared, "I'm not promoting Donald Trump in any way, shape or form."
Ramos replied by telling O'Reilly that in a general election match-up between Trump and Hillary Clinton, his network could cover Trump fairly because Univision is "doing exactly the same with the Democrats," he said. "I think we are being tough on Hillary Clinton."
Again, O'Reilly charged that instead of reporting on Trump, Ramos has drawn "conclusions" about him.
"It's not a matter of conclusions," Ramos replied. "I don't know what's in his heart, but I know what is coming out of his mouth, and what he said about Mexican immigrants, he's wrong, what he said about women is unacceptable and what he said about Muslims is simply un-American."
Watch the fiery exchange below:
—
Follow the author of this story on Twitter and Facebook:
[facebook //www.facebook.com/plugins/like.php?href=