A coalition of pro-life groups launched a grassroots initiative Thursday to encourage pro-life senators to hold to their position that they won't approve the president's Supreme Court nominees in an election year.
The campaign, Protect the Court, was launched by a coalition that includes Concerned Women for America, Iowa Right to Life, March for Life, Priests for Life, Students for Life of America and Susan B. Anthony List.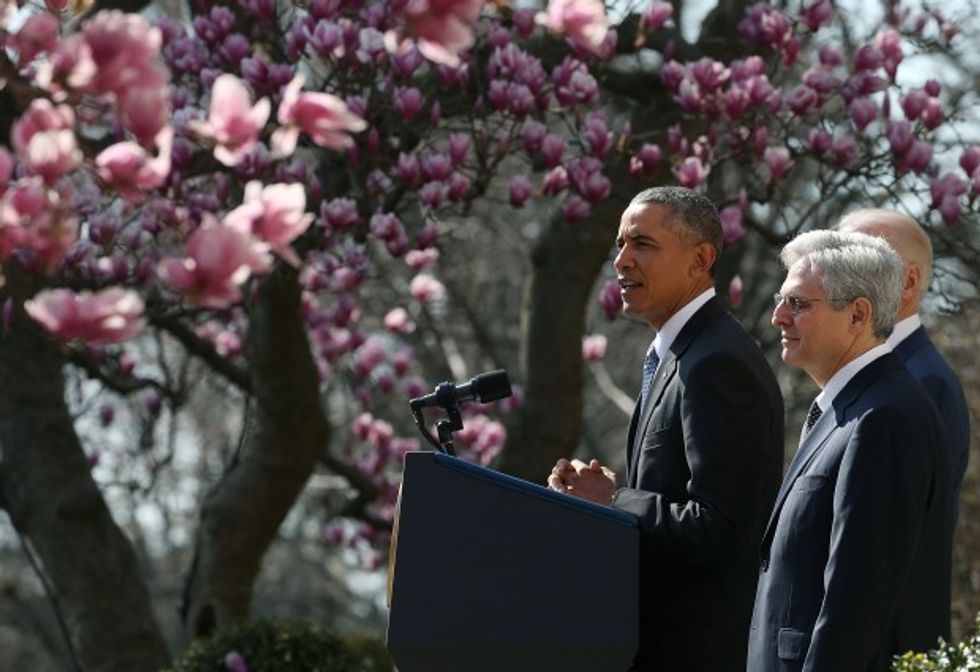 President Barack Obama announces the nomination of Merrick Garland, right, to the Supreme Court in the Rose Garden at the White House Wednesday. (Mark Wilson/Getty Images)
The coalition released a joint statement regarding the initiative:
President Obama has nominated Merrick Garland to the U.S. Supreme Court. A Justice Garland replacing Justice Scalia would move the Court dramatically to the pro-abortion position. How do we know? Because President Obama and the abortion lobby wouldn't have it any other way. Anyone he nominates will join the voting bloc on the Court that consistently upholds abortion on-demand. Even The New York Times reported that "A Supreme Court with Merrick Garland Would Be the Most Liberal in Decades," and America's largest abortion provider, Planned Parenthood, has signaled their support for him. President Obama should NOT be permitted one last opportunity to stack the Court with pro-abortion Justices. Instead, the people should have a say this November, and the next President should fill this important vacancy.
Obama nominated Merrick Garland to the U.S. Supreme Court Wednesday.
Planned Parenthood, the nation's largest abortion provider, has encouraged the Senate to approve Garland.
"Judge Garland is an intelligent, highly accomplished judge who has secured bipartisan support in his previous appointments," Planned Parenthood President and CEO Cecile Richards said in a statement Wednesday.
.@POTUS, as usual, is doing his job. For our country to function, we need the Senate to do theirs. #DoYourJob #SCOTUSnominee

— Cecile Richards (@Cecile Richards) 1458138882.0