New details and surveillance video are fueling speculation surrounding whether agents with the FBI's Hostage Rescue Team opened fire on Robert "LaVoy" Finicum — one of the anti-government activists involved in the Oregon stand-off — and then waged a cover-up following the deadly Jan. 26 clash.
The FBI agents involved in the incident, during which Finicum, 54, was shot dead by two Oregon state troopers, initially denied that they fired their weapons after Finicum's vehicle crashed at a roadblock, though an investigation by officials later determined that two shots were fired by agents on the scene.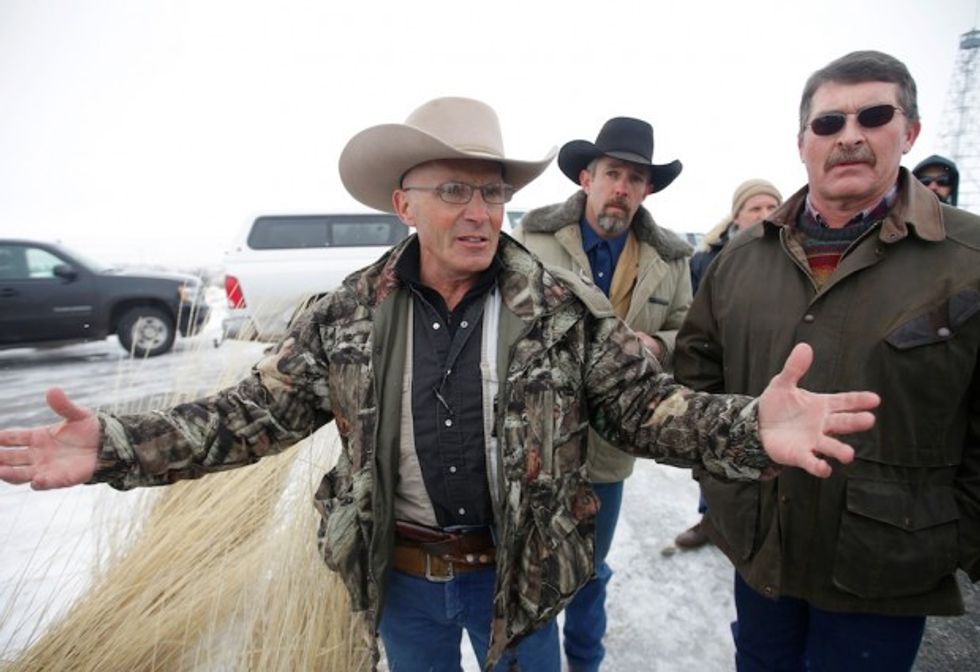 FILE - In this Jan. 9, 2016 file photo, Robert "LaVoy" Finicum, left, a rancher from Arizona, talks to reporters at the Malheur National Wildlife Refuge near Burns, Ore. On Tuesday, March 8, 2016, authorities said police were justified in killing Finicum during a traffic stop on Jan. 26, 2016. (AP Photo/Rick Bowmer, file)
An Oregon State Police officer also told investigators that he observed two copper-colored rifle casings at the location. This is potentially a significant development, as the Hostage Rescue Team reportedly uses copper-colored casings, while Oregon state police, instead, use silver-colored casings, the Washington Post reported.
While copper casings weren't recovered at the scene, FBI surveillance video reportedly shows agents searching the area after the shooting with flashlights; one of those agents is then seemingly seen bending over and picking something up twice near the area where the shots were believed to be fired, leading to speculation of a cover-up.
Cell phone video captured from inside Finicum's vehicle includes what sounds like shots being fired, as individuals in the car audibly proclaim, "They're shooting," around the 5:30 mark; it is unclear if shots are actually being fired (caution: graphic):
The Oregonian reported on Wednesday that the bullet casings might have disappeared from the scene after the shots were fired. Such a prospect, if substantiated, would be extremely problematic and embarrassing for the FBI's elite Hostage Rescue Team, according to the Post.
As TheBlaze previously reported, the FBI agents are under investigation for allegedly not disclosing that shots were fired in the first place; the surveillance video is now fueling additional questions about what unfolded.
It has been reported that Oregon state troopers fired six shots that killed Finicum and that they were justified in their actions, as the activist reportedly refused to listen to officers' commands and reached for his weapon.
Watch the standoff below (caution: graphic):
The U.S. Justice Department recently announced that an investigation of the FBI agents on the scene would unfold to determine if they failed to report they had fired shots or concealed evidence.
One agent is accused of lying about firing two shots at Finicum, with four other FBI agents allegedly involved in the supposed cover up, though the details surrounding which agent allegedly fired the shots and why the decision was purportedly made to conceal it have not yet been made public.
Finicum's shooting death unfolded after he joined other anti-government protestors in taking over the refuge on Jan. 2.
(H/T: Washington Post)