A police officer from Greenville, South Carolina died Friday after being shot by a "known gang member" he was chasing at the time, WLTX-TV reported.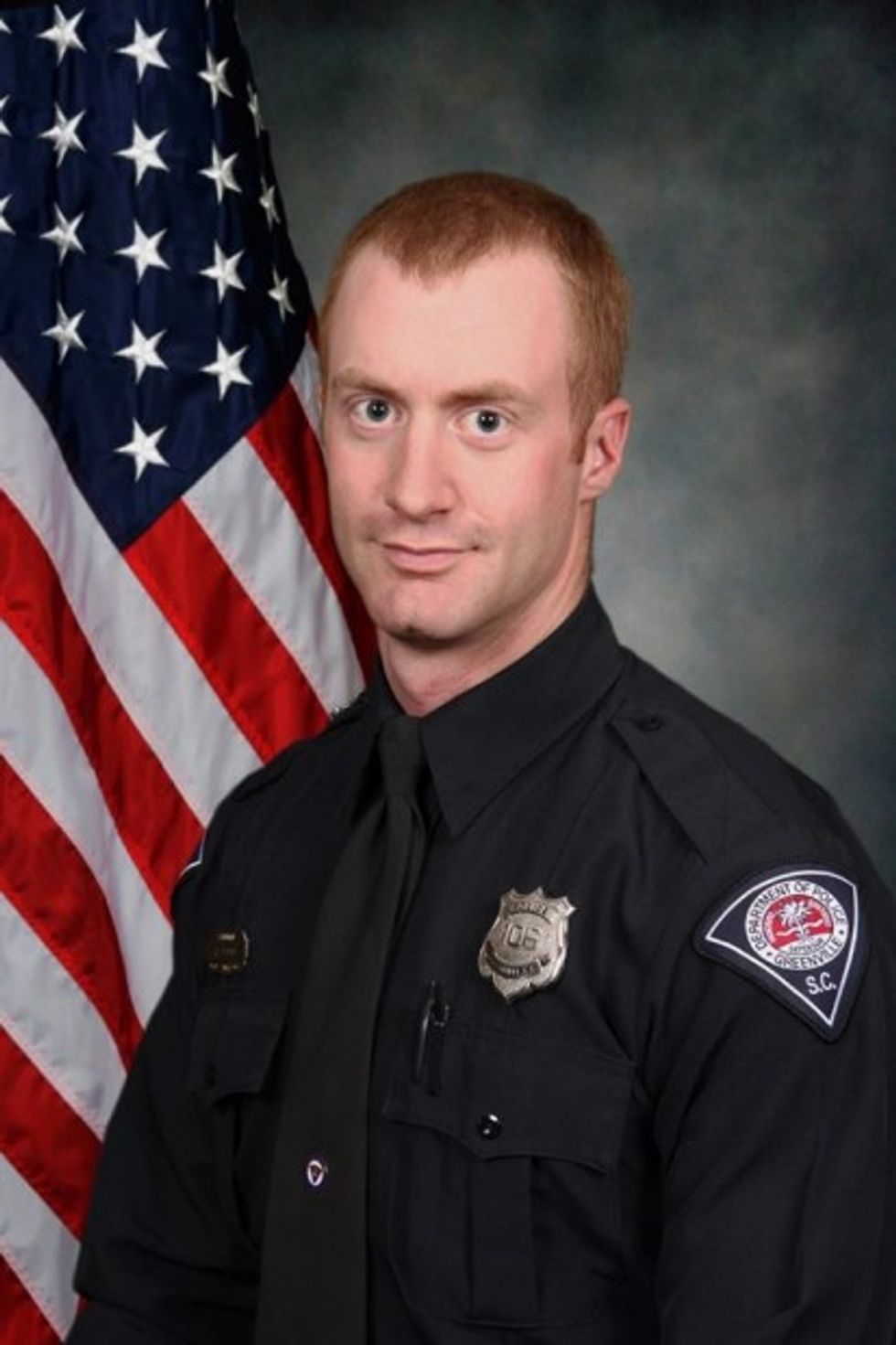 Image via Facebook/Greenville PD

Officer Allen Jacobs, 28, was shot multiple times while following the suspect around the corner of a house in the Nicholtown Community, Greenville Police Chief Ken Miller told WLTX-TV.
The suspect in the shooting took his own life after police officers surrounded him near the Swamp Rabbit Trail, Miller said.
Officer Jacobs, a decorated veteran of the Iraqi War, had two young sons. His wife is pregnant with their third child, Miller said.
Miller said the suspect in Jacobs' shooting, Deontea Perry Mackey, 17, was listed in a national police database as a gang member. Miller would not identify which gang.
Jacobs' weapon was still holstered and he was wearing a bullet-proof vest when he was fatally shot.
Miller said that the incident began at about 12:20 Friday when officers patrolling in the Nicholtown Community saw Mackey and approached him to conduct a field interview and talk about a weapon.
When he saw the officers, Mackey took off running, Miller said.
The suspect in Jacobs' shooting, whom Miller described as a "self-admitted gang member," led officers on a chase through woods and behind houses before opening fire and striking Jacobs.
In the next few minutes, the teen suspect would take his own life.
Officer Jacobs' patrol car is parked at the rear of LEC, E. Stone Ave, for anyone who wants to pay their respects. https://t.co/cvTNEjTuWG

— Greenville SC Police (@Greenville SC Police) 1458390932.0
"We lose, we hurt, we ache," Miller told WLTX-TV. "No one wants to lose their officers."
Greenville Police posted a message on its Facebook page Saturday:
"Officer Jacobs joined the GPD in August 2011, and in August 2015, was promoted to the rank of Police Officer III. In addition to serving on the Community Response Team, he was also a member of the S.W.A.T. team," the post read. "Rest in peace Unit 32. We have the watch from here."
Watch:
(H/T: WLTX-TV)