CNN's Jake Tapper tweeted a request Saturday to journalists traveling to Cuba: Track down Assata Shakur for an interview.
Shakur is a cop-killing fugitive who escaped from prison in 1979 and fled to Cuba in 1984, where she received political asylum. Though Shakur, a former Black Panther Party and Black Liberation Army member, has been in exile since before many Black Lives Matter activists were born, she has been hailed as a "freedom fighter," her named invoked as a symbol of social justice.
"Assata Taught Me" hoodies are also prominent at BLM protests.
Disturbing new liberal trend: Idiots wearing "Assata taught me" shirts celebrating cop-killing run-away Assata Shakur pic.twitter.com/4R6yg0yjRx

— #NeverTrump (@DefendWallSt) April 30, 2015
Marquette University painted a mural of Shakur on the wall of its Gender and Sexuality Resource Center, which was removed last year following public outcry.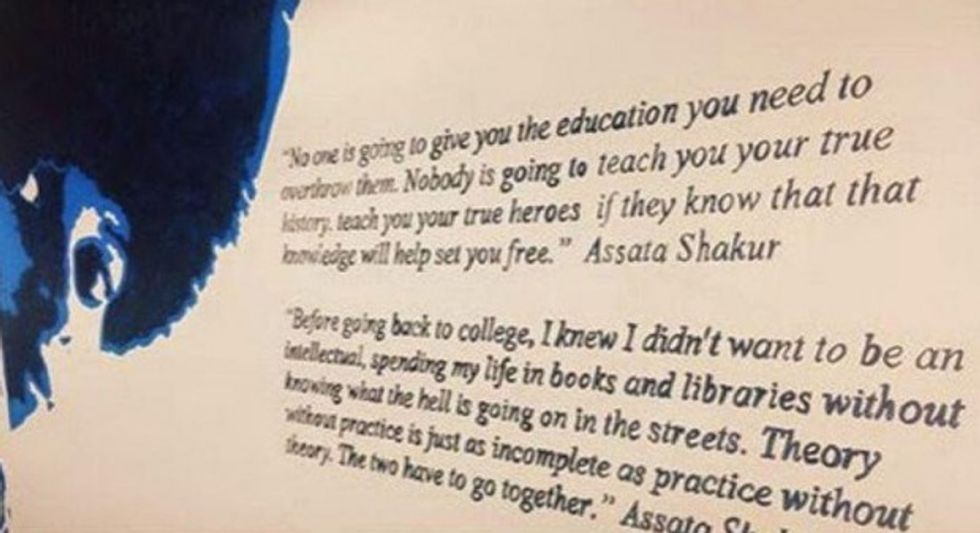 Image via Twitter/FoxNews
Melissa Harris-Perry walked away from her own show on MSNBC last month in response to MSNBC's pre-emption of her program for much of February for coverage of the presidential race. She did, however, keep her job as a professor at Wake Forest University, and for a $2,020 per semester hour tuition, she is currently teaching a class inspired by the Black Lives Matter movement.
The course aims to examine "the long history of racial justice, non-violent, and anti-racist political movements," a description that some would say excludes the Black Lives Matter movement. Included on the reading list is the autobiography of Shakur.
Ahead of President Obama's historic visit to Cuba Sunday, Tapper mentioned Shakur in a tweet directed at fellow journalists. The tweet referred to Shakur by her real name, Joanne Chesimard, though she has roughly 30 aliases she has used in the past.
@BryanBurrough the Cuban government must know where she is, no?

— Jake Tapper (@jaketapper) March 19, 2016
@jaketapper@BryanBurrough perhaps you don't want a journalist but an agent posing as a journalist

— Rose-Marie Holt (@Rose_Marie_Holt) March 19, 2016
@jaketapper If you can't find her, look under "Assata Shakur."

— Joseph Toomey (@JosephEToomey) March 19, 2016
Shakur is not listed on the president's agenda for his Cuba visit, though she remains on the FBI's Most Wanted Terrorists list.
(H/T: Twitchy)