More than 50 dissidents and protesters were arrested by the Cuban government just a few hours before U.S. President Barack Obama stepped foot on Cuban soil for his historic visit Sunday.
The protesters, who represented a group called the Ladies in White, routinely march and get arrested or detained as they demand improved human rights for the communist island, according to USA Today. The group's members march every sunday after Mass in the Miramar suburb of Havana, and they are often arrested or detained for hours or days at a time.
Berta Soler, one of the group's founding members, says that the a Ladies in White thought that the Cuban authorities might back off this Sunday out of respect for Obama's visit. But she was wrong, and the group was quickly rounded up in buses and police cars prior to the U.S. president's visit.
"For us, it's very important that we do this so President Obama knows that there are women here fighting for the liberty of political prisoners," Soler said, according to USA Today. "And he needs to know that we are here being repressed simply for exercising our right to express ourselves and manifest in a non-violent way."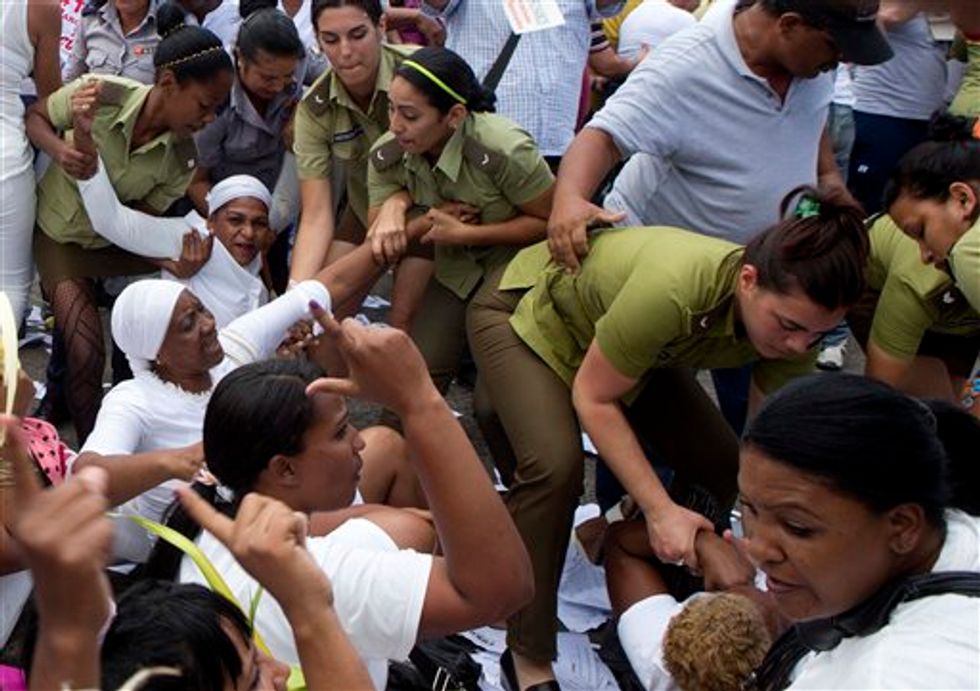 Policewomen drag away members of Ladies in White, a women's dissident group that calls for the release of political prisoners, during their weekly protest in Havana, Cuba, Sunday, March 20, 2016. U.S. President Barack Obama arrives Sunday afternoon for a three-day visit to Cuba, the first visit by a U.S. president to the island in nearly 90 years. (AP Photo/Rebecca Blackwell)
But Elizardo Sánchez, the head of the Cuban Commission on human Rights and National Reconciliation, said that the protesters had no real reason for believing that the Cuban government under President Raúl Castro would cease arresting the protesters out of respect for Obama's three-day visit to the country.
"Neither President Obama, nor the Cuban people, expect spectacular changes," Sanchez said, according to USA Today. "These kinds of regimes are repressive. It's necessary to maintain their power. So no matter what Obama says or does, it's impossible to put a good face on the human rights situation here in Cuba."
Sánchez told the New York Times that the Cuban government intensified its campaign of intimidation prior to Obama's visit and conducted more than 1,000 arrests each month beforehand. In the first two weeks of March alone, Sánchez said there were 526 detentions.
"Right now what you see is preventive repression, so it does not occur to anyone to say anything to Obama while he is here," Sánchez told the Times. "What the government gives, it can take away in a second. What we need is reform; what we need are laws. That's what will create real change."
Obama's visit to Cuba is intended to highlight the new relationship that exists between the former Cold War foes since the two nations announced in December 2014 that they would re-establish their severed and strained diplomatic ties, according to USA Today. Despite the reestablishment of the two countries' relationship, the issue of human rights violations has continued to plague their diplomatic relations.
—
Follow Kathryn Blackhurst (@kablackhurst) on Twitter