Two California foster parents are in a battle to keep a child whom they have been raising for the past four years, as a federal law from the 1970s reportedly mandates that the little girl — who is just one-and-a-half percent Choctaw Native American — be raised by Native American parents.
The child's white foster parents, Summer and Rusty Page of Santa Clarita, California, are fighting to keep Lexi in their home, though the Indian Child Welfare Act could prevent them from doing so, the Daily Mail reported.
The act was signed into law to "establish standards for the placement of Indian children in foster or adoptive homes, to prevent the breakup of Indian families, and for other purposes," according to its text, putting the Page family in a difficult situation.
The Pages are purportedly the only parents Lexi has ever known and, though she is still a foster child living in their home, the couple said that she has been living with them for more than four years and that they have been trying to adopt her for the past two-and-a-half years.
"Lexi doesn't know another home," Rusty Page told KTTV-TV. "She finally knows what mom and dad means and they want to take that away from her, and we can't stand idly by while that happens."
Summer Page added, "This little girl — we are her home. This is her family and that can all be rocked tomorrow."
The tribe has reportedly decided to place Lexi with extended family in Utah, though many are showing up to protest that decision.
Agents with the Department of Children and Family Services were expected to pick the child up around 10 a.m. on Sunday morning, but after a massive group of protesters arrived at the scene, the act was delayed, according to KABC-TV.
The Pages will reportedly join attorneys on Monday morning in seeking a stay with with California Supreme Court; their most recent stay, though, was lifted on Friday, leading them to up the ante on their battle to keep Lexi.
"As a grandmother, it's ripping my heart. It's ripping me apart to see Lexi has been a part of our family for almost five years, and she's not going to understand what's going on," Tari Kelly, one of Lexi's foster grandmothers, told KABC-TV. "The children are not going to understand the separation. This is going to destroy these children."
As for the Choctaw Nation, the tribe released a statement saying that it "desires the best for this Choctaw child."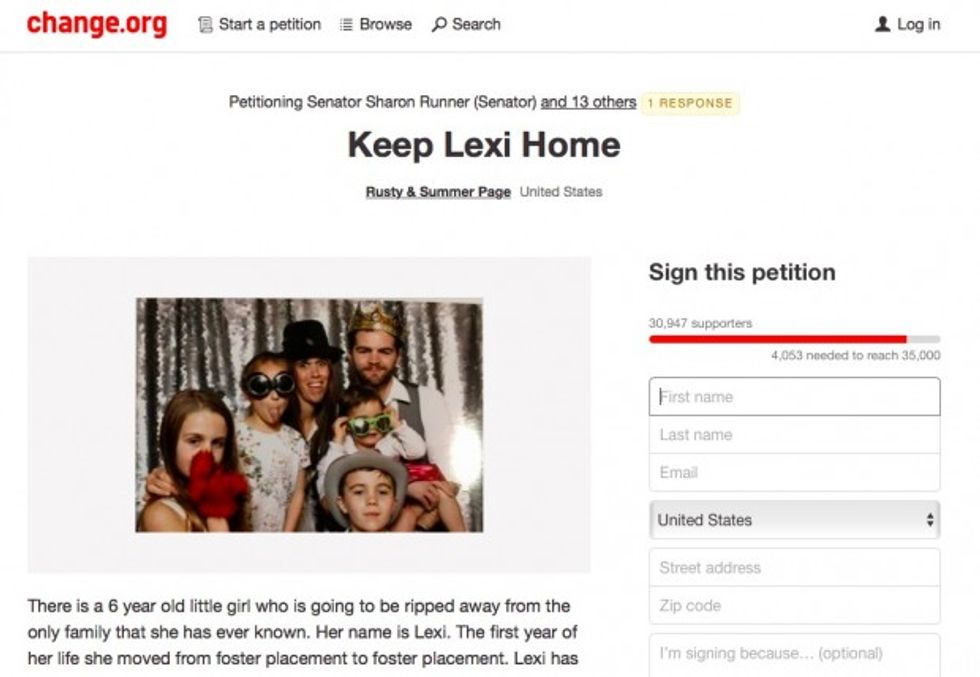 A petition on Change.org
The statement continues, "The tribe's values of faith, family and culture are what makes our tribal identity so important to us. Therefore we will continue to work to maintain these values and work toward the long-term best interest of this child."
A petition urging authorities to allow the child to remain with her foster parents has attracted nearly 31,000 signatures as of Monday morning.
(H/T: Daily Mail)
--
Follow the author of this story on Twitter and Facebook: