Democratic presidential candidate Hillary Clinton attacked her leading would-be Republican 2016 opponent, Donald Trump, for pledging to be neutral between Israel and Palestine while still calling for a negotiated peace between the parties.
"We need a steady hand, not a president who says he is neutral on Monday, pro-Israel on Tuesday and who-knows-what on Wednesday because everything is negotiable," Clinton said during a speech before the American Israeli Public Affairs Committee 2016 Policy Conference in Washington, D.C., Monday. "My friends, Israel's security is not negotiable."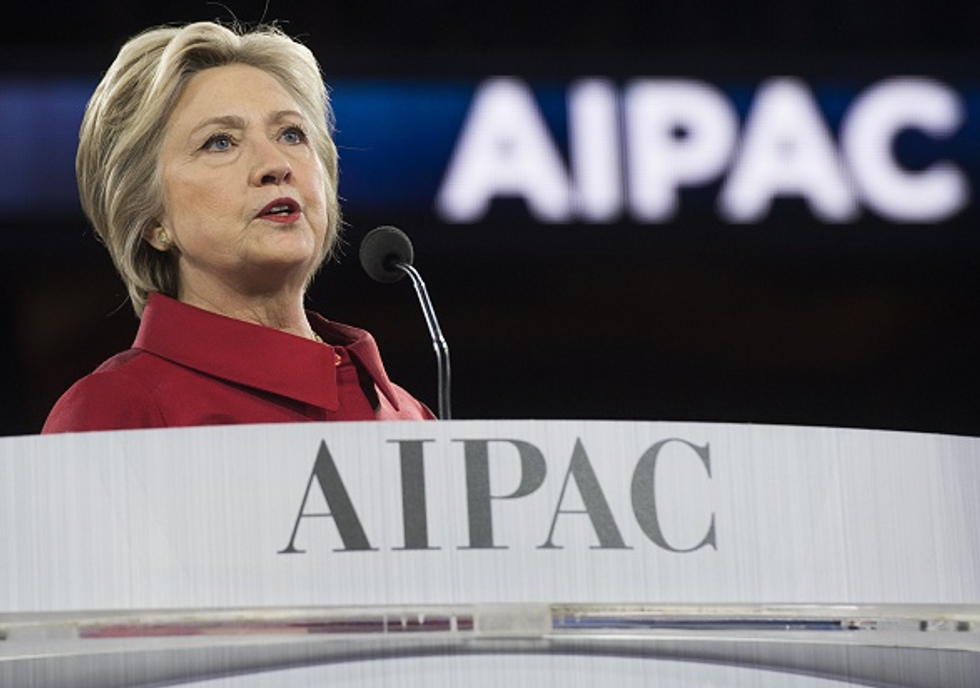 Attendees listen as Democratic presidential hopeful Hillary Clinton speaks during the American Israel Public Affairs Committee 2016 Policy Conference at the Verizon Center in Washington, D.C., Monday. (Saul Loeb/AFP/Getty Images)
Trump previously said he would be a "neutral guy" in trying to strike a deal between Israel and Palestine — touting his history of making deals.
"America can't ever be neutral when it comes to Israel's security or survival," Clinton added. "We cannot be neutral when it comes to rockets raining down on residential neighborhoods. We cannot be neutral when it comes to suicide bombers targeting innocents. Some things aren't negotiable, and anyone who doesn't understand that has no business being president."
While she criticized Trump for speaking about being "neutral," Clinton said that "only a two-state agreement" can provide peace with security for both Israel and Palestine.
AIPAC promotes cooperation between the U.S. and Israel and holds an annual policy conference in Washington.
It is considered the more hawkish group in comparison with the more liberal J Street. In 2010, Clinton confidante Sydney Blumenthal encouraged then Secretary of State Clinton to talk about J Street when she addressed the AIPAC conference in order to "give them legitimacy" and to ensure that "AIPAC becomes a point on the spectrum, not the controller of the spectrum."
However, during her remarks, Clinton put forward a more hawkish stance, speaking of the need for the United States to increase military funding to Israel.
Clinton, with a major lead among Democratic delegates, seems to be counting on running against Trump in the fall general campaign. Republican presidential candidates Trump, Texas Sen. Ted Cruz and Ohio Gov. John Kasich were set to speak at the conference in the afternoon. Clinton made no reference to the other contenders.
Clinton went on to call out Trump for "encouraging violence, playing coy with white supremacists, calling for 12 million immigrants to be rounded up and deported, demanding we turn away refugees because of their religion and proposing we ban all Muslims entry into the United States."