The union chief of the U.S. Border Patrol told Congress that a senior Obama administration official told agents that the government had "no intention" of trying to deport illegal immigrants because there is already a backlog in federal courts.
In a written response to the House Judiciary Committee, Brandon Judd, president of the American Federation of Government Employees National Border Patrol Council, recalled an Aug. 26, 2015, meeting with senior Homeland Security officials.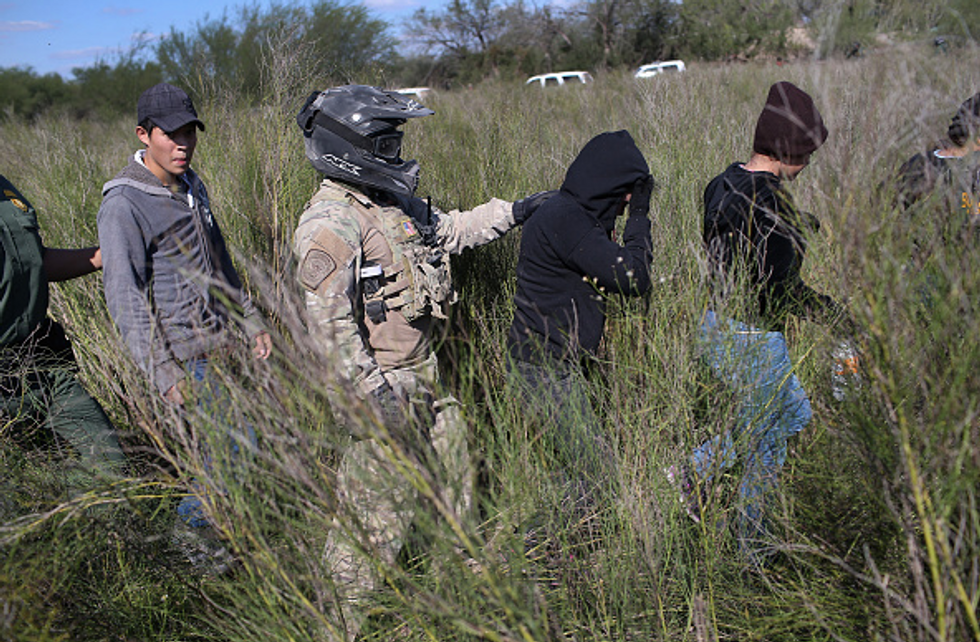 A U.S. Border Patrol agent leads undocumented immigrants after capturing them near the U.S.-Mexico border near Rio Grande City, Texas. (John Moore/Getty Images)
Judd and two others met with Department of Homeland Security Deputy Secretary Alejandro Mayorkas about the Obama administration's policy of releasing illegal immigrants into the United States.
"Why would we [issue a Notice to Appear to] those we have no intention of deporting? We should not place someone in deportation proceedings when the courts already have a 3-6 year backlog," Mayorkas told the agents, according to Judd.
If accurate, this would violate the Obama administration's stated policy for priority removals. Homeland Security Secretary Jeh Johnson announced Nov. 20, 2014, that the new guideline would focus on deporting illegal immigrants who came to the United States after Jan. 1, 2014. This was part of Obama's sweeping executive actions.
"Not only has President Obama sought to undermine our immigration laws at every opportunity possible, now his political appointees have implemented a 'catch and release' policy that contradicts the Administration's already weak enforcement priorities," said House Judiciary Committee Chairman Robert Goodlatte (R-Va.) in a statement. "Rather than take the steps necessary to end the border surge, the Obama Administration is encouraging more to come by forcing Border Patrol agents to release unlawful immigrants into the United States with no intention of ever removing them."
"The ongoing lack of enforcement and dismantling of our immigration laws undermines both our nation's immigration system and the American people's faith in their government," Goodlatte continued.
The Department of Homeland Security did not immediately respond to TheBlaze for comment.