Senate Minority Leader Harry Reid (D-Nev.) was confronted with numerous hypocritical statements he's made in the past regarding Supreme Court nominations by NBC host Chuck Todd during a tense interview Sunday on "Meet the Press."
Reid — along with other Senate democrats, President Barack Obama and Democratic presidential front-runner Hillary Clinton — has accused Senate Republicans of obstructionism following their declaration that Obama's Supreme Court nominee, Merrick Garland, would not receive a hearing or conformation vote.
But Todd contended that Senate Republicans are hardly doing anything different than what Senate Democrats did in 2005 during Supreme Court Justice Samuel Alito's nomination period.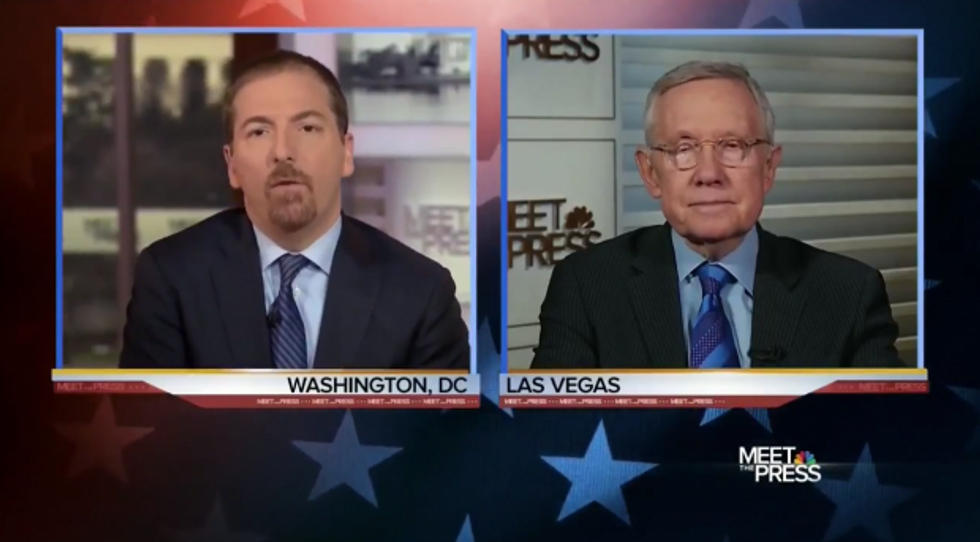 Image source: Youtube
To begin the interview, Todd immediately played a clip of Reid on the Senate floor from 2005. Reid said at the time: "Nowhere in ... [the Constitution] does it say the Senate has a duty to give presidential nominees a vote."
"And yet 11 years later, you wrote this: 'The Senate's constitutional duty to give a fair and timely hearing and a floor vote to the president's Supreme Court nominees has remained inviolable,'" Todd said, citing a recent op-ed Reid wrote for the Washington Post. "I guess I'm confused. Which is it? What has changed from 2005, when you said there was nothing in the Constitution that said a vote, to 2016?"
"This is the same thing as you guys talk about the Biden rule. There is no Biden rule," Reid replied. "What happened then was worked out. It was an effort to try to get something done."
Reid went on to tell Todd that his goal in the Senate has been to get rid of "obstruction," placing blame on Republicans for the political stalemate looming over Washington for the last eight years. "I don't believe in [obstruction]," Reid claimed.
However, Todd fought back against Reid's claim — again, using the Nevada Democrat's own words.
Todd pointed out that during the 2005 Senate hearings for D.C. Court of Appeals nominee Miguel Estrada, Reid opposed giving Estrada an up-or-down vote, something Democrats today are calling on Republicans to allow for Garland.
Again, Reid refuted Todd's point, saying that Estrada was eventually filibustered because of his failure to make public previous court opinions.
"But I guess I'm going back to, what has changed other than the political party affiliation of the White House?" Todd then asked.
[sharequote align="center"]"But what has changed other than the political party affiliation of the White House?"[/sharequote]
"What has changed is you have to look at what has happened. We have never held up a Supreme Court nomination," Reid said. "Since 1900, in a lame duck session, there have been six. They've all been approved."
Todd, however, was quick to point out that Senate Democrats, during George W. Bush's presidency, filibustered the nominations of both Alito and current-Supreme Court Chief Justice John Roberts.
"Where is Alito today?" Reid cut in. "He's on the Supreme Court."
"It failed," Todd shot back, "but you wanted one."
Despite what Reid and other Democrats claim, the Washington Post fact checkers dispelled the notion last week that the Senate is required via the Constitution to act on executive nominations — a claim that has been widely circulated following the late-Antonin Scalia's sudden death.
Still, PolitiFact mostly agreed with Reid's claim that Senate Democrats have not obstructed any previous Supreme Court nominations.
—
Follow the author of this story on Twitter and Facebook:
[facebook //www.facebook.com/plugins/like.php?href=