At a recent memorial celebrating the life of country singer Joey Feek, who died on March 4 after a 10-month battle with cervical cancer, her father, Jack Martin, revealed that he recently become a Christian in the midst of his daughter's harrowing health battle.
"I don't talk in front of people," Martin said during the March 13 memorial service at the Alexandria-Monroe High School gymnasium in Alexandria, Indiana, before sharing that he "got saved" during a church service a few months ago.
People in the audience instantaneously responded by standing and cheering.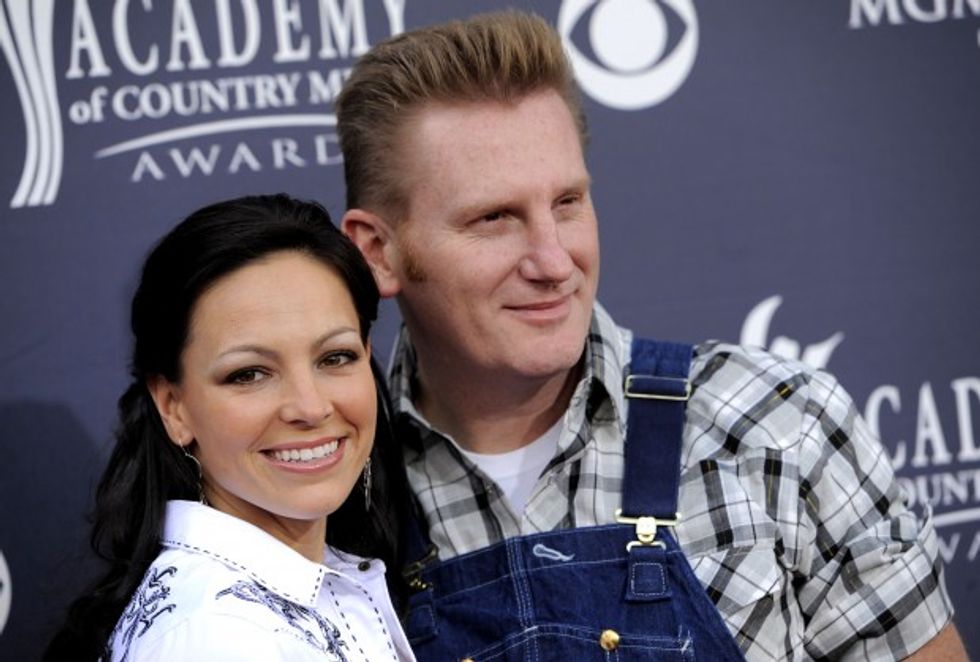 FILE - In this April 3, 2011, file photo, Joey Martin Feek, left, and husband Rory Lee Feek, of "Joey + Rory," arrive at the Annual Academy of Country Music Awards in Las Vegas, Nev. Joey died Friday, March 4, 2016, her manager said. Feek, who had been diagnosed with cancer two years ago, died at home in Indiana, Aaron Carnahan said. (AP Photo/Chris Pizzello, File)
Martin said that he initially thought that his decision to accept Jesus was between him and the pastor, but when he went to visit Feek later on in the day, his daughter was beaming.
"I went and saw Joey that night and she said, 'Dad, something happened today, didn't it?'" he recalled. "And she was grinning from ear to ear ... and she said, 'You got saved!"
Martin continued to share the story, getting tearful, "It was a special day for me, but it was really special to her. I had no idea that that was the most important thing I could have done for Joey."
Watch his comments below:
He concluded his remarks by saying that he was "so blessed to be the one she called dad."
Feek's mother, June, also sang a song in memory of the singer.
See more of the memorial event here.
(H/T: Gospel Herald)
--
Follow the author of this story on Twitter and Facebook: