"He's not getting out. He thinks he's Abraham Lincoln."
That is the response Glenn Beck said he received when he asked friends of Republican presidential candidate Gov. John Kasich (Ohio) why he has remained in the race for the White House.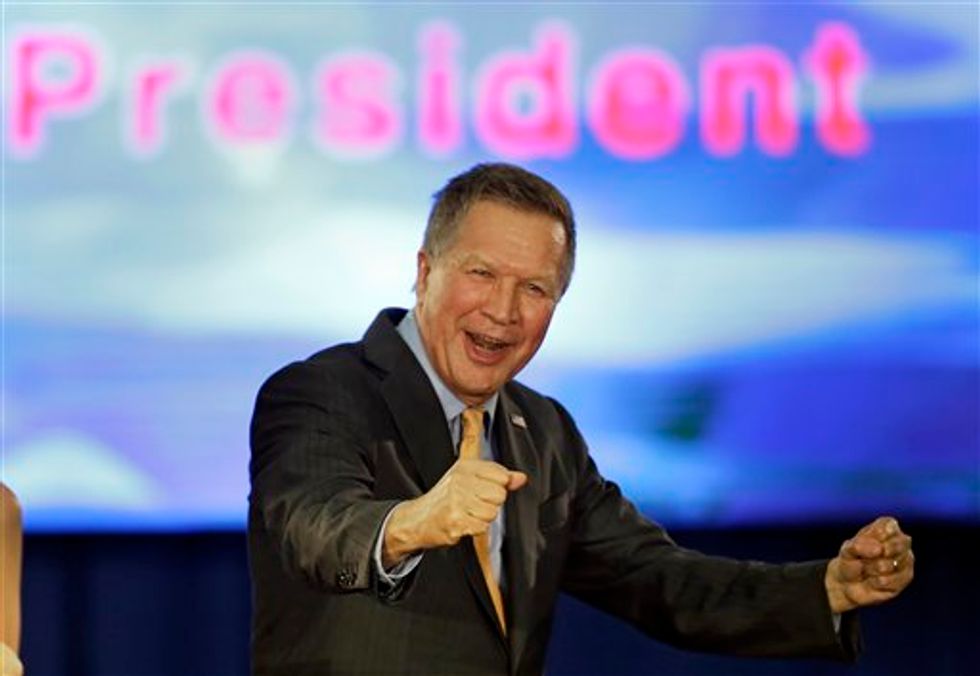 Republican presidential candidate Ohio Gov. John Kasich pumps his fist and celebrates before speaking at his presidential primary victory rally in Berea, Ohio, March 15. (AP Photo/Tony Dejak)
Kasich, who currently has only 143 delegates, seems to have no plausible way to win the GOP presidential nomination outright at the convention in July. But he's sticking around, regardless.
"Abraham Lincoln, so he went to the convention, and it was a contested convention, and he won in like the ninth vote," Beck said. "And that's how we have Abraham Lincoln: He won in the ninth vote. John Kasich thinks — he's not getting out.
"No matter what happens," he continued, "he's not getting out because he thinks that he's Abraham Lincoln."
Lincoln's convention has been invoked many times in discussions about a possible contested convention this summer, but according to Beck and radio show co-host Pat Gray, Kasich is "no Abraham Lincoln."
Complimentary Clip from TheBlaze TV The full episode of The Glenn Beck Program, along with many other live-streaming shows and thousands of hours of on-demand content, is available on just about any digital device. Click here to watch every Glenn Beck episode from the past 30 days for just $1!
—
Follow the author of this story on Twitter: