A 6-year-old child who is reportedly just one-and-a-half percent Choctaw Native American was forcibly removed from her longtime foster home on Monday due to a 1978 federal law mandating that "Indian children" be raised by Native Americans.
Lexi's foster parents, Summer and Rusty Page of Santa Clarita, California, who are white, have been fighting to keep Lexi in their home, but the Indian Child Welfare Act led authorities to seize the child, with plans to place her with relatives in Utah.
Video from outside the Page home on Monday shows a chaotic scene during which the emotional family handed the little girl over to authorities, as reporters and protesters assembled en masse.
Watch that video below:
A 6-year-old girl at the center of a custody dispute was removed from her foster family in an emotional and chaotic scene in Santa Clarita Monday.The family had sought to bring attention to their effort to "Save Lexi" as they battled to keep her, despite a court order that the little girl be sent to join relatives in Utah.Lexi is part Choctaw, and she was sent to live with relatives under a 1978 federal law intended to protect Native American families and children. She has been with her foster family since she was about 2.Click here to read KTLA's story here: http://on.ktla.com/CcYAn

Posted by KTLA 5 News on Monday, March 21, 2016
"Our family is so incredibly devastated," the Page family said in a statement released after Lexi was removed from the home. "Our hearts are broken and we are trying to make sense of everything that has happened with our three other children who witnessed their sister Lexi forcefully ripped away from our family by strangers."
The family continued, "But nobody could possibly be more devastated than our 6-year-old daughter who found herself restrained in a car and driven away to go and live in a foreign place hundreds of miles from her family, friends, teachers, home and life."
The Page family then implored authorities to "search deep" into their hearts and souls and do what is best for the child, imploring them to look Lexi "in her eyes and just ask her what she wants."
As TheBlaze previously reported, Lexi's seizure was based on the Indian Child Welfare Act — a provision that was signed into law to "establish standards for the placement of Indian children in foster or adoptive homes, to prevent the breakup of Indian families, and for other purposes."
The Pages are reportedly the only parents Lexi has ever known, as she has been living with them for more than four years. They have also been reportedly trying to adopt her for the past two-and-a-half years.
"Lexi doesn't know another home," Rusty Page 
told KTTV-TV
 on Sunday before the little girl was removed from the home. "She finally knows what mom and dad means and they want to take that away from her, and we can't stand idly by while that happens."
As for the Choctaw Nation, the tribe released a statement saying that it "desires the best for this Choctaw child."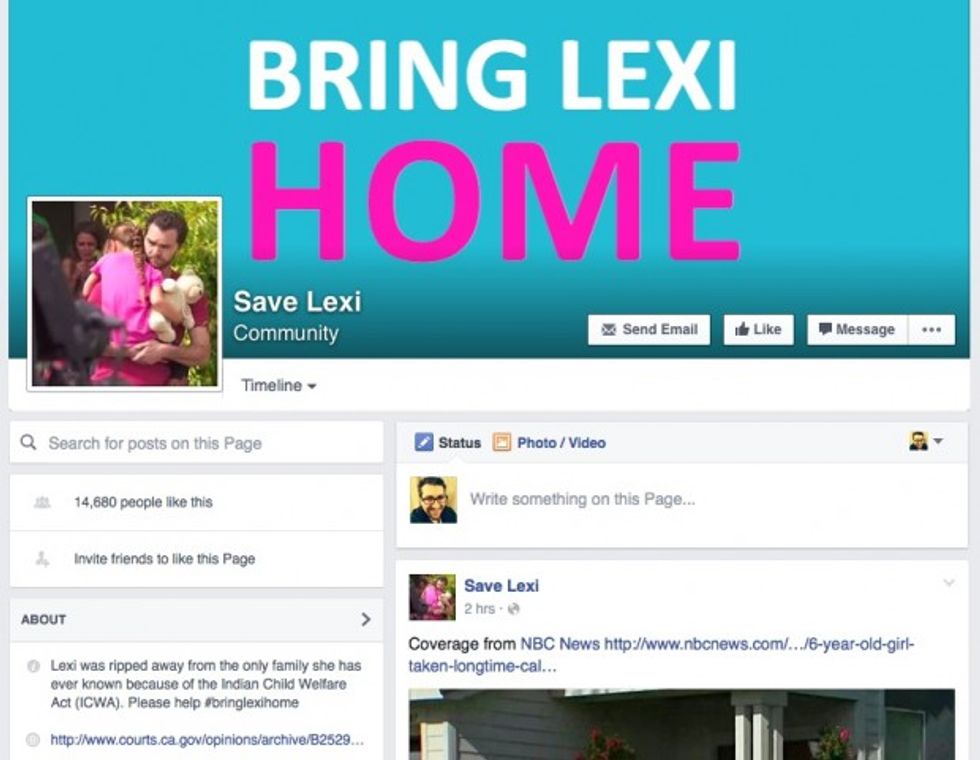 A screen shot from the "Save Lexi" Facebook page
The statement continues, "The tribe's values of faith, family and culture are what makes our tribal identity so important to us. Therefore we will continue to work to maintain these values and work toward the long-term best interest of this child."
A petition urging authorities to allow the child to remain with her foster parents has attracted nearly 52,900 signatures as of Tuesday morning, with a "Save Lexi" Facebook page attracting 14,600 members.
The Pages have vowed to fight on.
(H/T: KTLA-TV)
--
Follow the author of this story on Twitter and Facebook: