After bombs rocked a Brussels airport and one of the city's metro stations Tuesday, leaving at least 31 dead and many more injured, prominent Islamic State supporters issues a chilling message.
Shortly before the Islamic State claimed responsibility for the deadly attack, sympathizers took to social media to warn of what is to come.
"What will be coming is worse," the widely circulated Twitter post, which was shared by several Islamic State backers, read.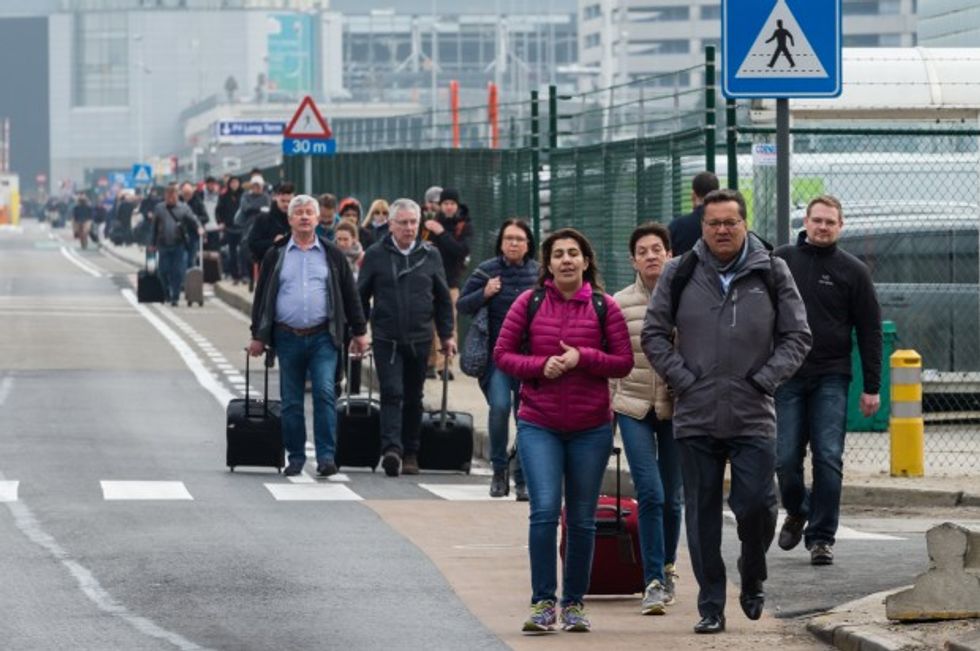 People walk away from Brussels airport after explosions rocked the facility in Brussels, Belgium Tuesday March 22, 2016. Explosions rocked the Brussels airport and the subway system Tuesday, just days after the main suspect in the November Paris attacks was arrested in the city, police said. (AP Photo/Geert Vanden Wijngaert)
Additionally, many Islamic State backers took to Twitter to celebrate the bombings, according to Vocativ.
"With the permission of God, the lions came to take revenge for the killing of Muslims in Syria and Iraq," one sympathizer tweeted from a now-suspended account.
Another posted, "#Brussels, if you continue your war against the religion of Allah then this is our response."
"Allahu Akbar, #Belgium_is_on_fire_from_explosives," one supporter tweeted along with a graphic image of an wounded man.
There were two blasts in the airport Tuesday, at least one of which deployed by a suicide bomber, and an additional bomb on subway train near the European Union headquarters.
"The Belgians have been sitting on a ticking time bomb," one U.S. counterterrorism expert said, noting the number of people who have traveled to Syria and Iraq to join the Islamic State, then potentially travel back home.
After the horrific explosions, French Prime Minister Manuel Valls declared, "We are at war."
"We have been subjected for the last few months in Europe to acts of war," he said.
Tuesday's attack in Brussels came several days after French police captured the main fugitive behind the Islamic State attacks in Paris in November of last year and the same day the U.S. is holding presidential primaries and caucuses in Arizona, Idaho and Utah.
—
Follow the author of this story on Twitter: