Rehabilitation is not enough when it comes to dealing with heroin and opioid addiction. So says Florida Republican Rep. John Mica.
"Treatment is at the end of the process — they've already been addicted. We have got to stop this stuff at our borders," Mica told Obama administration drug enforcement officials during a House Oversight and Government Reform Committee hearing Tuesday.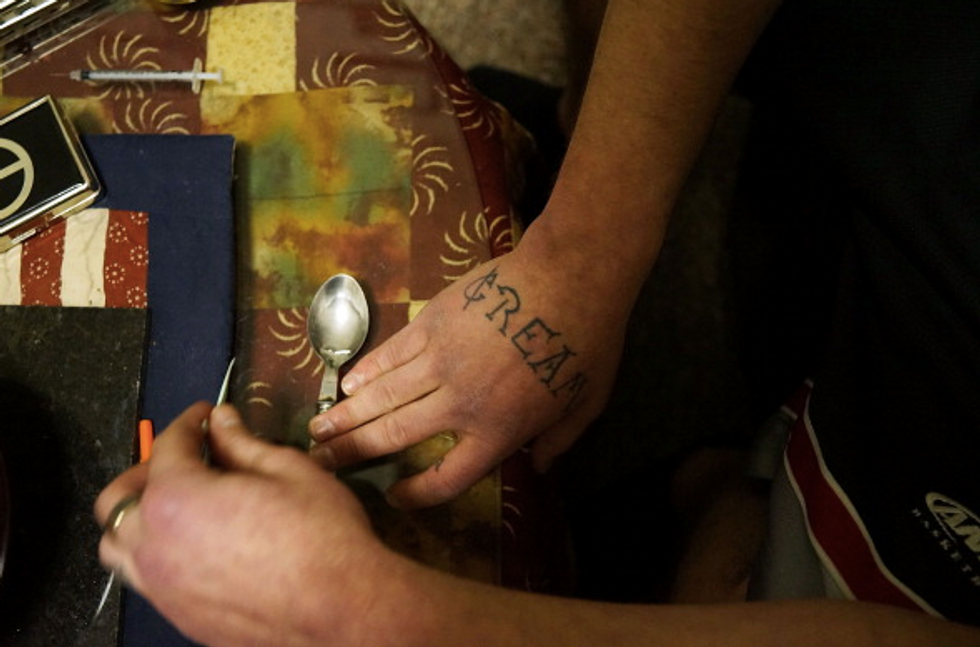 "Buck," who is 23 and addicted to heroin, prepares to shoot up Suboxone, a maintenance drug for opioid dependence that is also highly addictive. (Spencer Platt/Getty Images)
During questioning, Michael Botticelli, director of the White House Office of National Drug Control Policy, said that prosecutions have been going down.
According to the Drug Enforcement Administration, Mexican drug-trafficking organizations are the key suppliers of heroin in the United States.
The rate of opioid deaths increased 200 percent from 2000 to 2014, according to the Centers for Disease Control and Prevention. Drug overdose is the leading cause of accidental death in the United States, with an average death of 78 Americans per day. Meanwhile, 80 percent of heroin use starts with prescription painkiller abuse.
In fiscal year 2015, Congress approved $400 million to address the opioid abuse problems, an increase of $100 million from the previous year. However, none of the money has been spent yet, according to the House Oversight Committee. President Barack Obama's most recent budget request includes $1.1 billion in funding to fight the increase in opioid abuse.
Obama will be attending the National Prescription Drug Abuse Summit in Atlanta next week, Botticelli said. He told reporters during a conference call that the administration is sending letters out to governors of all 50 states to establish best practices at the state level.
During the Oversight Committee hearing, Mica called for more prompt action.
"We haven't killed this many people in multiple-year wars as we're killing in one year," Mica said. "We are going to lose half a million people in a decade at this rate. Every family has been affected by it, and now it's just a slaughter out of control."
In a conference call with reporters the same day, Tom Frieden, director of the Centers for Disease Control and Prevention, called the deaths "unprecedented" compared to other drug problems facing the United States. He said there is no model that compares.
"There is a blurring of the lines between prescription opioid and the use of illicit drugs," Frieden said. "This is one of the very few problems in the U.S. that is getting worse."