The names of those killed during the terror attacks in Brussels Tuesday are starting to be revealed by authorities.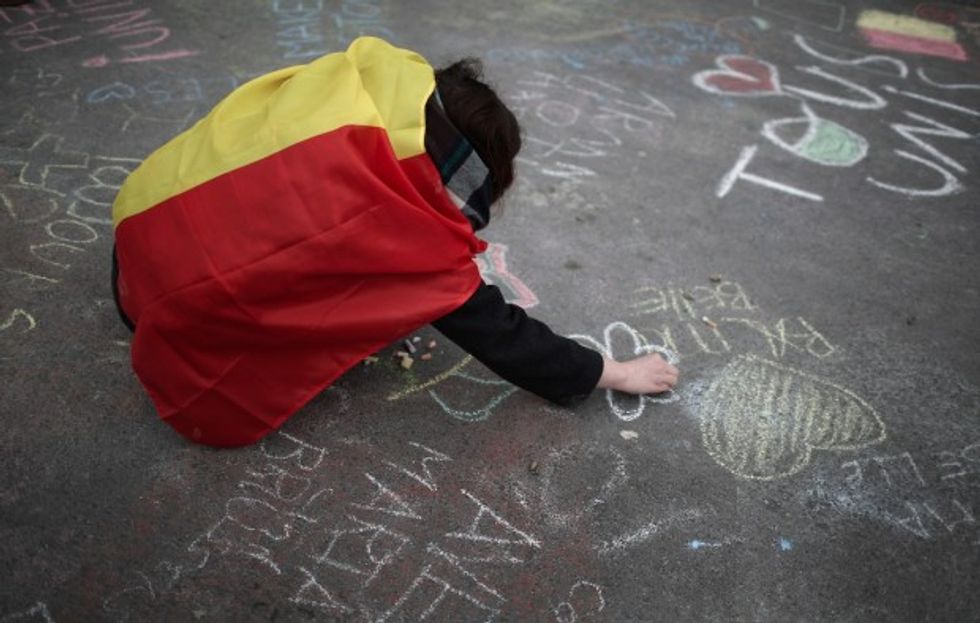 People chalk messages of support on the floor of the Bourse De Brussels building in the Place de la Bourse following Tuesday's terrorist attacks in Brussels, Belgium. (Christopher Furlong/Getty Images)
At a press conference Wednesday, Belgian federal prosecutor Frederick Van Leeuw said that at least 31 people were killed and 270 were injured during the attacks, according to Business Insider.
The government named three of the victims.
Adelma Tapia Ruiz:
Adelma Marina Tapia Ruíz is 1st #Brussels victim named, she leaves twin 3-year-old daughters https://t.co/4MokzGe3aR https://t.co/l2Za5xyZhi

— OutFrontCNN (@OutFrontCNN) 1458713645.0
According to Mashable, Ruiz was born in Peru but living in Brussels. She was killed at the airport while trying to catch a flight to see her family in New York. She leaves behind twin daughters.
Olivier Delespesse:
Second victim of Brussels terror attacks named as Olivier Delespesse https://t.co/QKUev1Tjo6 https://t.co/LJub1Skbbu

— ITV News (@ITV News) 1458750264.0
According to Mashable, Delespesse worked for the Federation of Wallonia-Brussels and was riding the metro when he was killed.
Leopold Hecht:
Student Leopold Hecht, 20, named as one of those killed in Brussels metro attack https://t.co/QKUev1Tjo6 https://t.co/QDlleWNwsf

— ITV News (@ITV News) 1458750790.0
Classmates mourn slain law student Leopold Hecht, "It's so unjust...He was brilliant,kind" #BrusselsAttacks https://t.co/ekmccPnJkC

— Cassandra Vinograd (@Cassandra Vinograd) 1458727823.0
Hecht, 20, was a student at Saint-Louis University in Brussels.
"I have the immense sadness to inform you of the death of Leopold Hecht, a law student," Pierre Jadoul, the university's chancellor, told ITV News. "He was one of the unfortunate victims of the barbarous acts carried out on 22 March at Maelbeek station. There aren't any words to describe our dismay at this news. All our thoughts are with his family and friends."