BRUSSELS (TheBlaze/AP) – Two officials say the suspected bombmaker in the Paris attacks was one of two suicide bombers who died in the Brussels airport blasts.
The officials said that Najim Laachraoui's DNA was verified as that of one of the attackers on Tuesday, after samples were taken from remains found at the blast site in Brussels airport.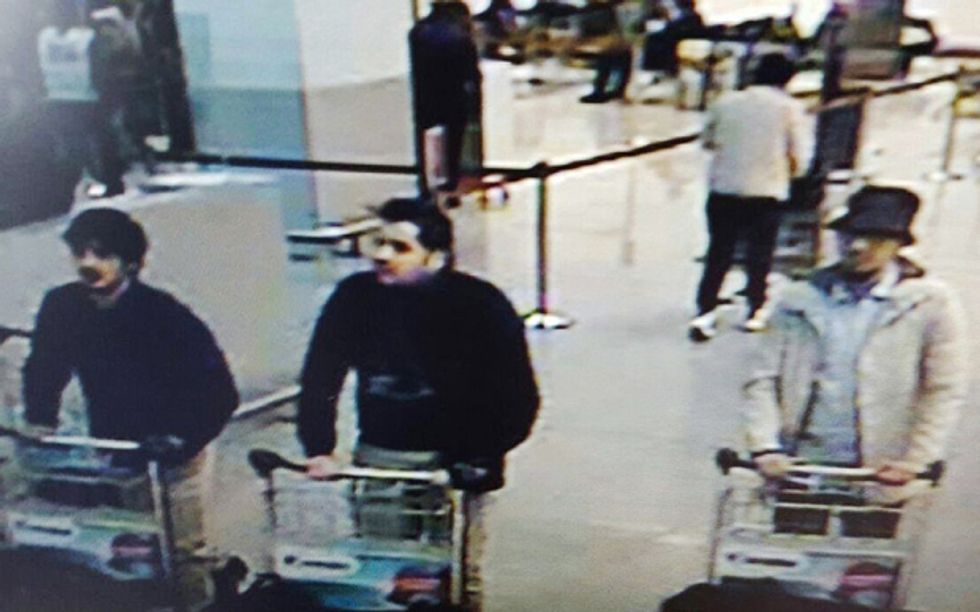 Image source: Surveillance video
One European intelligence official and one French police official spoke on condition of anonymity because they weren't authorized to divulge details of the Belgian investigation.
Both officials were briefed on the investigation.
Laachraoui's DNA was also found on the suicide belts used in the Paris attack, and authorities believe he was the bombmaker in the Nov. 13 attacks in the French capital.
Authorities had previously identified Khalid El Bakraoui as the Brussels metro bomber and his brother, Brahim El Bakraoui, as one of the airport bombers.
Prosecutor:
Khalid El Bakraoui (left) was #Brussels metro bomber
Brahim El Bakraoui (right) was an airport bomber pic.twitter.com/Y2LL5C2Nm8

— CNN Breaking News (@cnnbrk) March 23, 2016
The identity of the man who is seen on the far right in the airport surveillance footage remains unclear and officials believe he is still on the run.
–