Days after challenging the Cuban government on its human rights record, President Barack Obama spoke about the United States' lapses regarding its policy toward the old Argentinian dictatorship.
"There has been controversy about the United States early in those dark days," Obama said, speaking with Argentina President Mauricio Macri at a war memorial. "When the United States reflects on what happened here, it has to examine its own polices, it's own past. Democracies have to have the courage to acknowledge when we don't live up to the ideas that we stand for. We've been slow to speak out for human rights. That was the case here."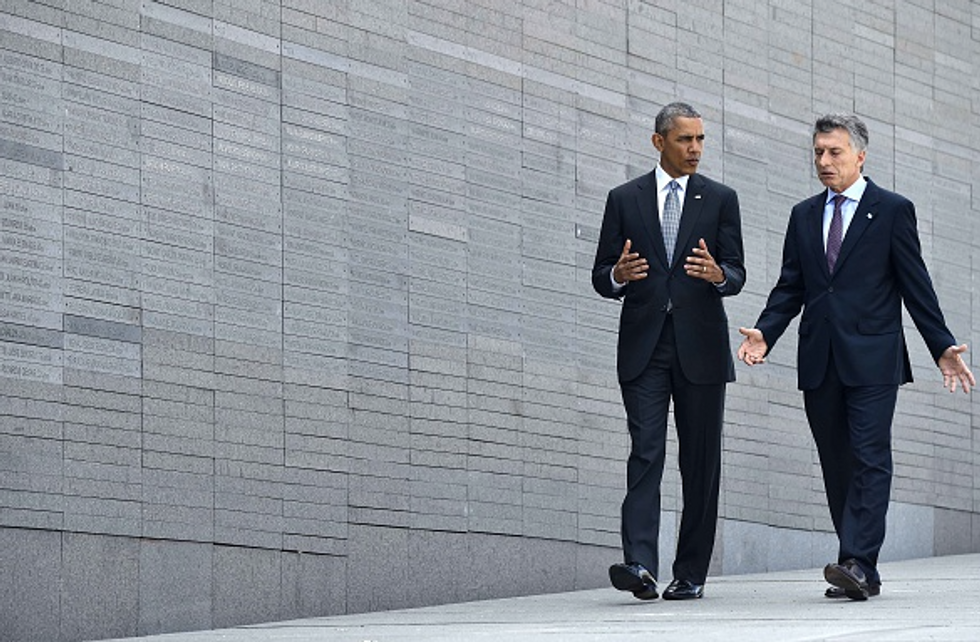 President Barack Obama walks with Argentinian President Mauricio Macri as he pays homage to the victims of Argentina's Dirty War at the Parque de la Memoria (Remembrance Park) in Buenos Aires Thursday. (Nicholas Kamm/AFP/Getty Images)
The visit to the victims memorial marked the 40th anniversary of Argentina's "Dirty War," a crackdown on Marxist rebels that led to a dictatorship lasting from 1976 to 1983, where the Argentina government killed about 30,000 people. In the midst of the Cold War, the United States backed Argentina's military government in its early days.
"It's takes courage for a society to confront uncomfortable truths about the darker parts of its pasts," Obama said. "Confronting crimes committed by our own leaders, our own people, that can be divisive and frustrating. But it's essential to moving forward to building a peaceful and prosperous future in a country that respects the rights of all of its citizens."
Obama pledged to declassify additional military and intelligence information to share with Argentina. He further noted that the United States has documented and released information from the past the helped the families of victims seek prosecutions.
"Because of the principles of Americans who served our government, our diplomats documented and described many instances of human rights violations," Obama said. "In 2002, as part of a two-year effort, the U.S. declassified and released thousands of those records, many of which were used to hold perpetrators accountable."