Conservative TV and radio show host Glenn Beck offered probably his strongest rebuke yet of those supporting Republican presidential candidate Donald Trump during a live studio show Thursday.
Responding to online criticisms of his decision to "take on" evangelicals who support Trump, Beck told his audience, "You're damn right," adding that he'll "take on" all religious people who support the controversial real estate mogul.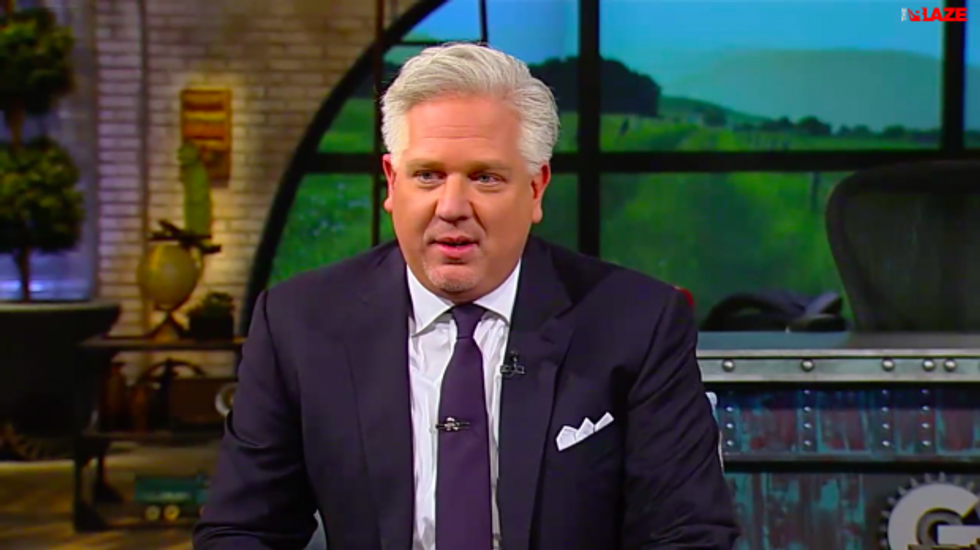 Glenn Beck discusses the Christian vote and Donald Trump's political rise on The Glenn Beck Program Thursday. (Image source: TheBlaze TV)
Beck told his churchgoing listeners to go into their churches and "wake your pastors up like there's no tomorrow," because there's "no chance of saving" the U.S. "unless we reunite with our principles."
The Glenn Beck Program host's comments came after the Drudge Report — which he frequently criticizes — shared a Breitbart News article in which Trump supporter and Dallas pastor Robert Jeffress rebuked Beck's "wacko" comments criticizing Christians for supporting Trump.
Regardless, Beck stood boldly by his criticism of the religious community Thursday night.
"When they were blasting me on Drudge today about, you know, taking on evangelicals — you're damn right," Beck charged. "And I'll take on the Jews, and I'll take on the Lutherans, and I'll take on the Catholics, and I'll take on the Mormons — I'll take 'em all on."
"You're damn right," he doubled down. "Where are you?"
Beck said religious voters are "not living your principles" today in American society. "We're a Christian nation — are we really?" he asked.
"Why are we in so much trouble? Why do we have the same kind of problems that the non-Christian nations do with pornography and drugs and everything else? We should be setting an example if we were actually living our Christian faith," Beck said.
Ultimately, Beck determined that the problem is Americans say they are living according to Christian principles but in reality are not, because "no real Christian" would be supporting Trump's candidacy.
"We're not living our Christian faith because no Christian, no real Christian — I don't mean a judgmental Christian, I mean somebody who's living their faith — no Christian says, 'I want that guy, that guy is the guy for me,'" Beck said. "Nobody, nobody."
Complimentary Clip from TheBlaze TV The full episode of The Glenn Beck Program, along with many other live-streaming shows and thousands of hours of on-demand content, is available on just about any digital device. Click here to watch every Glenn Beck episode from the past 30 days for just $1!
—
Follow the author of this story on Twitter: