The Donald Trump campaign has taken steps to start a two-pronged strategy that would "guarantee" the billionaire the Republican nomination in the case of a contested or brokered convention come July, according to a report from NBC News.
Barry Bennett — Ben Carson's former campaign manager who now heads Trump's delegate strategy — told NBC that phase one of the plan is to secure as many "unbound delegates" as possible. Those are the delegates who are not bound by regulations in their state to vote at the convention the same way their state voted in their primary or are delegates for candidates no longer in the race.
If Trump or second-place Texas Sen. Ted Cruz do not secure the necessary 1,237 delegates by July, all bets are off, because delegates are typically bound to a candidate only on the first ballot at the convention. But if no candidate reaches the magical number, ballots will continue to be cast until one candidate reaches the qualifications to be the party's nominee.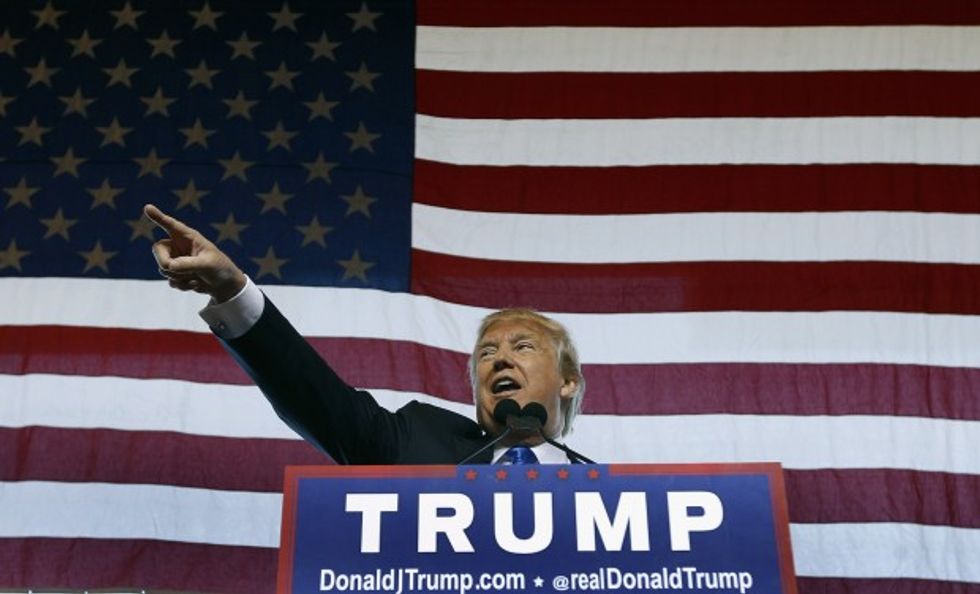 Ralph Freso/Getty Images
Phase two of the Trump campaign plan, an anonymous source told NBC, was to prevent delegates from jumping ship if additional ballots are needed to decide the nominee.
"Our goal is to make sure every delegate Trump has now stays a Trump delegate on the second ballot," the source said.
But if the convention indeed becomes contested, Bennett added that back-room bargaining will take place as well.
"It's every man and woman for themselves, and that's when the negotiations start," he said. "It's everything from, 'Come campaign in our state,' or 'Do a fundraiser for a state party,' or 'Put stronger language about right-to-life in the platform.' Or all kinds of crazy things that are important to whoever the delegate is."
However, the campaign has thrown together an "insurance policy" by hiring many political operatives who are familiar with the convention process and could lend a helping hand should Trump fail to gather the appropriate number of delegates.
The key hires include: former FEC commissioner Don McGahn and former Carson aides Jason Osborne, who has handled "floor operations" during past conventions, and Ed Brookover, the former political director of the Republican National Committee.
Still, Trump continues to be the far-and-away leader, in both support and delegate count. According to the latest RealClearPolitics average of national polling, the New York mogul is leading Cruz nationally by 13 points, 43 percent to 30.3 percent. Delegate wise, Trump has so far secured 739 while Cruz has secured just 465; 944 delegates are still up for grabs, plus those won by candidates no longer running.
—
Follow the author of this story on Twitter and Facebook:
[facebook //www.facebook.com/plugins/like.php?href=