Police said that a Scottish Muslim shopkeeper was murdered by a fellow Muslim hours after he posted a message on Facebook professing love for Christians and for Jesus and wishing them a happy Easter.
Asad Shah, 40, died in the hospital in Glasgow after sustaining serious injuries in the Thursday attack that British media described as especially brutal.
A 32-year-old Muslim man was arrested Friday in connection to what police have called a "religiously prejudiced" attack.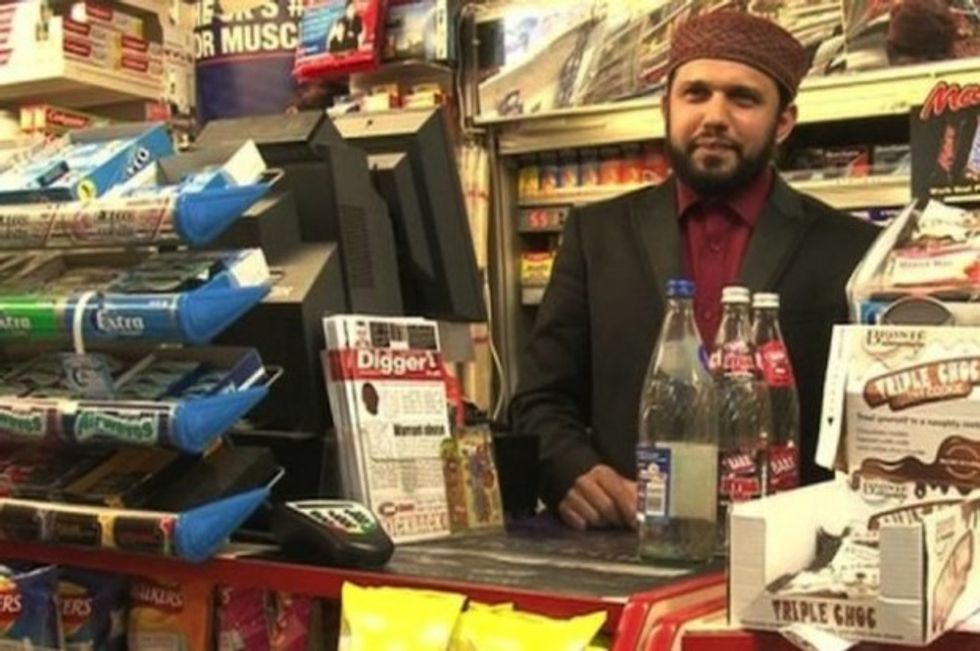 Asad Shah in his Glasgow convenience shop. (Image source: GoFundMe)
Shah, a devout, Pakistani-born Muslim shopkeeper, earlier Thursday posted a message on Facebook which included: "Good Friday and a very Happy Easter, especially to my beloved Christian nation."
"Let's follow the real footstep of beloved holy Jesus Christ … and get the real success in both worlds," he wrote on the Facebook account widely reported in the British media to belong to him.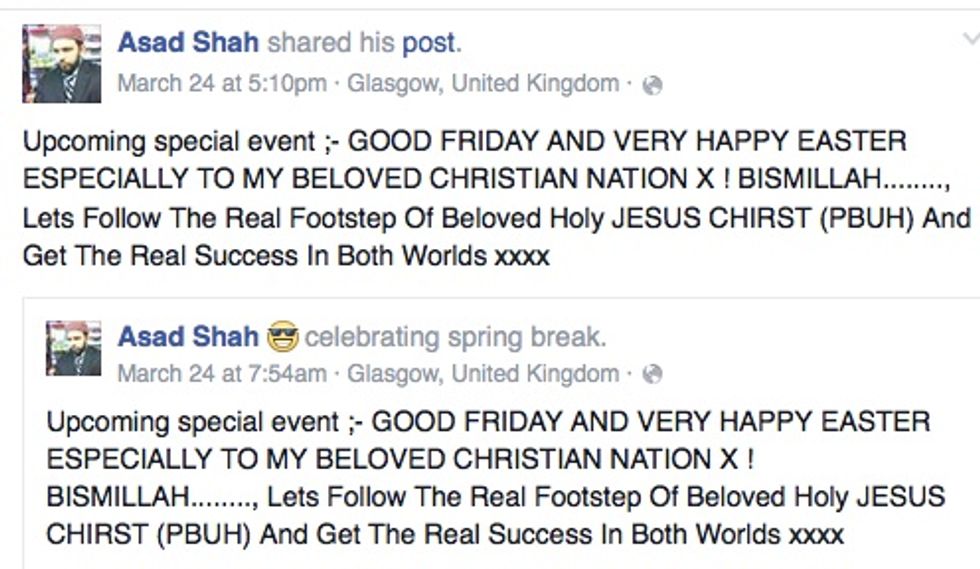 Image source: Facebook
One eyewitness told a British news outlet that the victim's head was stomped on during the attack while the Daily Mail reported that he was stabbed in the head with a kitchen knife.
"One was stamping on his head. There was a pool of blood on the ground. It was horrific," the witness told the Daily Record.
"A full investigation is underway to establish the full circumstances surrounding the death which is being treated as religiously prejudiced," said a police spokeswoman quoted by the Telegraph.
A look at Shah's Facebook page reveals numerous messages of hope and coexistence between the faiths.
On Christmas Day, he posted this message to Christians, "MERRY CHRISTMAS WITH LOVE TO ALL BELOVED MY BELOVED CHRISTIAN NATION XXXXXXXXXXXXXXXXXXXXXXX AND TO ALL BELOVED MANKIND WITH ALL THE BEST WISHES X."
Hundreds came out to pay their respects to the shopkeeper in a vigil Friday night.
Resident Isabella Graham told the BBC that Shah had once employed her daughter at his convenience shop and newsstand when she was younger.
"He was an amazing, wonderful man, he couldn't do enough for you," she said. "He wouldn't hurt anybody. Nobody in Shawlands would have a bad word to say about him. I can't believe he's gone."
A GoFundMe fundraiser has been started by Shah's customers to contribute to the slain man's family; as of this writing it has raised about $58,000.
His customers wrote on GoFundMe, "Mr. Shah was a popular, well respected and much loved member of our commuity and his death has devastated many."
"He was a warm and friendy man and he always went out of his way to make time to talk to you — he was more than just our local shopkeeper. He was a friend to many," they wrote.