A pro-life protester kneeled in front of the entrance of a Planned Parenthood clinic in Boca Raton, Florida, on Friday, donning a white dress while singing and praying — acts that she hoped would help send a powerful message to patients and staff, alike.
Julie Woodley, a licensed therapist who is also the founder of Restoring the Heart Ministries, said that she was once a volunteer spokesperson for Planned Parenthood; today, though, she's sending an entirely different message.
Kneeling in front of the door of the clinic, she prayed and sang the song "Give Me Jesus," bringing with her roses, palm branches and baby shoes, according to Live Action News.
See Woodley laying roses outside of the clinic below:
Clinic workers eventually asked Woodley to move and she complied, joining other protesters on the nearby street. Before she left, though, she placed the booties and roses in front of the door in case any women entering the clinic might want them.
"Even thou the workers got mad and called the police, [life] and love speaks louder," she wrote in a Facebook post. "Many saw listened and responded in love. Pray for LIFE!!!!!"
Woodley, who had two abortions during her college before experiencing the murder of one of her close friends brought her to a spiritual and mental breaking point, discussed how finding God changed her entire perspective.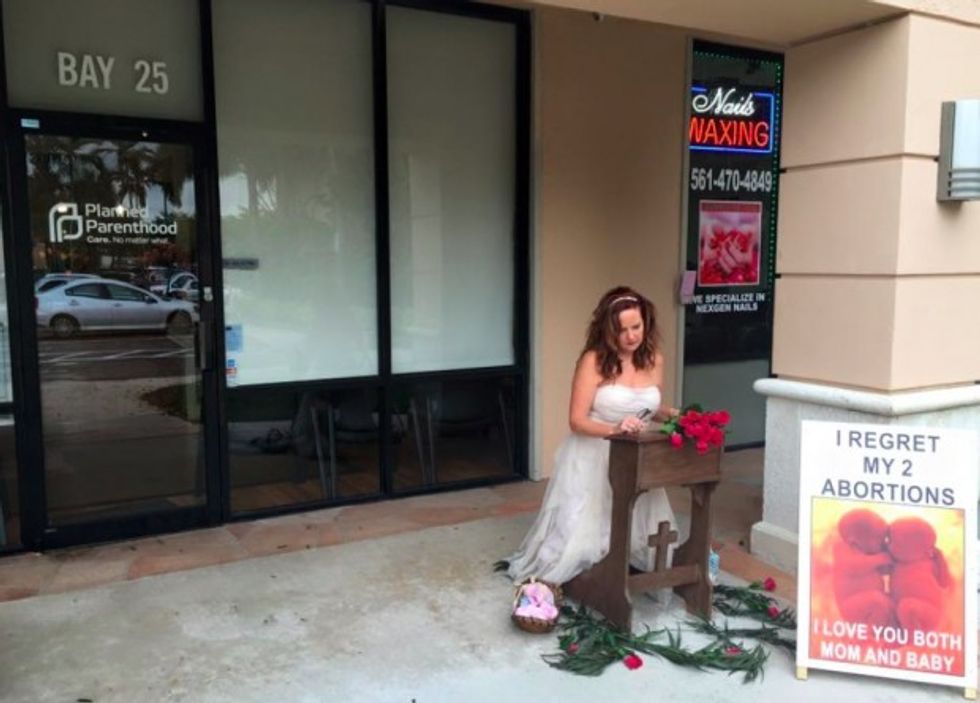 Julie Woodley protests outside of a Planned Parenthood (Facebook/Julie Woodley)
"More than any time in my life, I knew someone loved me. For the next years I pursued God," she told Live Action News. "I began to see that someone loved me and I could be forgiven for all the abortions and men I had slept with. I could be born again – clean with God. People began to walk me through my healing."
This is hardly the first time that Woodley has issued a peaceful protest at a Planned Parenthood clinic, as she regularly schedules medical visits at clinics in an effort to speak with the staff, hoping to help change their perspective.
"I know it sounds crazy, I feel like God is calling me to the heart of the battle," she said. "I can say I used to work for Planned Parenthood, and I can go in a tender, loving way and talk to the abortionist."
Read more about Woodley's protest here.
(H/T: Live Action News)
--
Follow the author of this story on Twitter and Facebook: