As the Federal Bureau of Investigation tees up to begin the interview portion of their investigation into former Secretary of State Hillary Clinton's use of a private email server, Judge Andrew Napolitano offered a warning for her aides of the dangers of these interviews.
During an interview on Fox News' "Fox & Friends" Monday morning, Napolitano asserted that the 147 FBI agents who have been working on the case for more than a year "have a mountain of evidence" that they are "now ready to test." Yet Clinton's former aides do have a choice of whether or not they want to succumb to the FBI's interviews should they take place.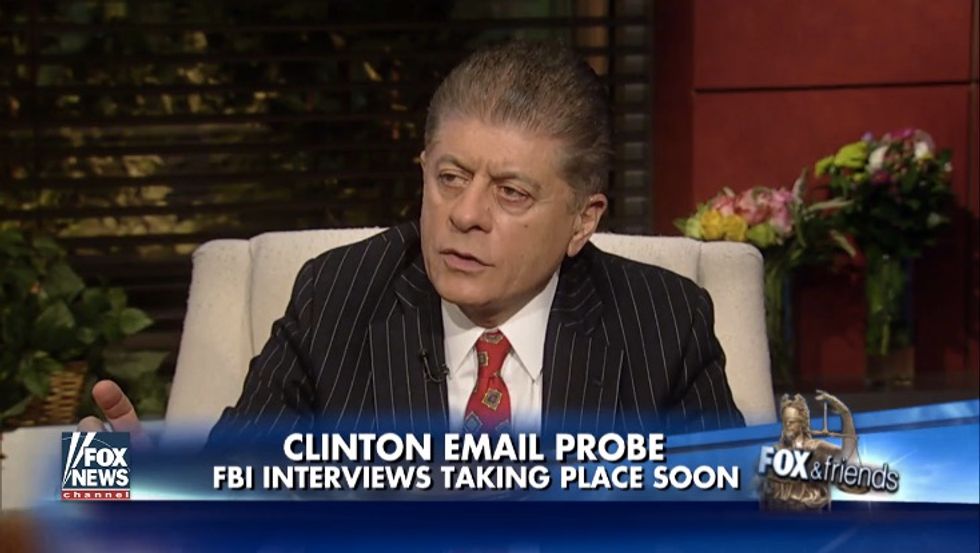 Judge Napolitano warns that the FBI's interview stage could be "very, very dangerous" to Clinton's aides. (Image source: Fox News)
"If they go in, they're not under oath, but it's very, very dangerous, because if they mislead or lie to the FBI, that's a felony — the equivalent to perjury — and they can be prosecuted," Napolitano said. "And they do not know, and their lawyers do not know, what the FBI knows about them."
The senior judicial analyst for Fox News continued to say that the timing of the investigation is "very, very treacherous."
"I would think the Democrats need to know whether or not they're about to nominate somebody for president who might be a criminal defendant in a felony prosecution before November," he said. "They should know that now."
He continued, "Prediction: something will happen by May which is now a little over a month away."
Watch Napolitano's comments: