Republicans should all throw their weight behind the GOP presidential nominee — no matter who he is — and not abandon the party, Virginia Republican National Committeeman Morton Blackwell argued.
The conservative political activist and founder of the nonpartisan Leadership Institute, told TheBlaze in an interview that he's been asked about those who threaten to leave the Republican Party or abstain from voting in November's general election should businessman Donald Trump secure the party's nomination.
"People have asked me about that, and I'm very frank to say that I intend to vote for the Republican nominee — whoever he is," Blackwell, 76, told TheBlaze.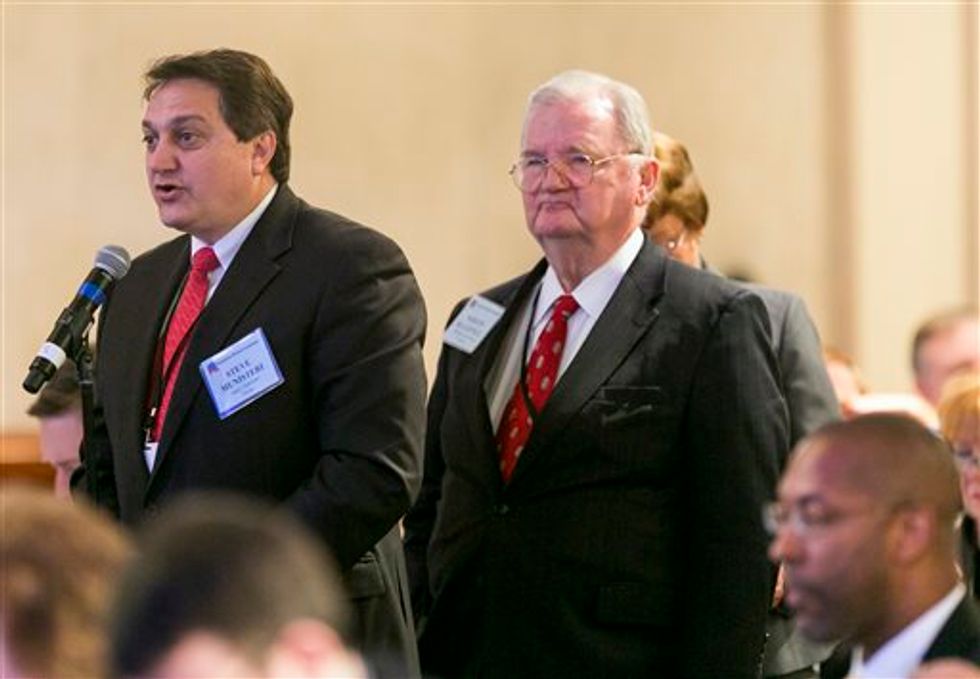 Steve Munisteri, chairman of the Republican Party of Texas, left, and Virginia RNC Committeeman Morton Blackwell address the spring Republican National Committee meeting in Los Angeles April 12, 2013. (AP Photo/Damian Dovarganes)
The conservative giant, who endorsed Texas Sen. Ted Cruz for president in January, likened a Trump nomination to that of a stolen vehicle.
"For people who say if Republicans nominate Trump, they're through forever with the Republican Party, I say, look, if somebody stole your car that has generally been able to take you where you want to go, your first reaction is that you want the car back," Blackwell said. "But if you get it back, then you don't abandon it because somebody had stolen it before."
Blackwell went on to explain the rise of both Trump and Cruz in the Republican primaries as indicative of the "changing of the fundamental determinants of the direction of the public policy process."
"A number of unpredicted things that have happened [to the establishment] indicate that something has happened at the grassroots," he said, referring to the "stunning" upset of former House Majority Leader Eric Cantor by Rep. Dave Brat during Virginia's GOP primary in 2014 — the first time a majority leader lost since the position's beginning.
"What happened in this campaign was that there were a great number of candidates who were more conservative than anybody that the party has nominated since they nominated Ronald Reagan, and each of them drew a substantial support," Blackwell said. "You add up all the support of all those more conservative candidates, it was a huge majority of the total. And you add up the support of the establishment candidates, and it was tiny by comparison."
He also stressed that the increase in voter turnout in Republican primaries "indicates that something fundamental is going on at the grassroots." 
"Something important is going on," Blackwell said. "It may also be that more grassroots people have come to the conclusion that the country is in mortal danger — eight years of experience with Obama might lead one to that conclusion. So more people are getting active, and more people are effective online, and they can organize themselves and communicate with each other better than they could in past years, so that's another possible factor."
Trump leads among the remaining three GOP presidential hopefuls as talks of a potential brokered convention in July loom. According to Real Clear Politics' aggregated polling data, Trump is ahead of Cruz by 12.7 points and ahead of Ohio Gov. John Kasich by 23.9 points.
The author of this article previously reported for Campus Reform, a project of the Leadership Institute. 
—
Follow Kaitlyn Schallhorn (@K_Schallhorn) on Twitter