Belgian Interior Minister Jan Jambon revealed Wednesday that street celebrations had broken out in various cities in his country last week celebrating the Brussels terrorist attack, as a top politician accused the media of ignoring anti-police riots in a Muslim neighborhood.
Jambon made the revelation during a speech at a conference organized by the Dutch pro-Israel group CIDI, or the Center of Information and Documentation on Israel, the Jewish Telegraphic Agency reported.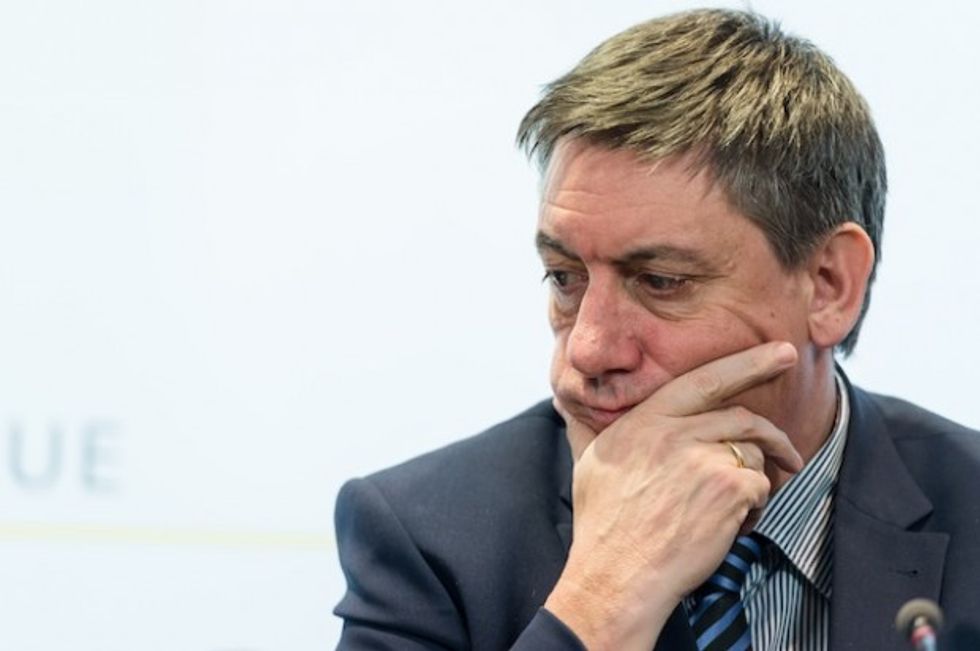 Belgium's Interior Minister Jan Jambon pauses before speaking during a media conference in Brussels March 22. (AP Photo/Geert Vanden Wijngaert)
While the right-wing politician conceded that Belgium has a problem with jihadism, he also asserted that profiling does not work as a countermeasure.
According to JTA, Jambon said that Islamists can be found among diverse groups "including doctors, lawyers, and common criminals." Only one in six Belgian jihadists grew up in poor homes, he said.
Jambon's comments followed criticism voiced by the leader of the government of the Flemish region of Belgium who complained that the media did not air images of Muslims rioting after the arrest in Belgium earlier this month of Paris attacks suspect Salah Abdeslam.
Flemish Minister-President Geert Bourgeois complained that his region's public broadcaster did not report that some 200 Muslims had rioted and thrown rocks and bottles at police.
"It is, to me, highly shocking that after Abdelslam's arrest, 200 young people of foreign origins hurled spontaneously bottles and stones on our police," Bourgeois said according to JTA. "It is regrettable that we saw nothing of these images on national television news."
Jambon said last month that 451 Belgian citizens had been classified as jihadists, with 117 of them back in Belgium after fighting with the Islamic State in Syria or Iraq.
In the March attacks in Brussels claimed by the Islamic State, 32 were killed, not including the suicide bombers.