Jimmy Kimmel asked Republican presidential candidate Sen. Ted Cruz (Texas) about the perception that he is not liked by his colleagues in the Senate during an interview on ABC's "Jimmy Kimmel Live" Wednesday evening.
"Something we hear about all the time, and I don't know what goes on behind the scenes at Congress," Kimmel said. "We hear that your colleagues — you're, not popular with your colleagues. In fact, Lindsey Graham, who by the way endorsed you, said if you kill Ted Cruz on the floor of the Senate and the trial was in the Senate, no one would convict you. ... What are you doing?"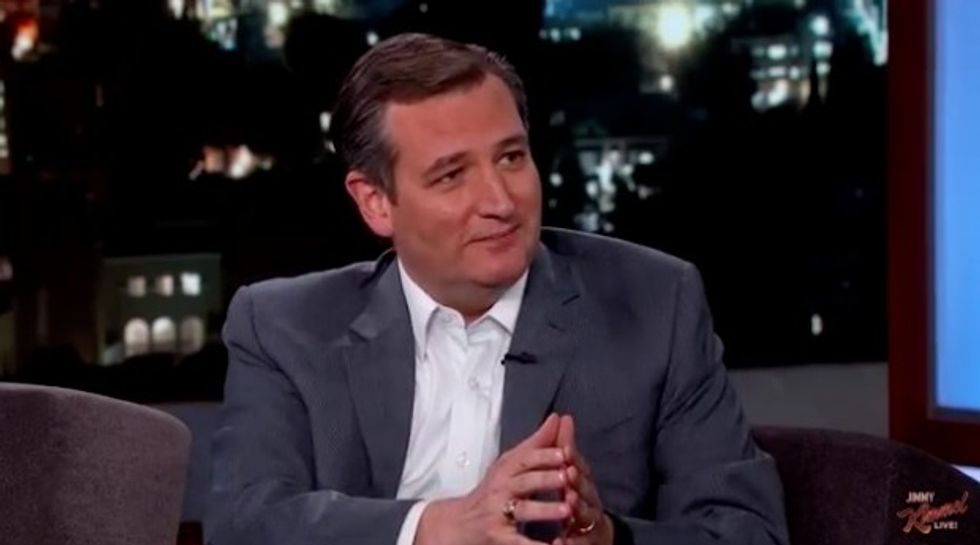 Image source: YouTube/ABC
"When you stand up to Washington, they don't like it," Cruz said. "But I will say, as you noted, Donald Trump has an amazing ability to clarify everything. We're seeing now Republicans coming together, unifying behind our campaign."
Cruz also said, "In my time in the Senate, what I've tried to do is actually try to do what I said I would do."
"Have you thought about bringing cookies to work one day?" Kimmel joked.
"I promised the people of Texas, if you elect me, I'll fight with every breath in my body to stop the disaster that is Obamacare," Cruz added.
"But is that really a disaster? It just doesn't feel like it is," Kimmel interjected. "I've not heard one story from a person I know. ... The word 'disaster' is a strong word to use."
Cruz replied that he does hear it at roundtables with small-business owners, who call Obamacare a disaster.
"I have never done one of those roundtables where at least half the small-business owners didn't list Obamacare as the single biggest challenge they're facing."
During the interview, Cruz also joked about running over Trump with his car.
Here's video of Ted Cruz joking to Jimmy Kimmel about running Donald Trump over with a car https://t.co/SV8UmC2cji

— Oliver Darcy (@Oliver Darcy) 1459403006.0
"I were in my car getting ready to reverse and saw Donald in the backup camera, I'm not confident which pedal I'd push," Cruz said to laugher from the audience.
Watch below: