A video of a Pennsylvania teen with Down syndrome opening up her college acceptance letter has gone viral since it was first posted online this week.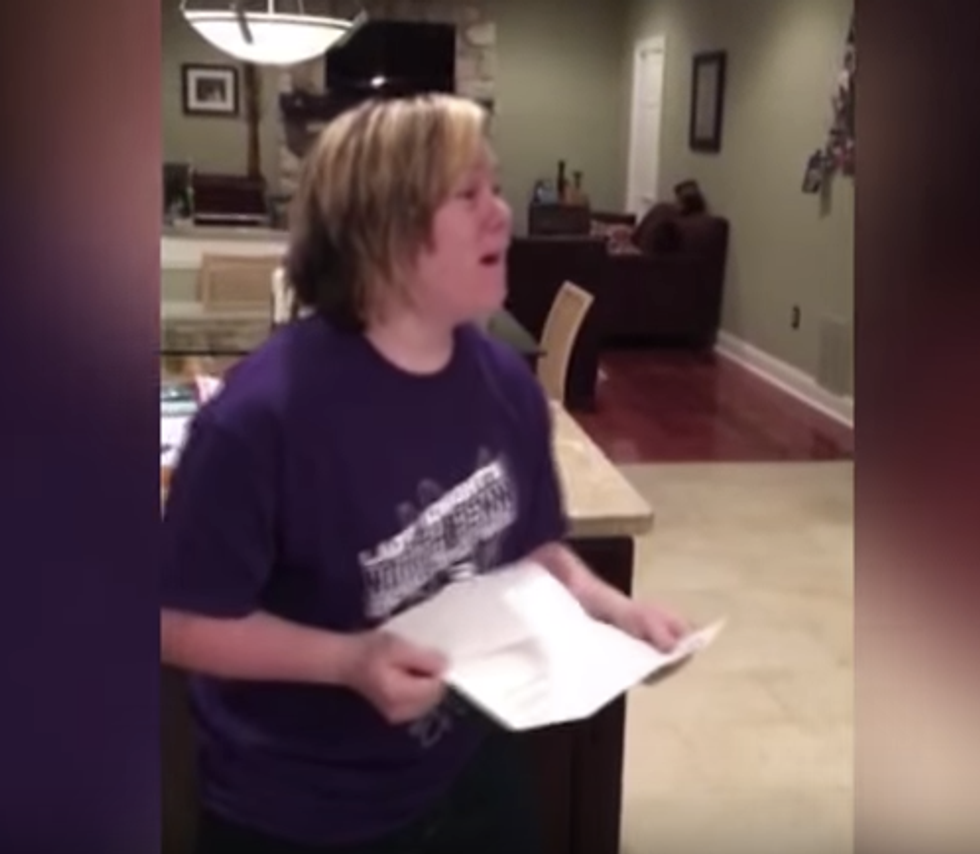 Image source: YouTube
Rachel Grace, a student at North Penn High School in Lansdale, Pennsylvania, had applied to four different college programs for special needs students for the coming school year, according to WTXF-TV. Rachel stated that she had her heart set upon moving a bit further away for college and having the opportunity to become more independent. Out of the four colleges she applied to, she felt that East Stroudsburg University would prove to be the best fit for her.
But when Rachel received the letter from ESU regarding her application to its Career, Independent Living & Learning Studies program, she can be seen taking it out of its envelope before the camera as she says, "I'm so nervous. I'm gonna cry."
As she unfolds the letter and begins to silently read it for several seconds, someone in the background can be heard saying, "Read it! What does it say?"
As Rachel begins to read the letter out loud and gets to the part declaring, "It is with great pleasure to notify you of your acceptance into the CILLS program," her face lights up as she shouts, "I got in! I'm going to college!"
ESU also welcomed her to the program on its Facebook page, sharing the WTFX video along with the message, "Welcome to ESU Rachel Grace! We are lucky to call you a Warrior!"
"I got in! I'm going to college!"WATCH Rachel Grace, who has Down syndrome, open her college acceptance letter to East Stroudsburg University.

Posted by Fox News on Thursday, March 31, 2016
"Welcome to the Warrior family!" wrote one person on Facebook. "We are honored to have you become part of our great tradition. I can't wait to see all of the amazing things you will do at ESU! You and your enthusiasm for learning are what make us great! Best of luck!!"
"Wow this is incredible and gives every parent raising special needs kids hope!" another person wrote. "It allows our children to DREAM BIG and never be defined by their disabilities but rather focus on their abilities! I am sure Rachel Grace worked hard for this acceptance and I wish her the best! Continue to BELIEVE young lady and CONGRATULATIONS!"