A University of Edinburgh student was accused of violating a campus "safe space" policy and threatened with removal from a student council meeting after she says she raised her hands to protest a statement with which she disagreed.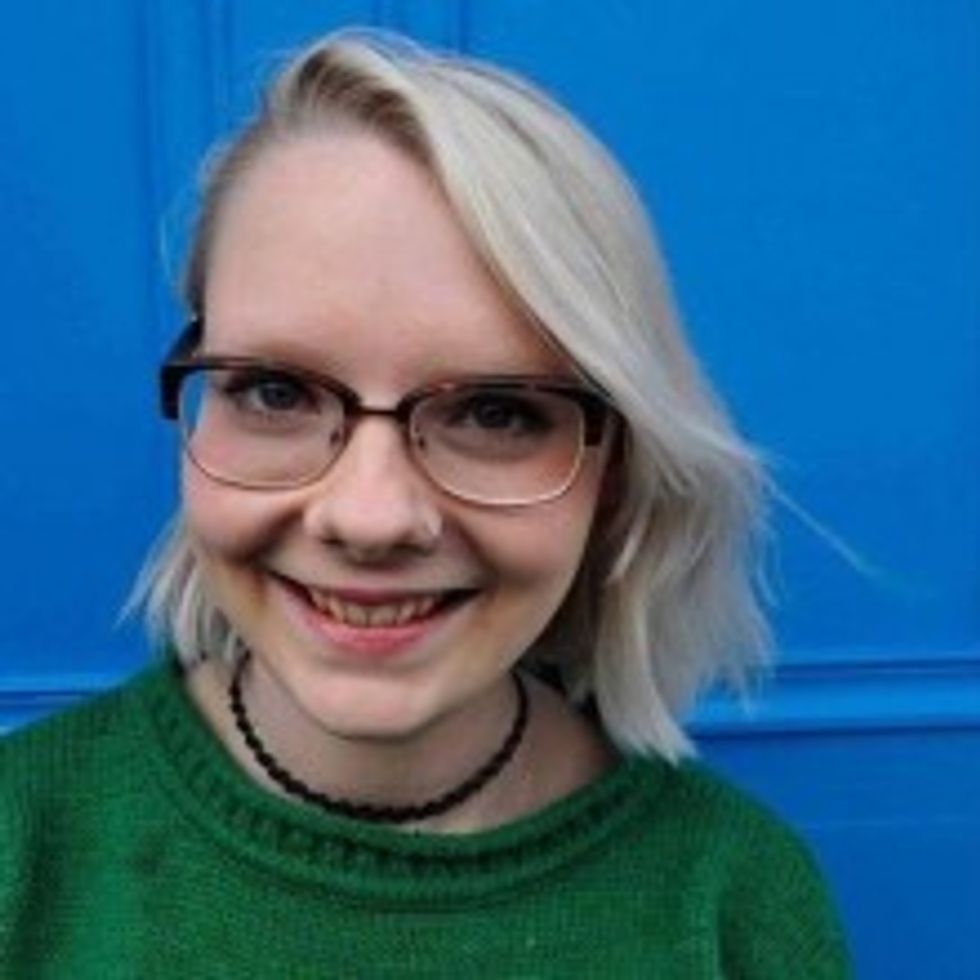 University of Edinburgh student Imogen Wilson was threatened with removal from a student council meeting after raising her hands to protest a statement made at the meeting. (Image source: Twitter)
The complaint was made against Imogen Wilson, vice president of academic affairs of the Students' Association at Scotland's premier university, during a heated debate Thursday over a resolution supporting a boycott of Israel.
Wilson told The Huffington Post UK that the safe space complaint arose after she was accused of failing disabled students by not responding to an open letter.
"At that point, I raised my arms in disagreement, as we had contacted the writers of the letter and tried hard to organize a meeting," she said. "It was for that reason that a safe space complaint was made."
The campus newspaper reported that the motion to remove Wilson was voted down, though 18 out of 33 were in favor of ejecting her.
One student at the meeting also complained that Wilson moved her head.
Proposer: I can see @eusavpaa making a negative head motion again #eduni

— Student Newspaper (@TheStudentPaper) March 31, 2016
The student council's safe space policy reads in part, "All members are expected to conduct themselves in a manner which is respectful and considerate of the contributions of others."
The code goes on to say that students at the meetings must refrain from "hand gestures which denote disagreement or in any other way indicating disagreement with a point or points being made. Disagreements should only be evident through the normal course of debate."
Gestures indicating agreement "are permissible" according to the code, as long as they are "not used in an intimidating manner."
"I completely understand the importance of our safe space policy, and will defend it to the ground, but I did not think that was fair, and had it gone further I would have either left or argued against it," Wilson said.
One student who attended the meeting told The Huffington Post that the "safe space" complaint against Wilson was made by someone who disagreed with her politically.
"[F]or someone to have abused the very legitimate purpose of safe space rules to get at someone they politically disagreed with was pretty low," the student said.
The same student questioned if the 18 who voted to kick her out of the meeting had even seen her hands.
The move to try to eject Wilson over a hand movement was met with ridicule on social media.
@TheStudentPaper @eusavpaa How dangerously fragile do you have to be to *actually* demand this sort of thing?

— Charlie Peters (@CDP1882) March 31, 2016
@TheStudentPaper @eusavpaa This is pathetic. How in the world will you ever find a job once you get out of that kindergarten?

— Gamers Are Winners (@CapZapZap) April 3, 2016
@TheStudentPaper @eusavpaa hand gestures are deadly

— nico bellic (@nicobel42535398) March 31, 2016
A petition was posted online protesting the safe space policy, describing it as a betrayal of "the most basic ideals of education."
"I believe an institution which upholds the principles of free speech and diversity is superior to a Students' Association that patronizes its own students by insinuating that they cannot handle opinions that differ from their own," student Charlie Peters wrote in the petition that has gotten more than 1,100 signatures so far.
"We are adults, we do not need condescension or safeguarding. EUSA does their students a huge disservice by engaging in this malpractice," the petition states.
Students' Association President Jonny Ross-Tatam responded to the criticism, telling the British newspaper the Independent on Monday, "A student made a complaint about Imogen during a debate. The majority of students in the room duly dismissed the complaint and the meeting carried on as normal."
Wilson is a critic of campus efforts to boycott Israel which she believes have harmed campus life and have sparked anti-Semitism at colleges both in the U.S. and U.K.
"I am deeply concerned about the marginalization of Jewish and Israeli students on campus, and will continue to do everything I can to fight this. We cannot let our students take the brunt of people's anger towards the Israeli government," Wilson wrote in a column published Sunday in the Edinburgh University student newspaper.
The motion to boycott Israel was passed at Thursday's meeting, a development Wilson characterized as "a big win for campus democracy, but … a great loss for the student body at large."