After showing a clip of Ted Cruz explaining why he avoided putting one of Wisconsin's iconic "cheesehead" hats on his head during a campaign stop at a cheese shop, MSNBC's Mika Brzezinski opened Tuesday's edition of "Morning Joe" brutally mocking Cruz's speech patterns.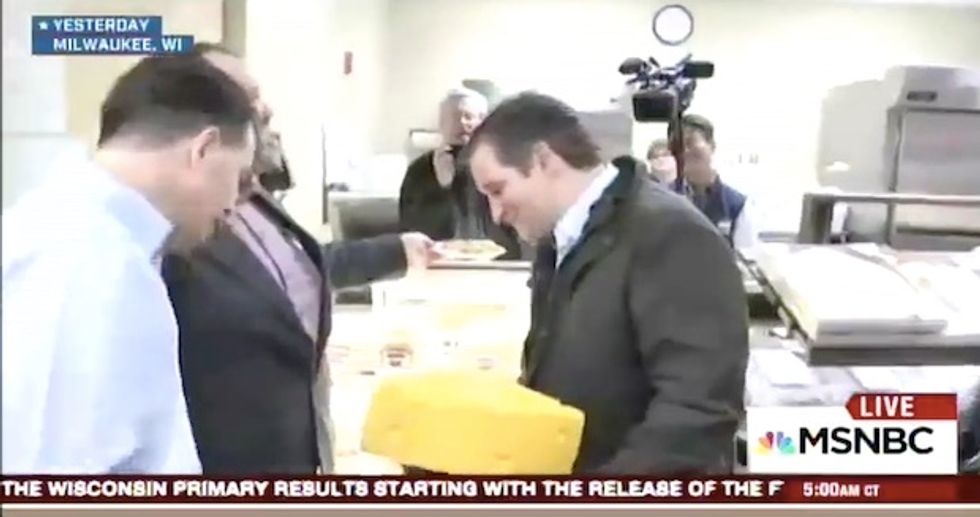 Image source: YouTube
Brzezinski characterized the Texas senator's delivery as "awful," and likened his voice to "fingernails on a chalkboard," then added, "Ted Cruz and his delivery...I'm sorry, I can't stand it."
Watch the 6 a.m. Brzezinski blitzkrieg of Cruz:
An hour later, with NBC's Chief Foreign Affairs Correspondent Andrea Mitchell joining the panel, Brzezinski again attacked Cruz over the cheesehead hat incident.
This time, after hearing Mitchell's "new reporting" that the young girl who tried to put the cheesehead hat on Ted Cruz was the candidate's daughter, Brzezinski attempted to further mock Cruz.
"Who doesn't put a cheesehead hat on for their daughter?" Brzezinski asked the panel.
Morning Joe regular, Mark Halperin rushed to Cruz's defense. "Oh my god, he would lose the primary if he put that on," Halperin replied.
"It was the best judgement Ted Cruz has shown to date," Halperin added.
Watch Mika's 7 a.m. attempt to slam Cruz over the cheesehead hat::
__
Follow the author of this story on Twitter and Facebook: