BRONX, N.Y. — Fresh off a soaring primary victory in Wisconsin, Texas Sen. Ted Cruz was met with headwinds in New York, where he encountered a variety of protesters.
"Ted Cruz has no business being in the Bronx," one man shouted as the GOP presidential candidate met with supporters at the back of a Cuban restaurant Wednesday. "This is an immigrant community. We deal with climate change every single day, and he wants to say it doesn't exist. We are one of the poorest congressional in the country, and to receive this right-wing bigot is an insult to our whole community."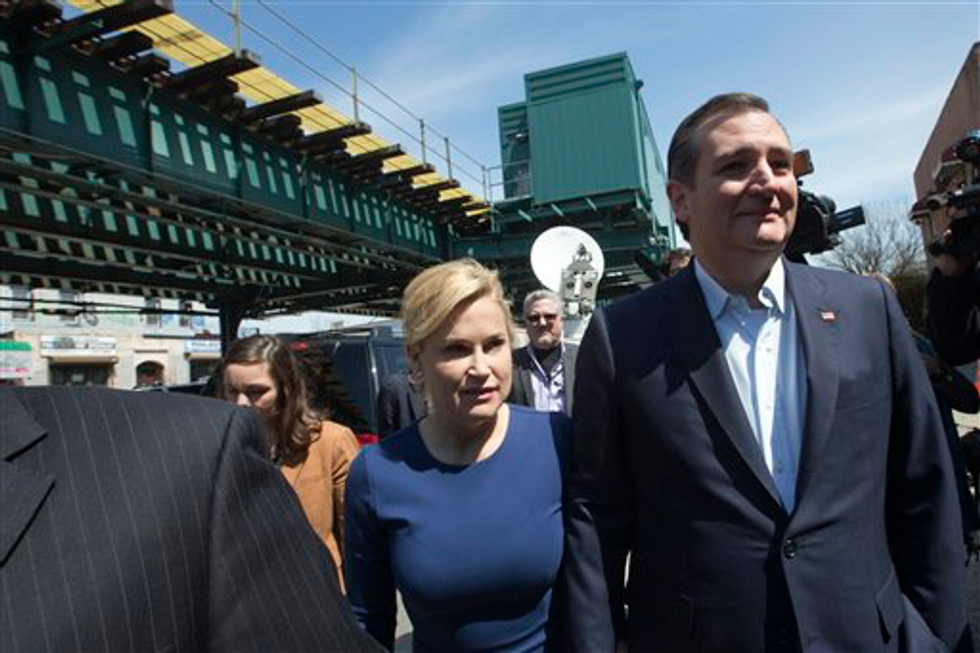 Republican presidential candidate, Sen. Ted Cruz, R-Texas, and his wife Heidi, arrive for a meeting with community leaders at the Sabrosura 2 restaurant in the Bronx borough of New York, Wednesday, April 6, 2016. (AP Photo/Mary Altaffer)
The heckler, who wore a brown sweatshirt with the word "shock" written in all caps, told reporters he was "with the people" as police officers escorted him out of Sabrosura 2. He added that he represents the South Bronx and Hunts Point and is a member of the hip-hop group "Rebel Diaz."
"Ted Cruz is not welcome in the Bronx," the man shouted.
Protesters call Cruz a "right wing bigot," says he's not welcome in this neighborhood https://t.co/SXj4j3tbNy

— Kaitlyn Schallhorn (@Kaitlyn Schallhorn)1459962828.0
Cruz met privately with supporters and community leaders Wednesday afternoon at the Chino-Latino restaurant Sabrosura 2 in the Soundview community, a working-class neighborhood made up largely of blacks and Latinos.
Prior to his arrival, one Jewish supporter remarked, "Everyone here is press. There's no people," as he looked around the restaurant.
He wasn't wrong. Noticeably, the main dining area of the restaurant was packed with reporters as Cruz and his supporters huddled in a smaller section behind a blue curtain. Only a couple of supporters waited patiently at tables waiting to shake the presidential candidate's hand.
And the heckling didn't end after Cruz's event. As the senator left the restaurant, more protesters stood outside as they decried multiple issues ranging from gay rights to immigration and from Cruz's birthplace to religion.
"You can't ignore it — you've got to be born in America to be president," one man shouted repeatedly as Cruz got into a black SUV.
When asked by TheBlaze for his name, the man simply said, "You know that. It says it in the Constitution."
Also waiting for Cruz outside was a man who proselytized reporters and supporters alike about "right-wing evangelical Christians."
this man is yelling about "racist" evangelical Christians after Cruz event https://t.co/lCxBF1GyYD

— Kaitlyn Schallhorn (@Kaitlyn Schallhorn)1459967108.0
Cruz will spend the next few days campaigning in New York ahead of the state's April 19 primary. Businessman Donald Trump is ahead in his home state by 31 points, according to Real Clear Politics' aggregated polling data.
—
Follow Kaitlyn Schallhorn (@K_Schallhorn) on Twitter