Democratic presidential candidate Sen. Bernie Sanders discussed his views on the Black Lives Matter movement in an interview with film director Spike Lee published in The Hollywood Reporter on Wednesday titled "Two Guys From Brooklyn."
Lee, who supports Sanders for president, asked, "Bernie, what does Black Lives Matter mean to you?"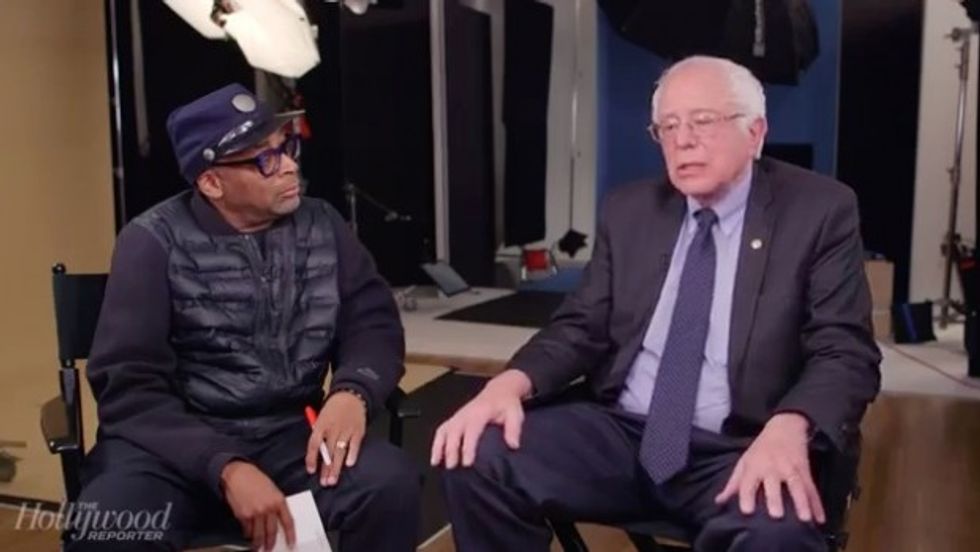 Image source: YouTube
"What it means is that we are all sick and tired of seeing unarmed people shot by police officers," Sanders replied. "That young people in African-American communities are harassed by police officers, where police departments are not there to be supportive but are in many cases oppressive, and that's an issue that has to be addressed."
Black Lives Matter activists shut down a Sanders rally in Seattle in August.
Lee also asked Sanders how he plans to court "the older generation of African-American votes."
"You're like the new guy on the block," Lee said. "You've got the young Hispanic, African-American, you got it. But the older generation, black folks, they know the Clintons 20-some years."
Sanders replied with optimism, saying the campaign is doing "phenomenally well with all of the young people, white, black, Latino, you name it, Asian-American."
But Sanders spoke about his frustration that older American's aren't capturing his same vision:
"And we're getting killed, frankly, not just with older African-Americans but also older whites, older Latinos. It's the weirdest thing in the world. And what really bothers me is I spent half my life in Congress helping to lead the effort for senior citizens: We led the effort against cuts to Social Security — we want to expand Social Security; we took on the drug companies who are doing terrible things to elderly people. You know seniors are cutting their prescription drugs in half."
"So we have a lot of work to do in terms of reaching out to seniors, not just African-Americans, but seniors all across the board," Sanders continued. "We're figuring out how you get the message out there."
Asked about the candidacy of Republican presidential candidate Donald Trump, Sanders said "here is what I think is going on."
"I think that the establishment has underestimated the contempt and the frustration that the American people have, a segment of the American people have, with politics as usual," he said.
"With Washington, D.C., right?" Lee interjected.
"Yeah, yeah," Sanders said. "So when he says, 'Look, I'm not them,' they say, 'OK, that's good enough for me.' You know? 'That's all that I need.' And there is a lot of anger out there and a lot of reasons for the anger."
Lee told The Hollywood Reporter that he will be in a TV spot for Sanders, set to air on April 8.
"My wife is a Hillary Clinton supporter, so there's a little bit of a divide in the household," Lee said. "But my two children are with their daddy."