NEW YORK — Current polling shows Ohio Gov. John Kasich beating Hillary Clinton in November, and the Kasich campaign wants to make sure everyone knows that — even on social media.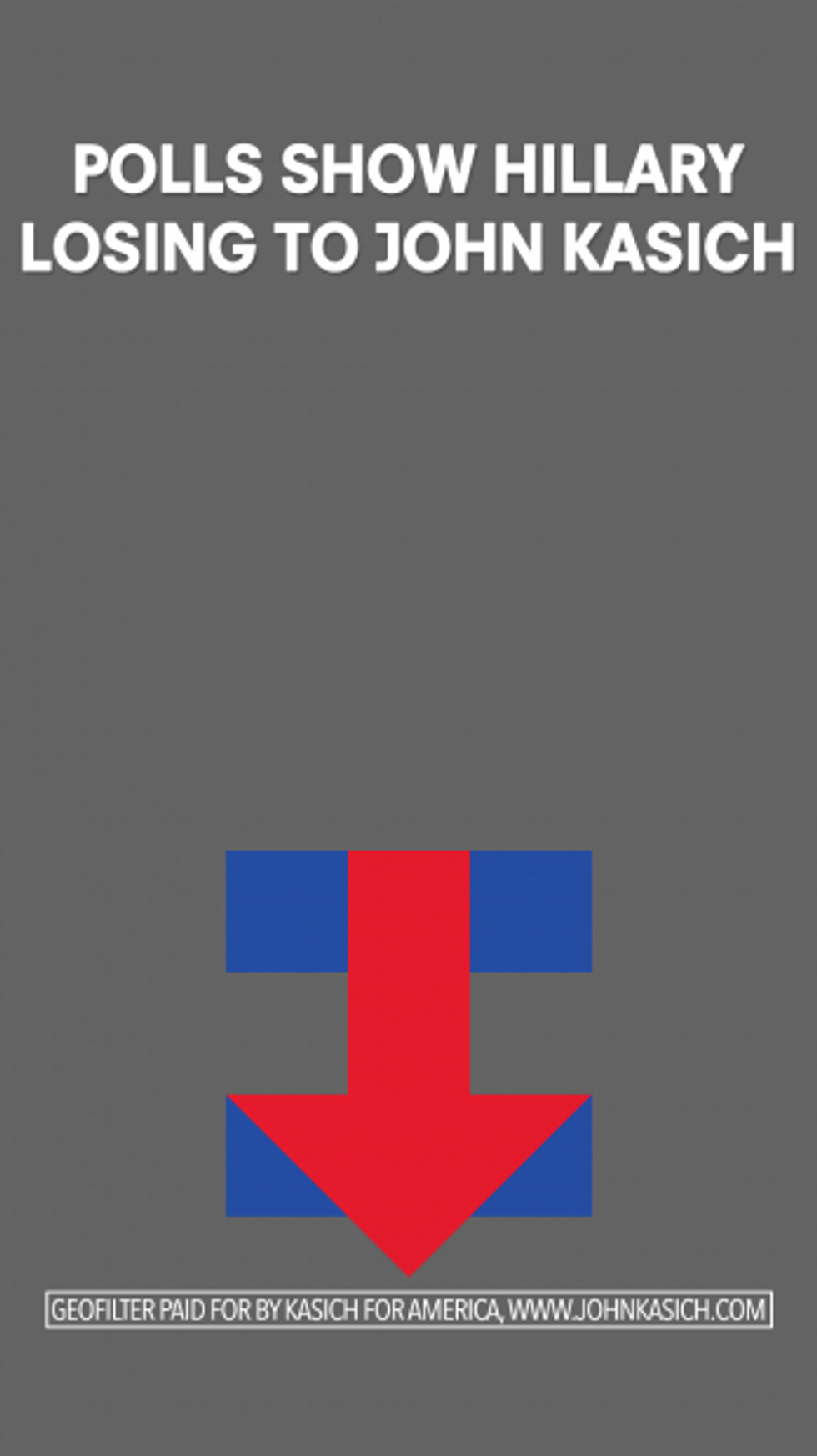 Kasich campaign debuted this Snapchat filter around Clinton's New York campaign headquarters Thursday evening. (Image provided to TheBlaze)
A new Snapchat geo-filter went live Thursday around 6 p.m. for users near the Democratic candidate's New York headquarters, a Kasich campaign official told TheBlaze.
"Polls show Hillary losing to John Kasich," the filter says, with her signature campaign logo pointing downward.
The filter will be available on Snapchat throughout Thursday night as most of the other candidates campaign in the Big Apple, including Kasich who hosted a town hall in Brooklyn. Clinton attended a fundraiser event in Bexley, Ohio, Thursday afternoon with tickets ranging from $500 to $2,700, according to her campaign website.
"This is a shot across her bow that while she is in our backyard and [Kasich] is in hers, we are letting her know that when we go face to face in November, we will happily provide her people with the governor's personal cell phone number for purposes of her conceding to the governor on election night," Kasich campaign spokesman Rob Nichols told TheBlaze.
Bexley is also the home of Kasich's campaign headquarters.
Kasich is the only candidate who is beating Clinton, a former New York senator, in a general election matchup, according to Real Clear Politics' aggregated polling data.
Both the Democrats and Republicans have their New York primary on April 19.
—
Follow Kaitlyn Schallhorn (@K_Schallhorn) on Twitter