BROOKLYN, N.Y. — Throughout the 17 years of his tabloid talk show, Montel Williams invited a whole cacophony of guests onto his program.
And it's that spirit of "inclusion" that propelled the television personality to endorse Ohio Gov. John Kasich for the Republican nomination.
Williams was quick to admit Thursday night that he and Kasich do not agree on everything. In fact, some issues which Williams said are the most important to him are issues on which he and the governor disagree. But Williams contended that Kasich sets himself apart from the other candidates — on either side of the aisle — because "he's willing to listen."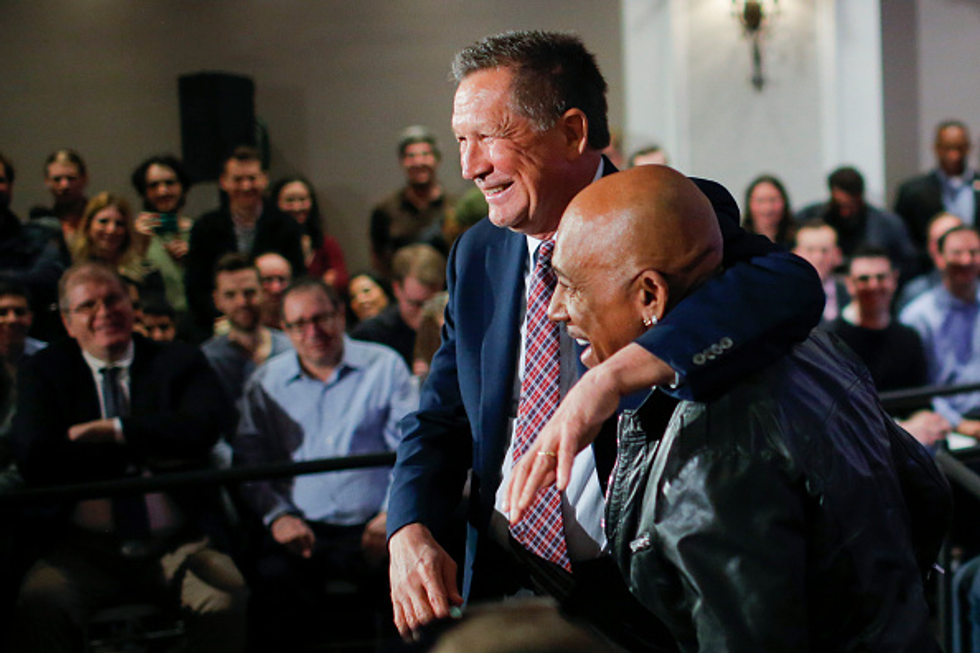 Republican presidential candidate Ohio Governor John Kasich jokes with media personality and former Marine Montel Williams at a rally on April 7, 2016 in Brooklyn. (Getty Images/Eduardo Munoz Alvarez)
"He believes in inclusion because he understands that when you include people in the decision-making process, they will support the decision you make," Williams told TheBlaze exclusively Thursday following a town hall event in Brooklyn. "He said he'll reach out to Democrats, anyone. It's not a matter of lip service -- he's shown that he's done it. If you go into the state of Ohio, he hasn't done everything for everyone. But he's given everyone a fair shot."
For anyone who follows Williams' extremely active Twitter account, the adamant call for inclusion isn't surprising. As of late, the talk show host has been an ardent critic of North Carolina's "anti-discrimination" law — a measure which does not allow for cities and counties to pass their own anti-discrimination rules and mandates individuals use restrooms that coincide with their sex, not their gender identity.
"What's so sick about all these laws, we as the general public are only looking at them as if they are anti-gay," Williams, 59, said. "But when you pass a law that allows you to discriminate against one member of society, you then can say you can discriminate against anybody. And it's only a matter of time before someone says 'girls with blonde hair with glasses and wear boots instead of heels' should never be allowed to have a hotel room here, or 'guys who are 5'1 or 5'2 don't have a right to eat at my restaurant.'"
"So are we just really opening up the door to let haters hate whoever they want," he continued. "I support Americans. We all have a right to life, liberty and the pursuit of happiness. That's why they wrote that in the first paragraph."
Williams was quick to criticize both of Kasich's opponents — Texas Sen. Ted Cruz and billionaire businessman Donald Trump — on not bringing enough inclusiveness to the GOP election.
"We have Cruz saying that New Yorkers aren't worthy Republicans. I'm not even a worthy Republican. How can you say that when you don't even know me," Williams said. "And then we've got Trump saying, 'anyone who doesn't agree with me isn't worthy of even being in the tent.' That's not inclusion, and November 3 we fall apart."
For Williams, his support of a Republican presidential candidate is a fairly big deal. During his tenure in the military, Williams was a Republican, but he's considered himself an independent since at least 1996 — and his voting record reflects that. However, with a Kasich nomination, that could change. 
"I'm pulled back as a Republican because of John Kasich," Williams said. "Unfortunately, if he does not get the nomination as a Republican there is zero opportunity for me to be a Republican this go-round. And there's zero opportunity to be a Democrat."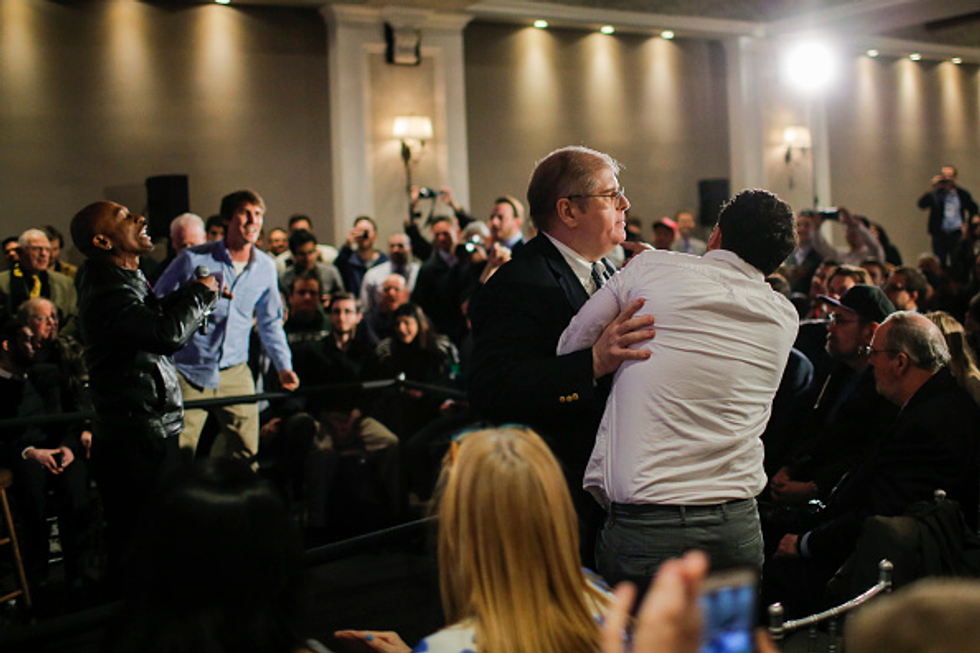 Security staff remove guests who were arguing between them at the beginning of U.S. Republican presidential candidate Governor John Kasich rally on April 7, 2016 in Brooklyn. (Getty Images/Eduardo Munoz Alvarez)
In the middle-class Brooklyn neighborhood of Bay Ridge Thursday, Kasich addressed a fairly amendable crowd -- with one notable exception.
Almost immediately after Williams was handed a microphone to begin his introduction of Kasich, a man stood up, pointed at another man across the room and accused him of being a Democrat who was spreading lies about his family around town. The other man shouted a response, and the yelling continued unabated as the two were escorted by security out of the hall.
What appeared to be some sort of Jerry Springer-style skit was in fact a staged demonstration by two actors who are supporters of Trump, security officials told TheBlaze Thursday. Kasich's campaign echoed that assessment.
Their support of Trump stood in stark contrast to that of another man who attended the Kasich town hall, nearly hidden in the back of the room behind reporters' cameras and the entrance doors to the venue. But as the event concluded, he silently removed his iconic red "Make America Great Again" hat, tucked it under his arm and was the first to exit outside into the dark street.
—
Follow Kaitlyn Schallhorn (@K_Schallhorn) on Twitter