Glenn Beck appeared on NBC's "Meet the Press" with Chuck Todd Sunday morning to discuss the possibility of an open Republican presidential convention. Todd began by noting that an open convention would deny the Republican nomination to both front-runner Donald Trump and Ted Cruz, whom Beck has openly endorsed.
"We've heard it from many people that are Cruz supporters and ... Trump supporters over the airwaves, who are concerned that somehow the party establishment may deny both of them," Todd said.
He asked Beck how conservatives would respond to such an outcome.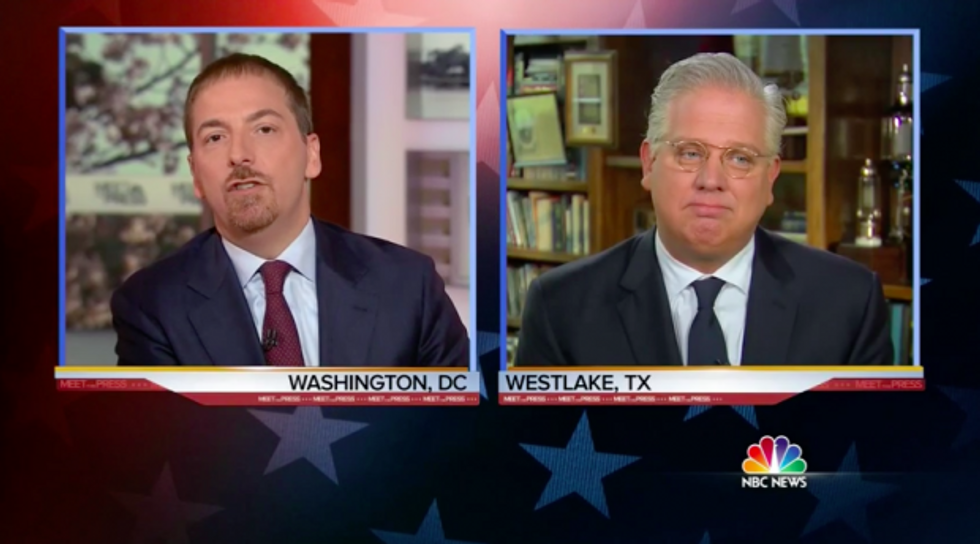 Image source: NBC
"I think it would be the end of the GOP," Beck stated. "I don't think it's going to happen. FiveThirtyEight.com just said that Ted Cruz has a 61 percent of chance winning California. Ted Cruz has won the last 10 in a row, with Utah, North Dakota, Wisconsin and Colorado. I just don't see it happening."
Todd asked Beck if Paul Ryan were to end up being the Republican nominee, would that be the end of the GOP?
"I think it would be very bad," Beck said. "You can't disenfranchise people. We've all gone out. We've been passionate about it. We've all been going back and forth and voted on the people that we believe. I really think it has to be one of the two frontrunners."
Beck asserted that Republican voters "would feel very betrayed" if the GOP establishment were to deny Trump and Cruz.
"That's why people like Bernie Sanders and Donald Trump are doing well, because people feel very, very disenfranchised and they are angry," Beck continued. "And that's something we don't want to add fuel to."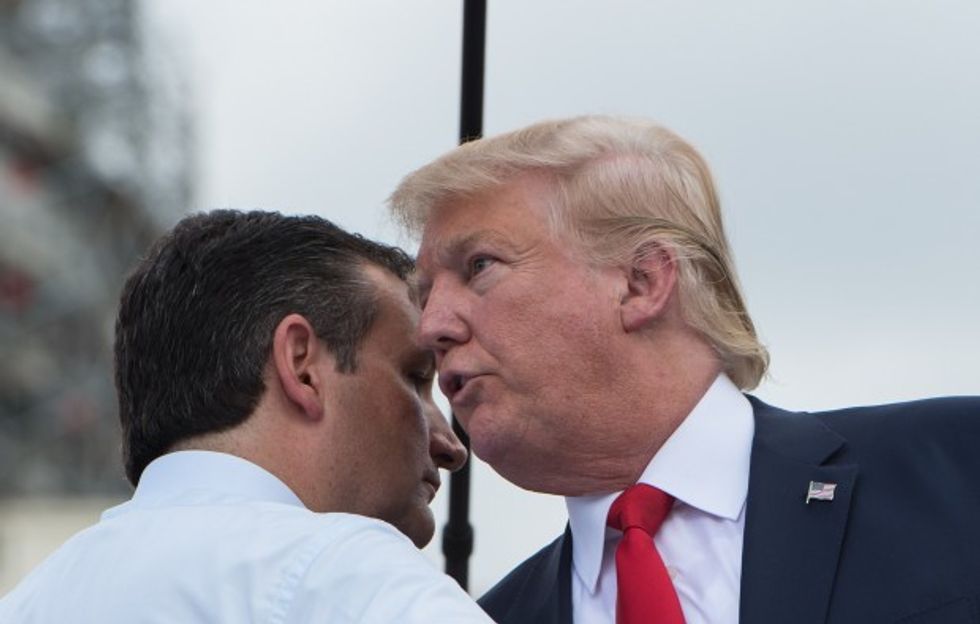 Nicholas Kamm/AFP/Getty Images

Todd played the clip Speaker Ryan released Friday that many have claimed to be an ad for an underground presidential campaign.
"That could have easily been a general election ad for the Republican nominee," Todd said. "And that came from Speaker.gov. Do you think he is running an underground campaign?"
Beck said he didn't know what the purpose of the ad was, but asserted, "if [Republicans] don't find their principles, the GOP is going to be over," adding that "disenfranchising people who have worked hard and gone out and campaigned for some of these people, I think would be a really bad mistake."
Beck noted the dangers of playing into the "anger and hatred and vitriol" of disenfranchised voters. Citing Martin Luther King Jr., he said, "we're either going to live like brothers together, or we are going to perish together like fools."
Todd asked Beck to clarify his statement in light of his anti-Trump stance.
"You were pretty aggressively on the 'Never Trump' bandwagon," Todd said. "But under this circumstance, it sounds like you would prefer a Trump nomination if it's not Cruz over anybody else?"
"No, no, no," Beck quickly responded.
"I think a Trump nomination would be disastrous," he continued. "I will never vote for Donald Trump. But if he's the guy that is picked with fair play, that's fine."
Beck said Sunday he is not sure what he would do if Trump ends up being the Republican nominee.
"I know I will not vote for Trump," he said. "And I would probably go and just look for the strongest people in the House and the Senate that would keep Hillary Clinton at bay. Because Trump is not going to win the general. If you look at the polls, Todd, and you know this, no matter what you say, you look at the polls, Hillary Clinton wins every time with Donald Trump."
Watch: