After a white woman told an independent videographer she was kicked out of a public meeting "for black and African identified folks" at an Oregon college last week, the videographer returned to the scene to investigate — and his camera was rolling.
The woman told the unnamed videographer she was kicked out of last Tuesday's "Self Defense Workshop" during "Whiteness History Month" at Portland Community College for "creating a bad vibe" when she questioned the speaker's assertion that Republican presidential candidate Donald Trump is a racist.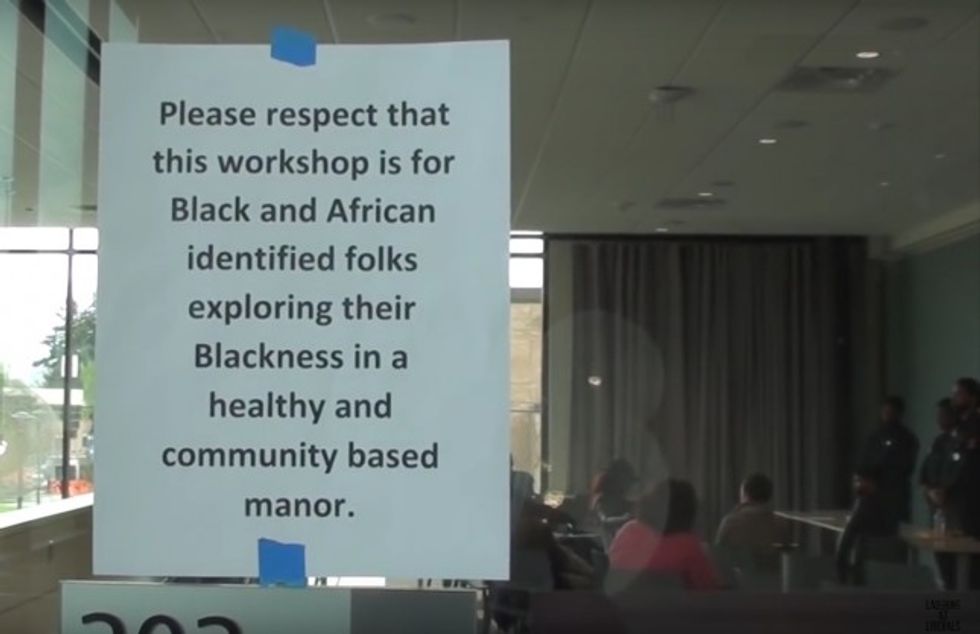 Image source: YouTube
The speaker, Jeelani Mutulu Haru Shareef, notes on his Facebook page that he's with the Black Riders Liberation Party, a group that describes itself as "the new generation of the Black Panthers Party for self defense."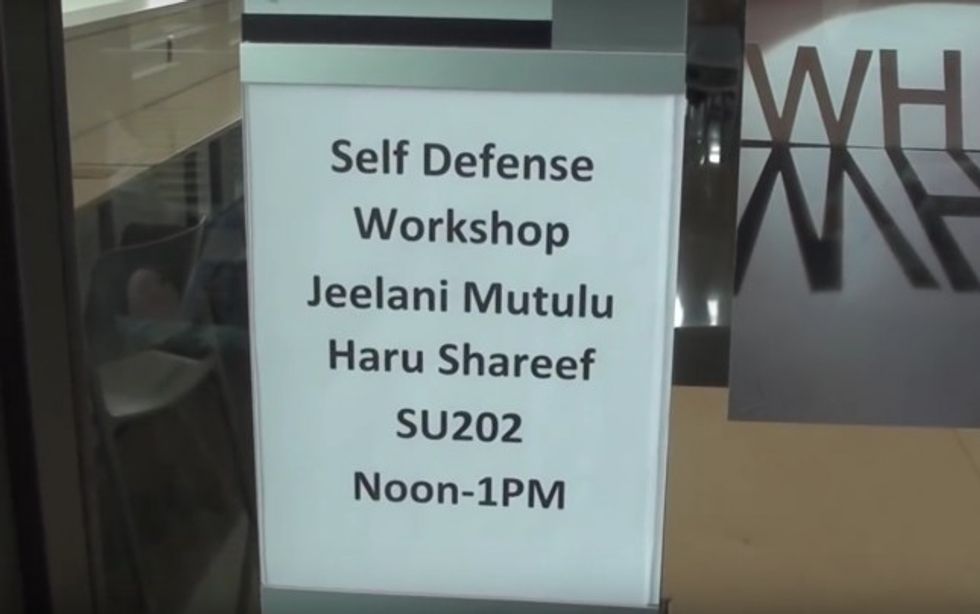 Image source: YouTube
When the videographer returned with the woman to the room, she went back inside — but he stayed outside in a common area and was soon confronted by people apparently associated with the "black love" event. Then one of them reportedly called campus police.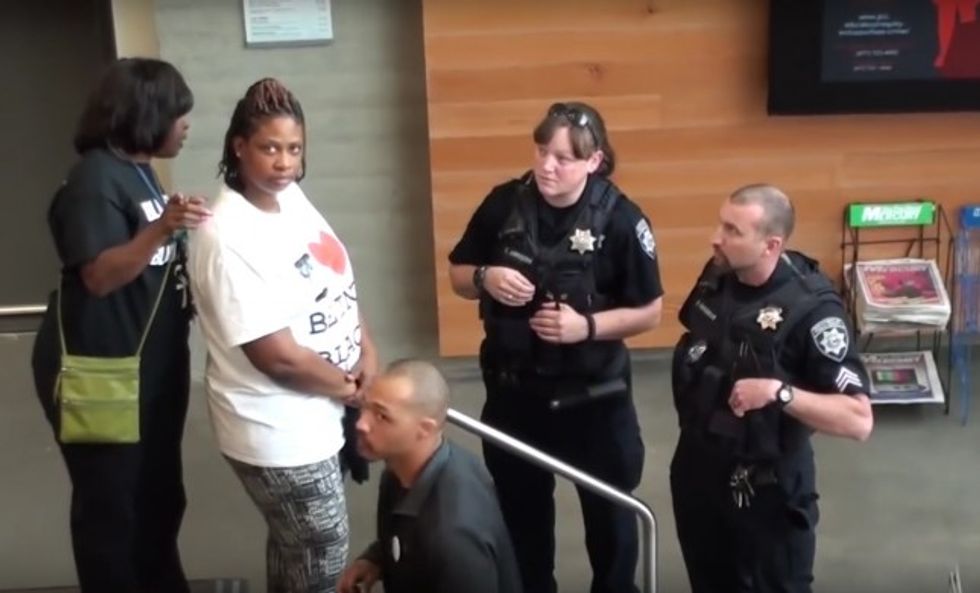 Image source: YouTube
Narrating his clip, the videographer said: "But because no one was causing a disturbance, and it was all in a public area, no one was was ejected." He added that he had a copy of the Oregon statutes allowing him to be there "in case anyone wanted to see it for themselves."
The videographer then caught an exchange between a PCC officer and a black activist connected to the event who wanted the videographer gone.
"Our event is about black love, and right now the energy that he's bringing is not in congruence with what we're trying to accomplish," the man told the officer, adding that "if we ask someone to leave the premises, you all should be able to help us in that regard, because he's not bringing the right energy into this."
The officer explained to the activist that the videographer had a right to be there.
"This is a public building, this is a public event, this is a public space," the officer replied. "And everybody, everybody has a right to be here — in addition to videotaping the events that are taking place. That's part of this being a public event."
The activist, however, wasn't having it.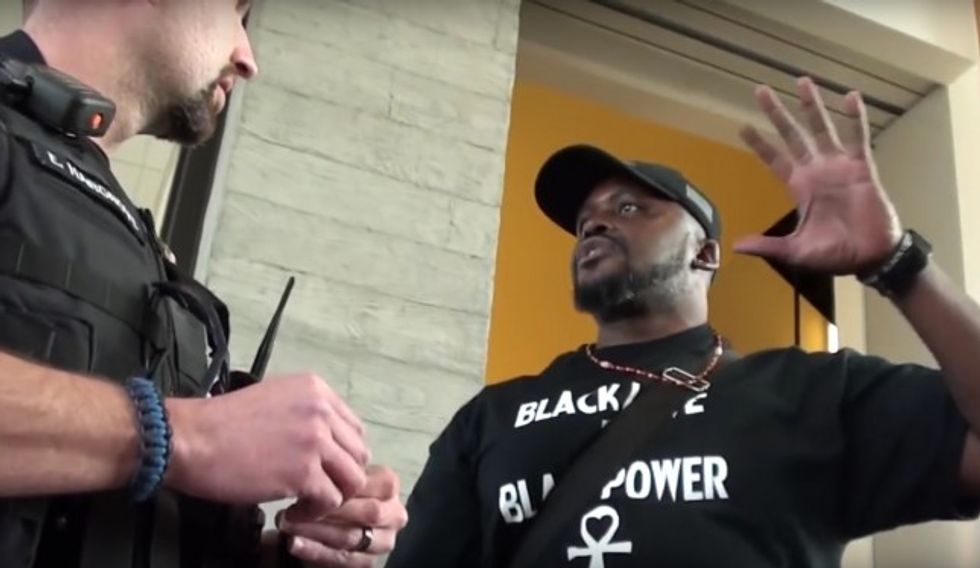 Image source: YouTube
"But there are other public buildings that he can go to and film," the man retorted. "Right now this event is not about being negative ... so bringing negativity into it is a problem, so either you're going to handle it or you're not."
It isn't clear what happened next, but the clip showed other black people — and a white man — continuing to insist that the videographer leave.
"You are are hurting people," one woman told the videographer. "And you know it. And it makes me sad. And I think you're proud of it, man. You should just leave."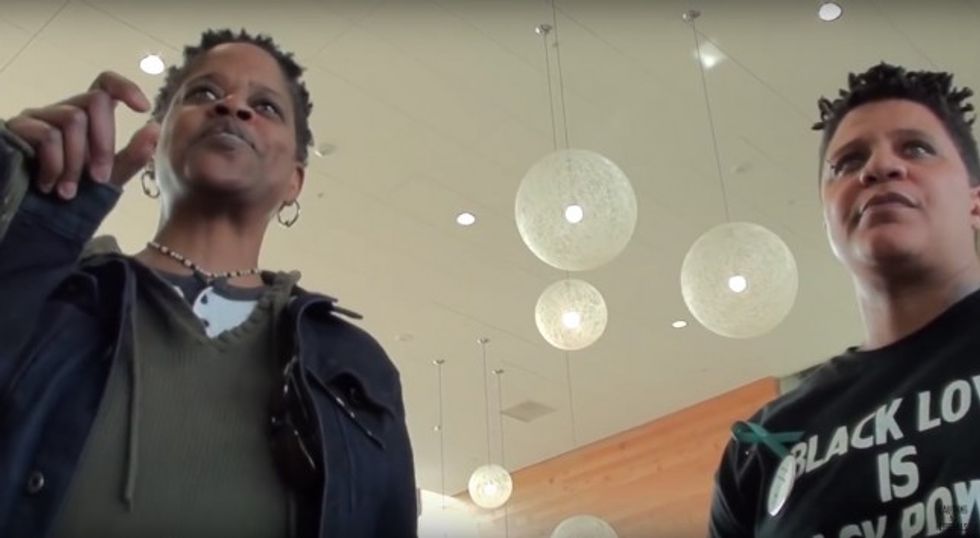 Image source: YouTube
A white man stood with the black woman and indicated that his presence was not welcome.
"I'm an independent journalist," the videographer was heard saying, "and it's my job to reveal the truth about things."
The activist who was seen on camera speaking to police wasn't impressed: "So go find the truth somewhere else."
Here's the video. (Content warning: One profanity is uttered):
(H/T: The College Fix)