The Los Angeles Police Department animal cruelty task force is investigating how a horse ended up dead along a street with its tail tied to a pole.
The animal was found lying on the ground at the end of a cul-de-sac near some stables Saturday morning.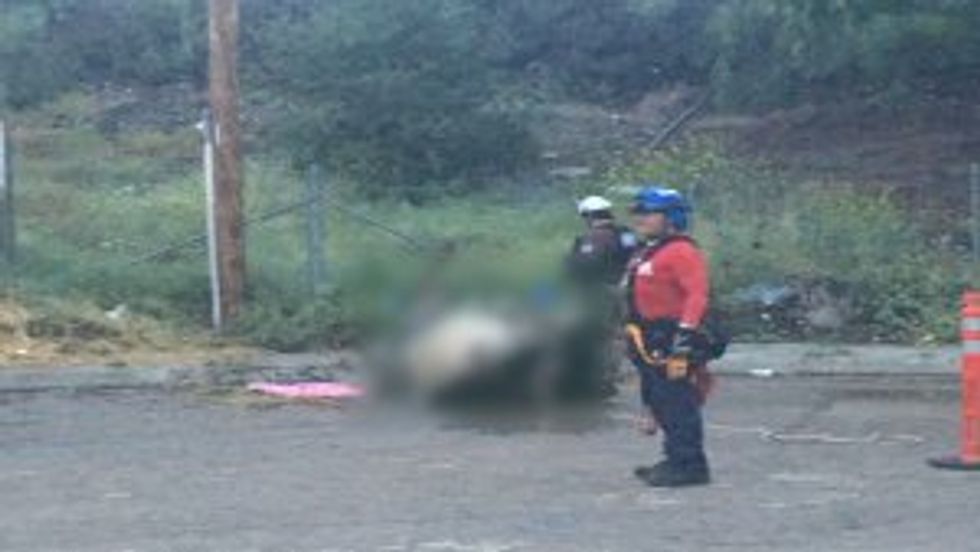 Image source: KTLA-TV
"It was bad," an LAPD spokesman told TheBlaze Monday. That much was clear from the pictures, which were so graphic they had to be blurred by local media outlets.
It was not immediately clear how the horse died. LAPD Detective Eric Bixler told KTLA-TV that the horse was shot, but officers on the scene said that it might have been beaten.
The horse was transported to a veterinarian in San Bernardino, where a necropsy was to be conducted to determine exact cause of death.
As for who is responsible, the LAPD spokesman told TheBlaze that an investigation is still ongoing. He said that possible charges that could result from the incident are burglary, given that the horse was outside its stable and could have been stolen, and, of course, possible animal cruelty charges.
"We do have information that will eventually lead to an arrest by evidence that was left at the location," Bixler told KTLA. Bixler declined to say what kind of evidence was recovered.
The LAPD's Animal Cruelty Task Force was investigating after the horse was found dead on a street, with its tail tied to...

Posted by KTLA 5 News on Saturday, April 9, 2016
(H/T: KTLA-TV)
–
Follow the author of this story on Twitter and Facebook: