The head of Germany's domestic intelligence agency said in an interview published Sunday that security officials had misjudged the Islamic State group's ambition to sneak terrorists into Germany under the guise of asylum seekers.
In an interview with the German newspaper Welt am Sonntag, Hans-Georg Maassen, head of Germany's Federal Office for the Protection of the Constitution, or BfV, admitted there had been a "misjudgment" regarding the Islamist group's strategy.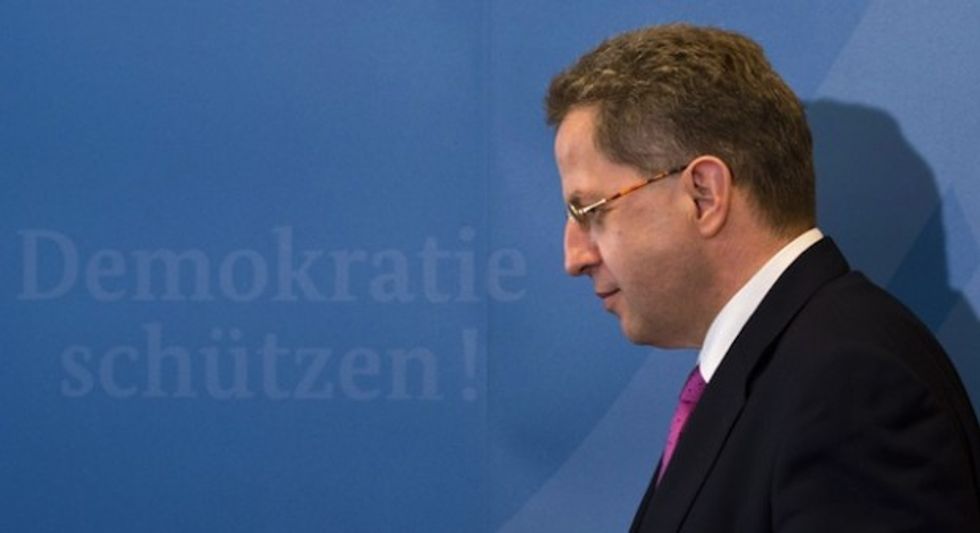 The President of the German Office for the Protection of the Constitution, Hans-Georg Maassen is pictured following a symposium on Islamist terrorism in Europe on May 4, 2015 in Berlin. (John MacDougall/AFP/Getty Images)
Intelligence officials at first believed it was unlikely that terrorists would enter Germany among migrants, he said.
"We thought that the risk was simply too high," Maassen said according to quotes translated by DW. "Although they did not need to mix their people among the refugees, they did it."
He described the infiltration strategy as "a show of force."
The intelligence chief made another surprising admission – that some 70 percent of refugees entering Germany did not arrive with a valid passport and have been registered based solely on the information they provided.
"I am concerned that we (the BfV) and our partner agencies may, in fact, have information about dangerous individuals saved in our databases. However, we might fail to notice that they are here because they enter with false identities," he said.
Maassen called the security situation in Germany "very serious" given that the Islamic State group aims to carry out attacks. At the same time, he said he had no knowledge of a concrete attack plan.
His remarks came after the Islamic State released a video last week threatening London, Berlin and Rome.
He estimated that there are some 1,100 Islamists in Germany who could pose a terrorist threat.
Maassen noted that several Germans who had fought in Syria were connected to terrorist attack plots, calling the danger from jihadists from Germany "virulent."
A survey by Germany's University of Munster last week suggested that Syrians who have lived for many years in Germany share the same fears as their non-immigrant neighbors. Forty-six percent of veteran Syrian immigrants said they feared terrorists might be among the newly-arrived migrants and about half supported Germany placing a cap on the maximum number of new refugees it accepts.
---