It's not often that President Barack Obama and the Koch brothers have nice things to say about each other. But the White House announced Monday that Koch Industries is part of a 19-company effort to give convicted felons a second chance.
Charles and David Koch, both funders of conservative and libertarian causes, are the owners of Koch Industries, which signed the White House's "Fair Chance Business Pledge" to give those who were once incarcerated a chance at a job.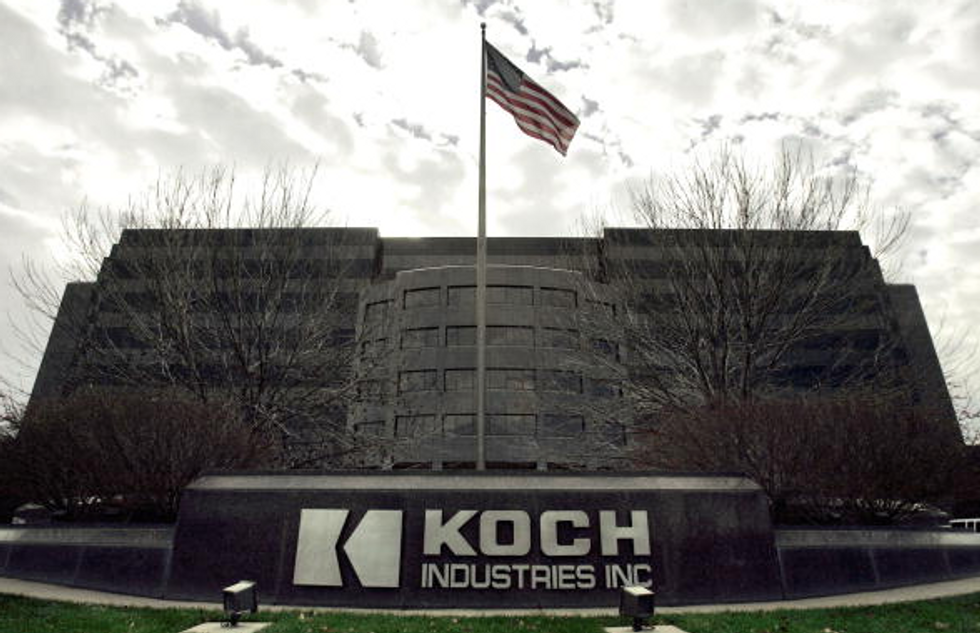 Koch Industries Inc. headquarters is pictured here in Wichita, Kansas. (Larry W. Smith/Bloomberg via Getty Images)
The other companies that signed the pledge Monday were American Airlines, Busboys and Poets, the Coca-Cola Company, Facebook, Georgia Pacific, Google, Greyston Bakery, the Hershey Company, the Johns Hopkins Hospital and Health System, Libra Group, PepsiCo, Prudential, Starbucks, Uber, Under Amour/Plank Industries, Unilever and Xerox.
Companies are taking different actions, but the common theme was "ban the box" — meaning to do away with the question on a job application about whether an applicant has a criminal record.
"Too often, that record disqualifies individuals from being a full participant in their communities — even if they've already paid their debt to society," a White House press release said Monday. "As a result, millions of Americans have difficulty finding employment."
About 70 million Americans have some form of a criminal record, according to the White House.
The Koch brothers and other libertarians have found common ground with Obama in support of criminal justice reform, which includes decriminalizing some drug offenses, reducing the prison population and making reentry easier.
Koch Industries purchased Georgia Pacific last year in a $13.2 billion deal.
"The pledge is consistent with Koch and Georgia-Pacific's mission to help people improve their lives and remove barriers to opportunity for all Americans, especially the least advantaged," the companies said in a joint statement. "We believe that we shouldn't be rejecting people at the very start of the hiring process who may otherwise be capable and qualified, and want an opportunity to work hard."