An Indiana man woke up to an unexpected nightmare last month during a trip to the dentist's office.
Donny Grigsby says he went to White River Dental in Columbus, Indiana, to have four teeth removed. But instead, the doctor pulled all of his teeth, WRTV-TV reported.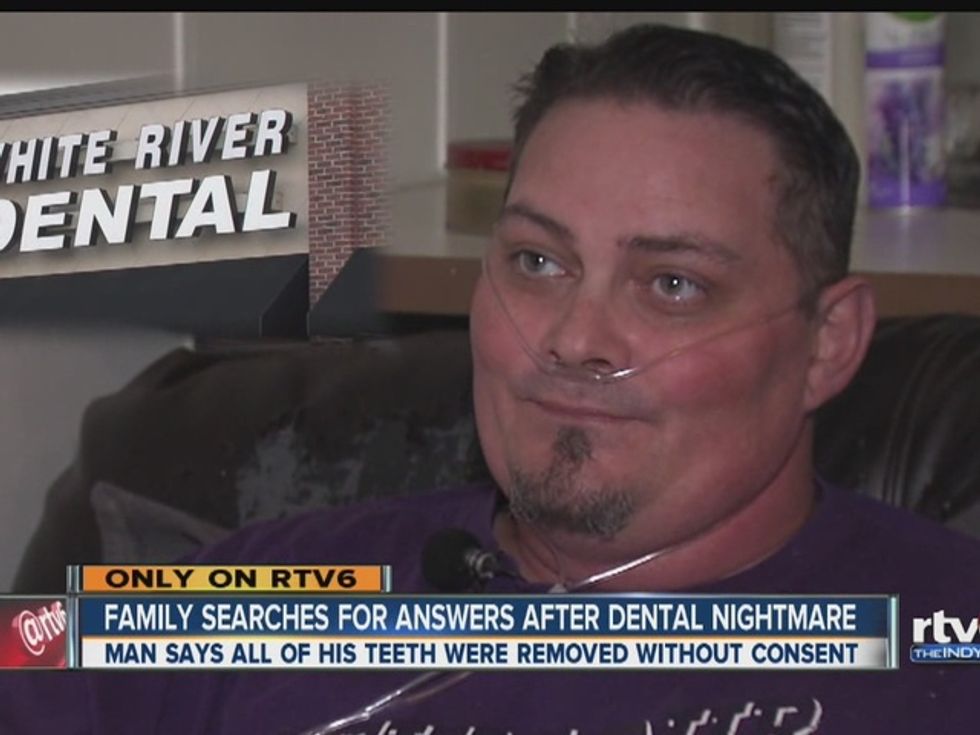 Image source: WRTV-TV
Grigsby's wife, Amanda Grigsby, said that during their visit to Dr. Aaron Strickland, her husband was put into a medically induced coma. But during the procedure, Strickland decided to pull all of Grigsby's teeth, due to an infection he feared might spread.
Amanda Grigsby waited for four hours in the waiting room and later came in to find her husband covered in blood and unresponsive. Grigsby was taken to the hospital by ambulance, where he had to be revived twice.
"He was laying there crying," Amanda Grigsby recalled of the horror.
Grigsby now has to use an oxygen tank because of blood clots that resulted from the dental work. But perhaps what is most disturbing is that he still doesn't remember anything, though he's constantly being reminded of the horrifying result.
"I am so ashamed now. I have no teeth," Grisby told WRTV-TV.
The dentist said in a statement issued over the weekend that while patient privacy laws prevent him from addressing the matter specifically, "every patient" has treatments "explained to them thoroughly" and "all the proper consent forms are signed prior to any treatment being performed."
"I, as well as all of our well trained staff, strive in every situation to make sure the patient and/or legal guardian understands all issues that may arise prior to accepting the treatment plan, as well as making sure they understand our due diligence in securing positive final results," Strickland said.
(H/T: WRTV-TV)
–
Follow the author of this story on Twitter and Facebook: