The chairman of the Joint Chiefs of Staff will draft a letter to troops this week directing them to "stay out of politics," according to CNN.
CNN reported that, in a contentious election season, top U.S. military leaders are being asked to comment on various proposals by presidential candidates, and some are worried that their remarks may be seen as pushing a partisan "political agenda" rather than "their best military advice."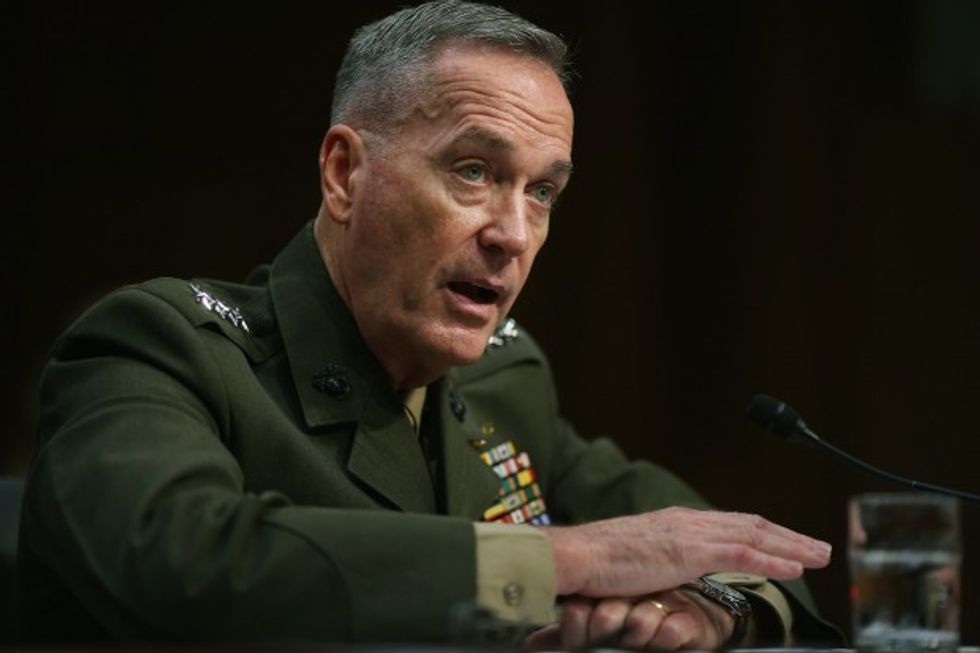 Gen. Joseph Dunford Jr. testifies before the Senate Armed Services Committee during his confirmation hearing to be the chairman of the Joint Chiefs of Staff. (Chip Somodevilla/Getty Images)
Gen. Joseph Dunford will "remind the troops of the need to remain apolitical in order to sustain Americans' trust and confidence in them," Capt. Gregory Hicks, the chairman's spokesman, told CNN.
According to CNN, some military officials have answered questions from the media regarding ideas put forth by candidates, thus entering the political debate.
Hicks said that Dunford wants to address "a trend line."
"Our ethos of an apolitical nature is the foundation of the trust the civilian leadership has in the unfettered and unfiltered advice and counsel of the military," Hicks said.
Troops are also being urged not to attend political campaign events in uniform.
CNN noted that military officials are already making plans to transition to the next president's administration, and they "will begin to brief both the Republican and Democratic nominees after the summer's political conventions. But fully detailed briefings with the highest level of classified information will not happen until after Election Day."