MORRO BAY, Calif. (TheBlaze/AP) — A man who had to be rescued after scaling a California cliff to propose to his girlfriend through cellphone video says he might not have made it to the top, but the proposal was a success.
"She said yes," Michael Banks of Fresno, California, told KEYT-TV. "Now the way she said yes was the emotional part because she says, 'of course I'll marry you, you are a crazy SOB, and she goes off telling me I can't believe you, you're either going to die or get arrested.'"
Banks said he didn't realize scaling Morro Rock was illegal and he didn't understand why so many emergency responders were dispatched to get him.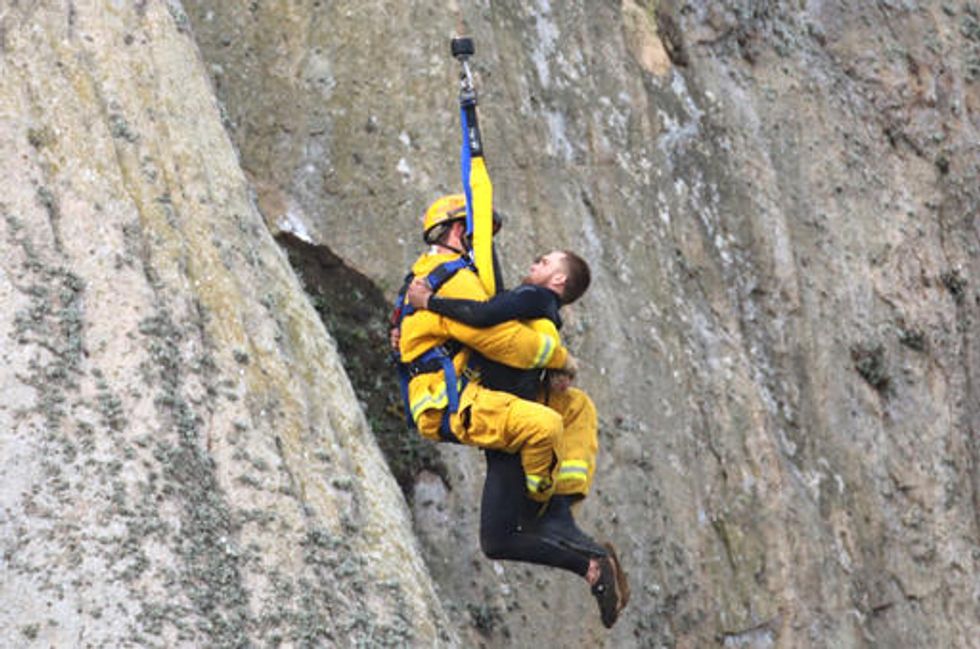 Michael Banks is rescued after being stranded on a ledge some 80 off the ground on Morro Rock, a landmark in Morro Bay, Calif., Thursday, April 7, 2016. He had scaled the rock to make an Internet proposal to his girlfriend - who said yes - but then got stuck on a ledge and couldn't get down. A helicopter had to be called, and Morro Bay Fire Department Capt. Todd Gailey was lowered by cable to pluck Banks and take him to safety.(Bob Isenberg via AP)
"I didn't know at the time that the rock was off-limits, not only did I not know its off limits, I had no idea it was that big of a deal not to climb", Banks said. "I am an experienced climber, definitely not the first rock that I've climbed. I'm an experienced enough climber to be confident without ropes."
A helicopter plucked Banks from the cliff Thursday after he got stuck on a narrow ledge.
Banks says given the chance, he would do it again, because the woman who is now his fiance deserved a one-of-a-kind proposal.
After the rescue Banks was arrested for allegedly being under the influence of methamphetamine. He blamed medication he takes for post-traumatic stress disorder.
Banks was arrested and spent the night in San Luis Obispo County Jail. He now faces fines for trespassing and thousands more in restitution for his helicopter rescue.
"I wasn't given a choice, had I been given a choice to pay thousands of dollars for a chopper ride down or a climb down then I would have chosen the climb down", Banks told KEYT-TV, "I don't have the ability to pay that much money."
Despite his financial condition, Banks said he is grateful to those who responded.
"They risked their own lives to bring me down, that in all honesty I don't feel I needed to be rescued. I wasn't at all in trouble", Banks said. "I am more than appreciative. Those men are heroic in my book."
"They are the heroes," Banks added.
–