Milwaukee County Sheriff David Clarke doesn't believe a single word President Barack Obama uttered during his interview with Chris Wallace on "Fox News Sunday," telling Fox's Steve Doocy on Monday that Obama had three objectives when he entered the White House in 2009, none of which was to be a unifier.
Those objectives, Clarke alleged on "Fox & Friends" Monday morning, were to "destroy American exceptionalism, obliterate the U.S. Constitution and eradicate the Republican Party."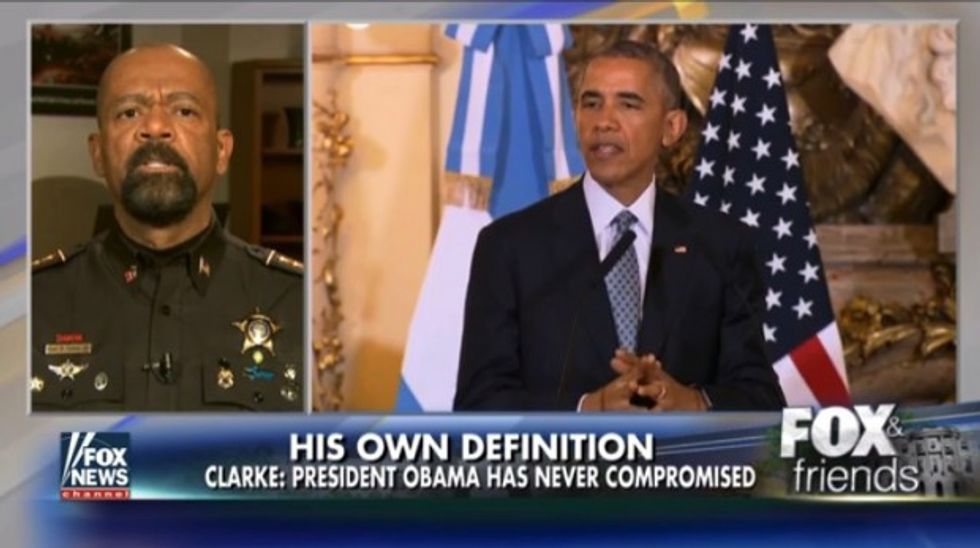 Image source: Fox News
"He's done pretty well with those three objectives, but he's done nothing else for the American people," Clarke said. "We used to be the envy of the world before he became president, but I don't think that that's the case anymore."
Clarke added that Obama is "disconnected from reality" and is not respected by other world leaders, even the ones who say they respect him, such as Israeli Prime Minister Benjamin Netanyahu.
"The best thing about the Obama presidency right now is that it's coming to an end, and America's nightmare will be over," Clarke went on to say. "We'll be able to pick up the ruins left by him and put this country back together again."
The outspoken political commentator concluded by telling Doocy that Obama's goal in Washington is not to compromise and move the country forward, but rather to do things his way.
"He talks about compromise, but he's compromised on nothing," Clarke said. "Compromise is not in his vocabulary. His definition of compromise is you do it his way or he'll get out his pen and his phone and bludgeon you with an executive order."
Watch the "Fox & Friends" interview:
—
Follow the author of this story on Twitter and Facebook:
[facebook //www.facebook.com/plugins/like.php?href=