Boston Red Sox star David Ortiz was reportedly moved to tears when his 15-year-old daughter Alex surprised him by sneaking onto the field at Fenway Park and singing the national anthem before her dad's final home opener.
Ortiz's illustrious 20-year professional baseball career will come to an end after the 2016 season. Monday's home opener at Fenway was already set to be an emotional day for the nine-time all-star when his daughter pulled off her surprise.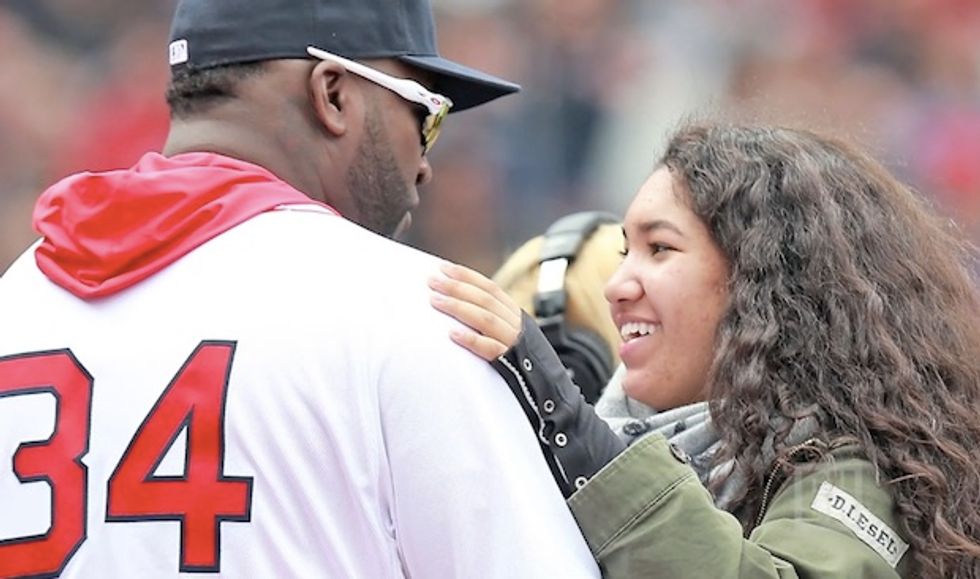 Image source: YouTube
After singing the anthem and hugging her dad, Alex spoke to a swarm of press inside the stadium. The youngster explained how she practiced singing the anthem while dad was away at spring training. She also shared her dad's reaction. "He said, 'Don't ever surprise me like that again,'" Alex told the media.
In a post-game interview, Ortiz shared his reaction to seeing his teenage daughter standing at the microphone near home plate, "I was more nervous during that time than during any at-bat I've ever had in my career," he said.
Watch Alex talk about her dad's reaction to her singing the national anthem:
See the young Ortiz's entire performance:
—
Follow the author of this story on Twitter and Facebook: